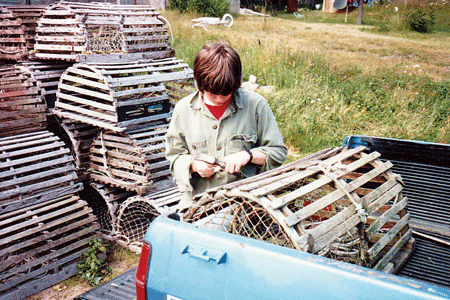 PHOTO COURTESY SWAN'S ISLAND HISTORICAL SOCIETY
Betsy Philbrook's grandmother, Melita Staples, was up for anything except cooking and housecleaning.
"She used to bait tubs when she was younger," said Philbrook. "She was much  happier driving a  dumptruck or working on a dock than staying home."
As a child, Philbrook, whose family goes back on Swan's Island to its first settlement, learned how to set lobster traps from her grandmother. She went on to become a sternman for her father, went off to college, bought her first little lobsterboat in 2001, and has been sterning for Dwight Colbeth since 2006.
"I enjoy the work, even though it can be physically demanding," she said. "Other than foggy days, I have the best office view in the world. You never know what's going to come up in the traps. Every day is different. Once we had a shark wrapped up in our line. That was fun, trying to release him. It's just always different. It's not sitting at a desk, pushing paper."
Philbrook is one of the people featured in the Swan's Island Historical Society's new exhibit at the Burnt Coat Harbor Lighthouse, called "Maritime Women on Swan's Island." The society came up with 66 names, so many that this summer's installment is just part one. Part two of the exhibit will be on display next year. 
Those featured include fishermen from the past and present, captains and sternmen, commercial and recreational, and women in the canning and aquaculture industries. Members of the historical society are in the midst of conducting interviews.
"All of the women say the same thing that any of the men would say: They love getting out on the water, they love being their own boss," said society secretary and the exhibit's curator Beverly McAloon.
Other people featured in the exhibit include Leona Buswell, who started lobster fishing in the 1950s with her father and brother, and who always enjoyed being on her father's boat, the Leona May. She always hauled her traps by hand, hauling 50 to 75 traps during the summer.
"I never felt anything but joy while I was looking for the perfect rock or bed of kelp to set my traps," Buswell told Sue Estler, a historical society member who has conducted several of the interviews so far. "I always knew there was a big lobster down there just waiting for me to send my trap down, with its bait bag loaded with fresh bait to tempt him out from under his hiding place."
McAloon and Gwen May interviewed Lisa Stanley this past February. Stanley started lobster fishing at age 23 in 1983, hauling by hand when she was pregnant and taking her two young children with her. She borrowed $4,000 to get going on her first boat, an 18-foot John Bay skiff. 
"I had never been out in a skiff on my own, so I had to learn everything, how to maneuver the boat and dock it, get it close to the buoy so I could gaff it, etc.," she told the interviewers. 
Stanley also worked at a local salmon farm, cleaning salmon for two winters. She's since sponsored a number of student license holders.
What made her choose to be a lobsterman?
"I wanted my own job. I can go six to seven months and have the rest of the year off," she said. 
Lesley and Leah Ranquist, sisters in their early 20s, were introduced to fishing by their grandfather, Ricker Ranquist, when they were kindergarteners. By age 11, apprentice licenses in hand, the girls were hauling 25 and 50 traps.
"Above all, never once did he imply we girls couldn't do man's work," Leah said in her interview. "I have a college education. But this is where I want to be—chasing lobsters off Swan's Island." Leah now captains her own boat, a 32-foot North Shore. Lesley has a larger 36-foot Osmond Beal with her father, Les Ranquist. 
The exhibit includes great photos, some vintage and taken either from the society's files or from family collections, others recently snapped.
"Each story is individual," said Estler, who has long had a recreational license herself. "And there's this whole generation of kids now who are high school age and have their own boats. I would say it's as many women as men."
"There's a fairly substantial number of women who fish on Swan's Island," agreed Philbrook. "That's the primary industry and no one bats an eye. If a woman wants to go fishing, 'OK, come on.' It's not a gender-based occupation. It's just if you enjoy it, go do it."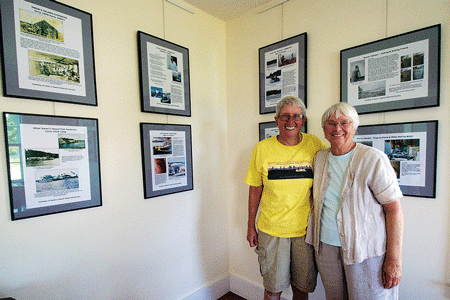 LAURIE SCHREIBER