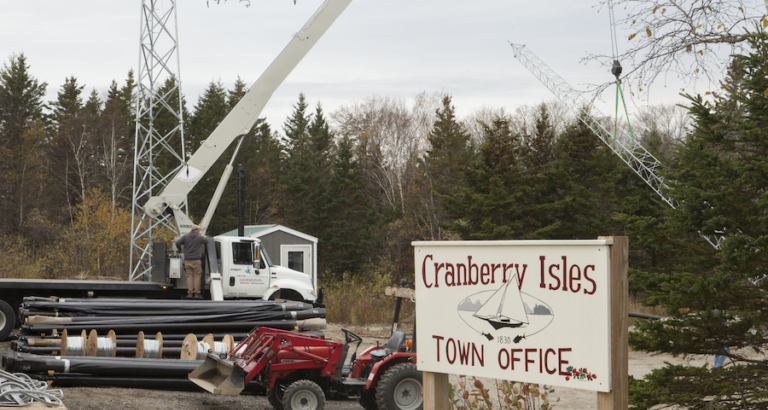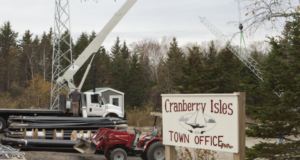 Since 2016, Island Institute has been working both at the local level with community partners and the state level influencing policy and funding agencies to help bring reliable, affordable, high-speed internet infrastructure to Maine's island and coastal communities.
Through conversations with numerous island and coastal Maine communities, we consistently heard that residents and businesses alike lacked reliable, fast internet service—creating barriers to education, business prosperity, community growth, and expanded social interaction. Our investments over the past decade, including $450,000 in broadband planning grants, have supported thoughtful planning at the local and state levels and have helped leverage millions of dollars to expand broadband access on the coast.
"If Island Institute had not been beating the drum early for community-driven broadband solutions, our state would not be where we are today." – Carlos Barrionuevo, Georgetown Broadband LLC & Maine Connectivity Authority Board of Directors 
---
The Community-Driven Broadband Process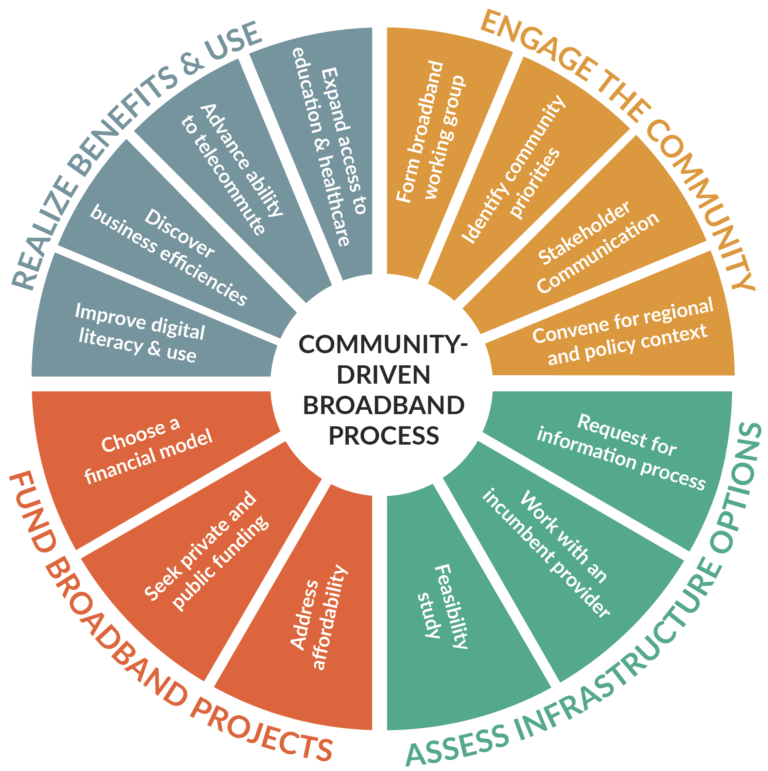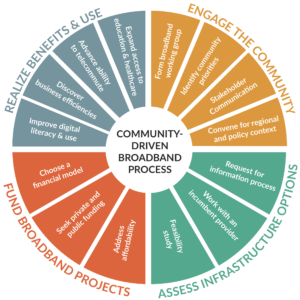 After years of working with Maine's rural communities, Island Institute discovered a pattern of how communities approach the challenge of obtaining broadband. We developed the Community-driven Broadband Process Model to help guide community leaders through the steps for bringing broadband to their towns and residents. This process guide meets communities where they are in determining the best solution for bringing universal access to residents and relies on community engagement for ultimate success and return on investment.
This tool can be applied beyond broadband to guide any community-driven infrastructure or programmatic investments.
Building on the Community-Driven Broadband Process Model, our Solutions Library offers stories and resources to support communities through the challenges of planning for high-speed internet. In the Expanding Broadband – Community-Driven Solutions section of our Solutions Library, you'll find examples of coastal and island residents working together to identify and implement improvements to broadband infrastructure and to raise awareness of the opportunities broadband offers communities to improve business efficiency, workforce development, and quality of life.
For additional tools, please see our Broadband Resource List.
---
Beyond Access: Expanding Digital Equity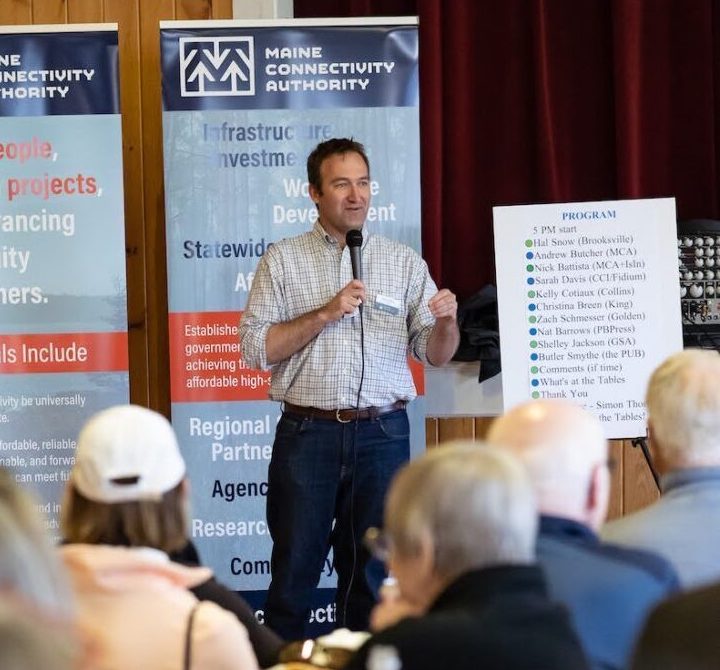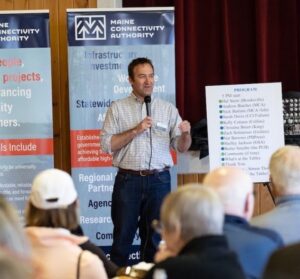 Significant progress has been made to implement robust broadband infrastructure for Maine's island and coastal communities. Through the Tom Glenn Community Impact Fund, Island Institute provided over $450,000 in broadband planning grants between 2017-2023 to support community-driven broadband projects in Maine's coastal and island communities. These investments have leveraged over $20 million dollars in public and private investments to connect Mainers to world-class internet infrastructure and implement programs to help achieve digital equity.  
As of 2023, Island Institute is no longer offering broadband planning grants. However, resources like the Community-Driven Broadband Guide, our Broadband Resource List, and our Solutions Library provide communities in Maine and beyond with tools and examples to of how to begin funding community-driven solutions.
Now that Maine has a strong state institution, the Maine Connectivity Authority (MCA), overseeing broadband infrastructure planning and investments, Island Institute can focus our attention on ensuring the benefits of the infrastructure can be fully realized in our communities.  High-speed, reliable internet service is essential, to ensure equitable access to education and healthcare, to support civic engagement and aging in place, and to spur economic diversification and prosperity.
In 2022, Island Institute was awarded a grant from the MCA to lead digital inclusion efforts in one of thirteen regions and tribes as part of the MCA's Regional & Tribal Broadband Partners Program (see map below).
We encourage you to stay involved and informed through the MCA by joining their email list at the bottom of the MCA website. For more information and additional resources to help expand digital equity in your community, please see:
Maine Connectivity Authority Resources – A list of resources are intended to be helpful to local community leaders and contribute to the expansion of broadband service in Maine.
Maine State Broadband Action Plan – The 5-year Broadband Action Plan and digital equity plan for Maine, published by Maine Connectivity Authority, provides a framework to ensure that every person in our state will have equitable access to the digital world.
National Digital Equity Center –

Free digital literacy classes and free or affordable devices for Maine residents.

Affordable Connectivity Program –

Automatically get $30 off your monthly internet bill if you qualify for other low-income benefits.

 
Questions? Please contact Christa Thorpe with our Broadband team for support in bringing broadband to your community.
Maine Broadband Coalition
Advisory Committee Member

Island Institute is a proud member of the Maine Broadband Coalition Advisory Committee.
Representing hundreds of organizations, dozens of communities, and thousands of internet users in Maine, the Maine Broadband Coalition (MBC) is the hub of information, policy support, and capacity building around high-speed internet in Maine.
About the Maine Broadband Coalition
Run a speed test and
help improve
broadband in Maine

Take the Maine Broadband Coalition's speed test to help advance broadband infrastructure improvement in Maine.
Getting your friends, family, colleagues, and neighbors to take the test will help create better maps and show state officials where service is and isn't. Run your test, then compare results throughout the rest of the state.
Learn more and run your speed test here