Waypoints: Community Indicators
The Island Institute's Waypoints: Community Indicators series uses engaging, often never-before-seen data to communicate the character of our communities along with the challenges and opportunities before us.
To date, the four editions have grounded us in the truths we often hold to be self-evident about the coast of Maine, and provide a look into community trends that surprise us. The publications help coastal and island leaders make data-driven decisions and tell compelling stories of what distinguishes their communities to their constituents, state and federal legislators, grant-makers, and the press.
Waypoints are defined as points that "indicate a change in direction, speed, or altitude." We hope that this series helps communities along the coast of Maine make informed decisions on where to head from here.
PLEASE CLICK ON THE LINKS BELOW TO EXPLORE AND LEARN MORE ABOUT EACH EDITION.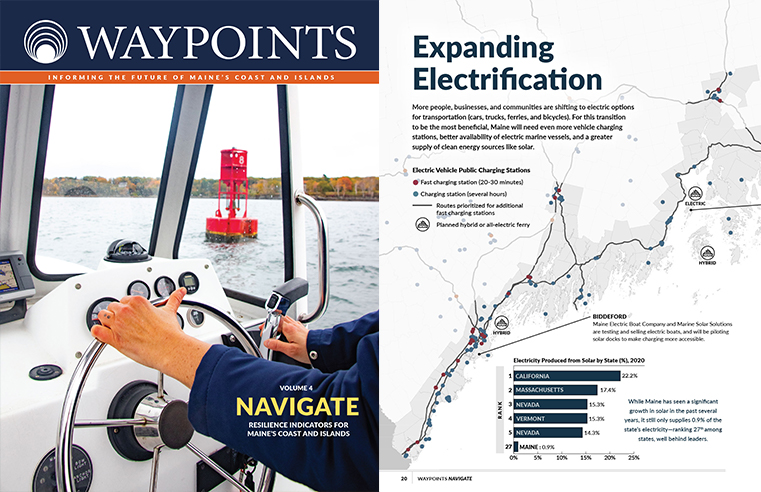 Resilience Indicators for Maine's Coast and Islands
Waypoints: Navigate explores the systems that help communities along Maine's coast and islands prepare for and thrive in the face of change. The data shared in this edition informs our understanding of how communities are grappling with social, environmental, and economic shifts to chart a course toward a resilient future.
Topics include a cost to income ratio, the housing market, critical infrastructure risk, community planning, expanding electrification, workforce training, and more.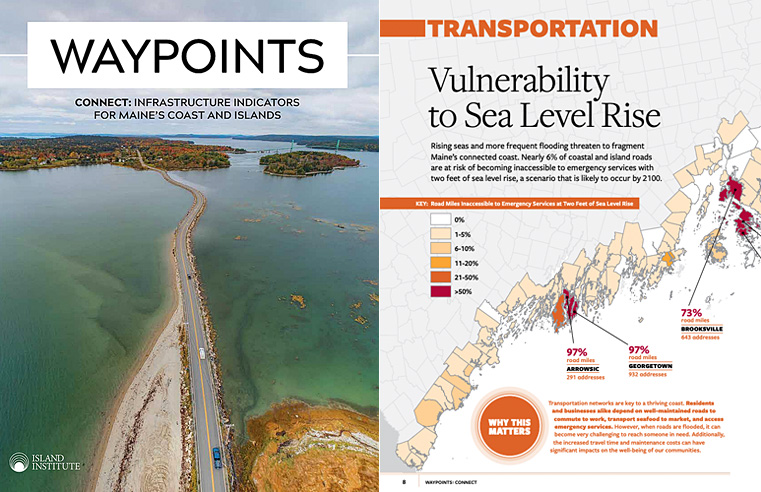 Infrastructure Indicators for Maine's Coast and Islands
Waypoints: Connect explores the status of Maine's coastal infrastructure systems, with a focus on the topics where we see local and state leaders grappling with change. We looked at data that are central to our physical, economic, and civic infrastructure.
Topics include broadband, transportation, energy, trade, working waterfronts, and infrastructure.
LEARN MORE
VIEW THE DIGITAL PUBLICATION
REQUEST A PRINTED COPY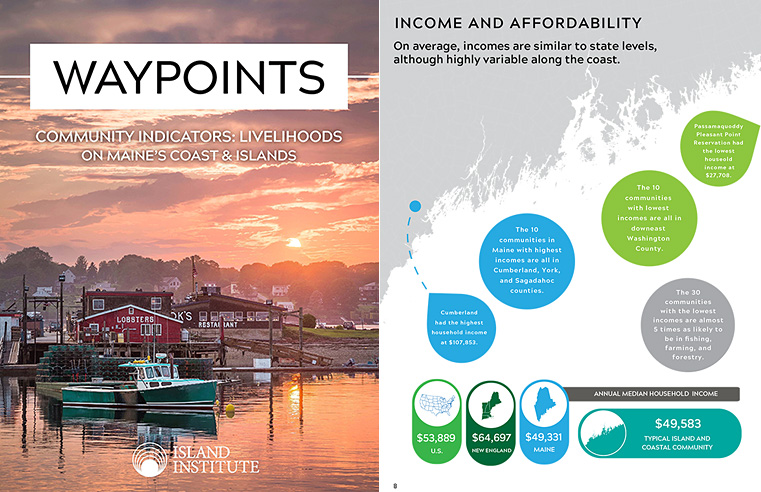 Livelihoods on Maine's Coast and Islands
Waypoints: Livelihoods is dedicated to quantifying the way coastal Mainers make a living and presents new data that tells the story of how income levels, prevalence of self-employment, impacts of fisheries, and seasonality of the labor force define the economic and cultural landscape of our region.
Detailed sections look at data on Maine's coastal and island industries, income and affordability, business ownership, labor force and seasonality, self-employment, the lobster fishery, age and education, and gender in the workforce.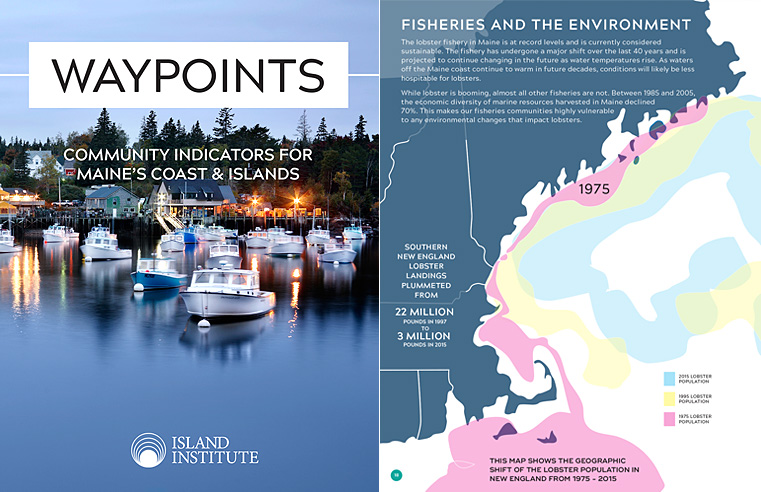 Community Indicators for Maine's Coast and Islands
Waypoints: Community Indicators is the first edition of the series that was published as a response to the requests from community members who needed access to clear, accurate, data to meet local needs for planning and decision-making. It provides information about local economies, demographics, and the environment of Maine's coastal and island communities.
Topics include self-employment, the economic impact of Maine lobster and fisheries, broadband accessibility, energy and home heating, housing, fisheries and the environment, and sea level rise.