Recognized as one of the world's richest marine ecosystems, the Gulf of Maine covers more than 5,000 miles of coastline, including islands. While Maine's marine living resources have long been a mainstay of the state's economy, particularly in rural areas, only about 20 miles are reserved for the working waterfront and just 16 are dedicated to commercial fishing activity.
---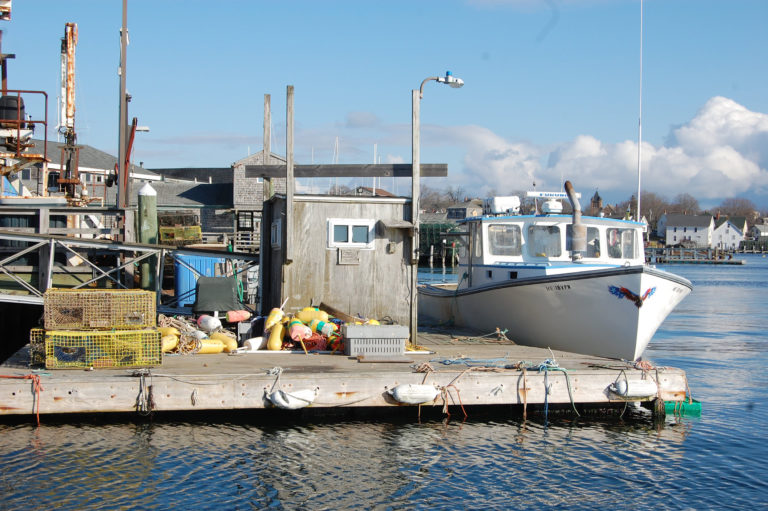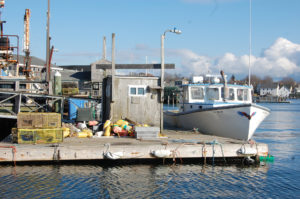 Protecting Maine's Working Waterfronts
Maine's working waterfront is a critical part of our state's "blue economy" and has come under intense pressure in recent years due to rapid development, climate change, and global economic forces. These pressures, in combination with sky-rocketing real estate values, have led many working waterfront business owners to contemplate selling their waterfront properties and exiting the sector.
This loss of operational working waterfronts would be devastating to Maine's blue economy and ancillary businesses.
Further loss of access points to the ocean will translate into loss of livelihoods in Maine's heritage fishing industry and damage the character and sense of place so valued by residents and visitors alike.
The recently approved $40 million in the state budget to support the Land for Maine's Future (LMF) Program is a rare opportunity to act now and sustain our vital working waterfronts. The State budget as passed includes $4 million to support working waterfronts with the possibility of more funding becoming available through the Working Waterfront Access Protection Program (WWAPP). The Island institute estimates that the need is much greater than $4 million, and the solution will require a variety of structures beyond WWAPP to respond adequately to the diversity and complexity of at-risk properties and communities.
Learn more about working waterfront protections in our Waypoints: Connect publication. And read our landmark report, "The Last 20 Miles: Mapping Maine's Working Waterfront," first published in 2006.
"Once access points are gone, they do not come back. The need to protect existing access is both urgent and critical, and while we need to understand more comprehensively the overall economic impact of our seafood industry, we cannot wait for that data to act. Maine needs a statewide action plan to protect its working waterfront and access before it's so diminished as to be irrelevant."
— MERRITT CAREY, ESQ.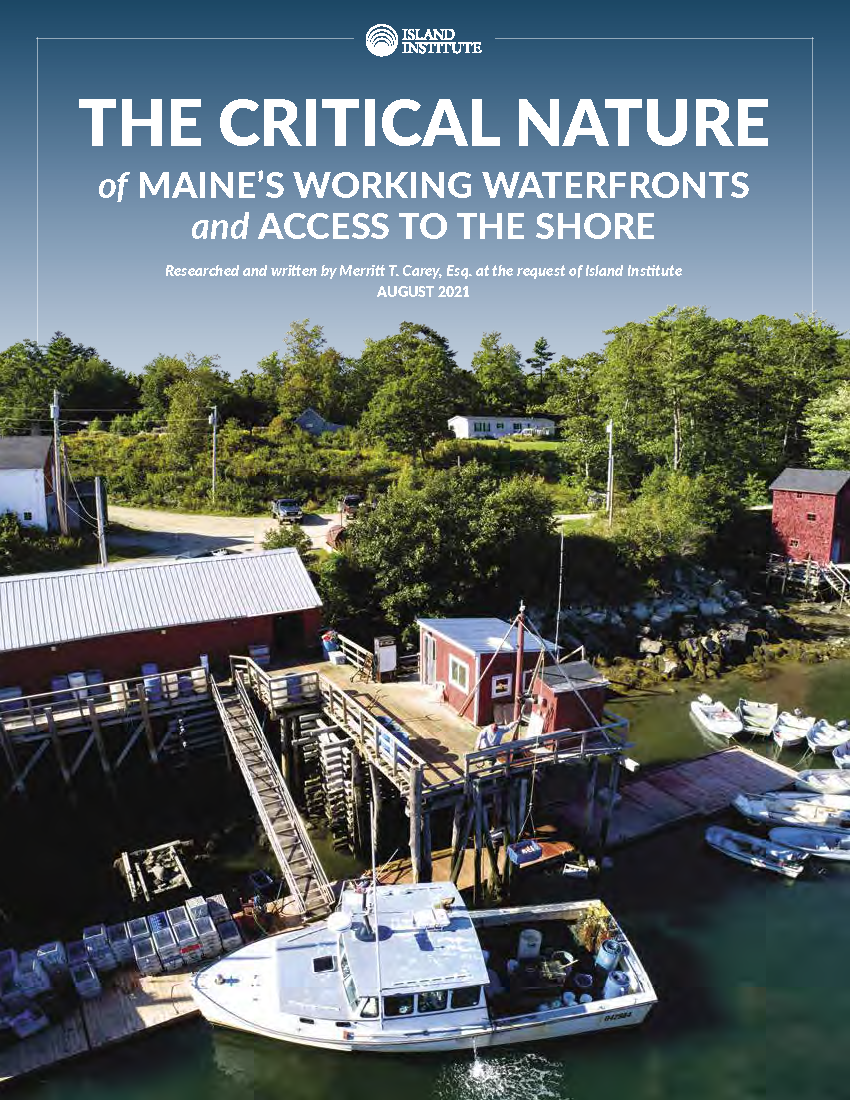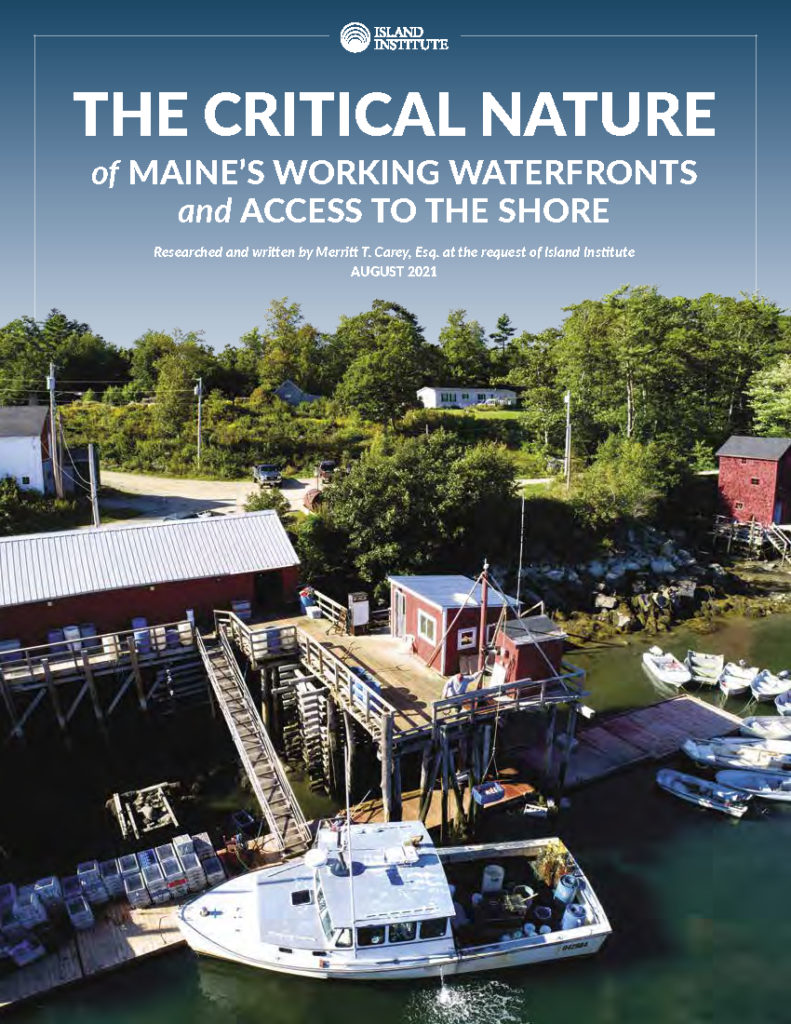 The Critical Nature of Maine's Working Waterfronts and Access to the Shore
An Analysis of Maine's Working Waterfronts | August 2021
The significance of Maine's working waterfront and of preserving and creating access to the shore cannot be overestimated. In a post-pandemic world with incredible pressure on Maine's coastal real estate, ensuring commercial access to the shore has never been more critical. Maine rightly touts its "Blue Economy" for economic development purposes; and while there is significant investment in developing the blue economy, to date there has been minimal investment in protecting the access that ensures its growth is possible.
The goal of this report is to provide an overview of the current status of working waterfront and concrete action steps for the protection of Maine's working waterfront and our blue economy.
Taking Action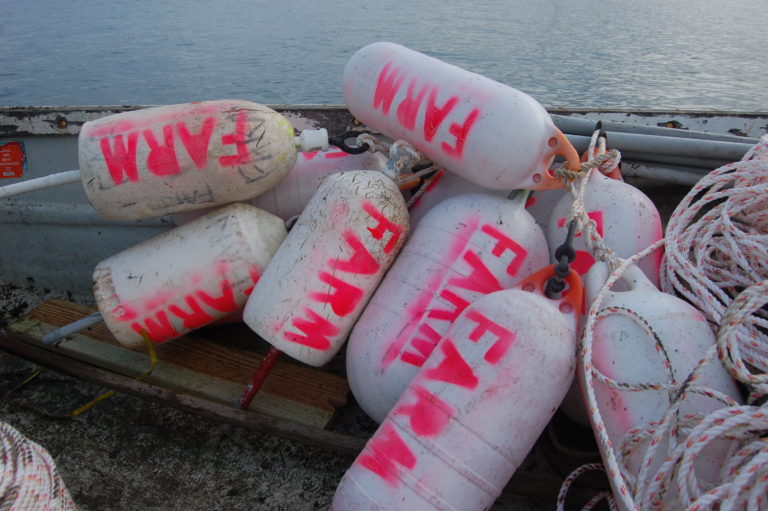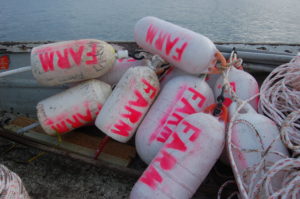 In order to connect businesses, community leaders, and property owners to the critical funding needed to sustain access to the water, the Island Institute proposes to serve as a technical resource, proactive matchmaker, and catalyst fund. The Institute will identify potential funding mechanisms and assist privately-owned working waterfront businesses in navigating the challenging processes to access LMF funding. Over the next several months, we will develop technical resources and a "circuit breaker" model to buoy support for community leaders, business owners, and those who depend on access to Maine's working waterfronts.
Island Institute recognizes that our leadership role must also include education and the widespread sharing of information to help raise awareness of the issues facing Maine's working waterfronts. Through accurate reporting and storytelling, we will overcome more than decade of inattention to this sector and the significant resource constraints facing state agencies in implementing the LMF program. The Island Institute is poised to direct significant marketing and philanthropic resources, as well as our organizational expertise, toward raising significant funding to support this initial effort and meet the substantial financial needs necessary to preserve and sustain Maine's blue economy into the future.
---
Can We Help?
In the summer of 2021, Island Institute fielded nearly a dozen calls and emails from communities and business owners concerned about specific pieces of waterfront property. We're sending our community development officers out to these island and coastal communities to learn more about the specific challenges unique to each location, so that we can share these stories.
If you are concerned about your working waterfront property or would like to learn more about the ways we can support you or your community, please email us today.
---
Stories from Maine's Working Waterfronts
In season 2 of Island Institute's podcast "From the Sea Up," we explore six Maine working waterfronts through stories of folks who make their livelihoods on the water. By exploring challenges related to access, infrastructure, workforce, housing, and investment these episodes tell the stories of innovative solutions and individual grit on Maine's coast.
These stories invite the listener to the docks, piers, boatyards, seafarms, and fish houses from Downeast to Southern Maine and ask you to consider: What is the future of the working waterfront and what role do we have in shaping it?
Listen here.