As the home one of the world's richest marine ecosystems, the Gulf of Maine is the foundation for a large sector of Maine's economy, the source of our state's maritime heritage, and a resource for innovation as we look to the years ahead.
---
Maine's Blue Economy—a Holistic View
The term "blue economy" is a flexible one that includes almost anything related to the ocean: energy, shipping, tourism, recreation, aquaculture, support services, and much more.
While lobster remains Maine's primary and most well-known export, our state's blue economy includes fishing, aquaculture, life sciences, value-added processing, boatbuilding, distribution, clean energy, tourism, and other waterfront businesses.
Through innovation and collaboration, the Island Institute is committed to growing this part of our economy, sustainably and responsibly, to ensure the preservation or improvement of marine livelihoods and help the Maine coast realize its full potential.
---
A Roadmap for the Future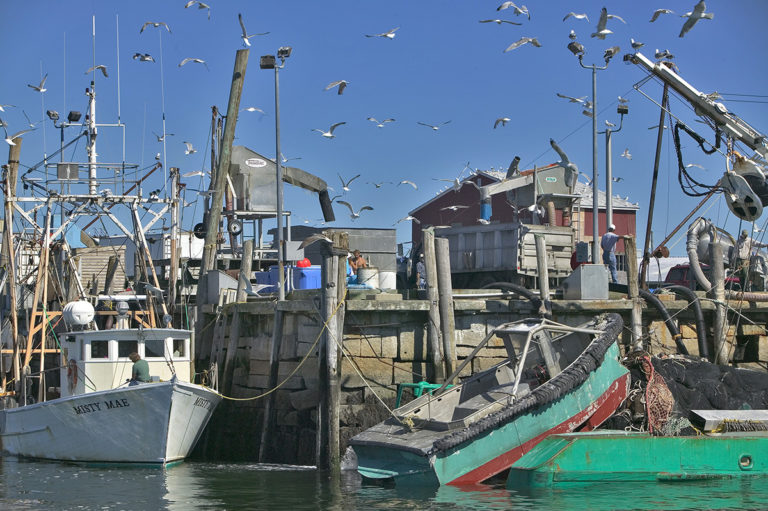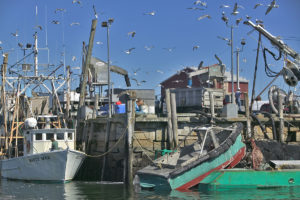 In order to become actionable, the blue economy concept must be supported by a diverse network of trusted leaders and experts across the industry and resources that help inspire, support, and co-create innovation. It must also fully anticipate and incorporate the impacts of climate change on marine and coastal ecosystems.
Realizing the full potential of the blue economy also requires the inclusion and participation of a broad spectrum of our communities, especially women, young people, local communities, indigenous peoples, and marginalized or underrepresented groups. This will mean examining not only how the ocean can create wealth, but also how we can pursue equity. Traditionally, the private sector has been the driving force behind the ocean economy. For a blue economy approach to be successful, the private sector can and must play a key role. However, partnerships between public, private sector, and nonprofit organizations are critical for ensuring the blue economy fulfills its social, ecological, and economic goals. The first step is making sure the development of the blue economy is connected to jobs, and that those jobs are connected to a healthy, well-functioning ocean. It has to be real for those living in coastal communities, and it has to benefit both people and nature. Otherwise, we will have lost an opportunity to achieve a much-needed transformation.
---
Maine's Blue Economy and Island Institute
Island Institute builds resilient communities from the sea up, starting with the people who steward our ocean. Our blue economy strategy targets working waterfronts, the critical economic connection between people and the ocean, and leaders in the blue economy to ensure livelihoods and prosperous communities well into the future. Resilience among our island and coastal communities is not possible without climate and economic resilience and the leadership to get us there.
Island Institute is lending its expertise and financial resources to support the future livelihoods of those who work on and near our ocean. From support to individual fishermen and small business owners to influencing policymaking, we will prepare people for the challenges and uncertainty to come. Climate change, pressures on waterfront landowners, and legislative regulations combine to present unprecedented challenges to Maine's blue economy
Island Institute has renewed our commitment to preserving access to threatened working waterfronts and creating strategies for enhancing marine livelihoods through diversification and waterfront-based climate solutions.
We continue to support aquaculturists, fishermen and women, community leaders, and small business owners through the uncertain times ahead.
---
Stories from Maine's Working Waterfronts
In season 2 of Island Institute's podcast "From the Sea Up," we explore six Maine working waterfronts through stories of folks who make their livelihoods on the water. By exploring challenges related to access, infrastructure, workforce, housing, and investment these episodes tell the stories of innovative solutions and individual grit on Maine's coast.
These stories invite the listener to the docks, piers, boatyards, seafarms, and fish houses from Downeast to Southern Maine and ask you to consider: What is the future of the working waterfront and what role do we have in shaping it?
Listen here.