Island and coastal communities are on the front line of the impacts associated with sea level rise, a persistent and long-term problem.
The predicted impacts on homes, businesses, and critical infrastructure, including working waterfronts, could structurally change the communities and economies along our coast. These changes may happen over a long period of time, or they may happen abruptly if we are hit with a large storm.
Island Institute partners with coastal and island community leaders to address the impacts of sea level rise. Through research, outreach, advocacy, and financial support, we help businesses and municipalities along the Maine coast plan and build infrastructure that improves their resilience to rising seas and other climate change effects.
ShoreUp Grants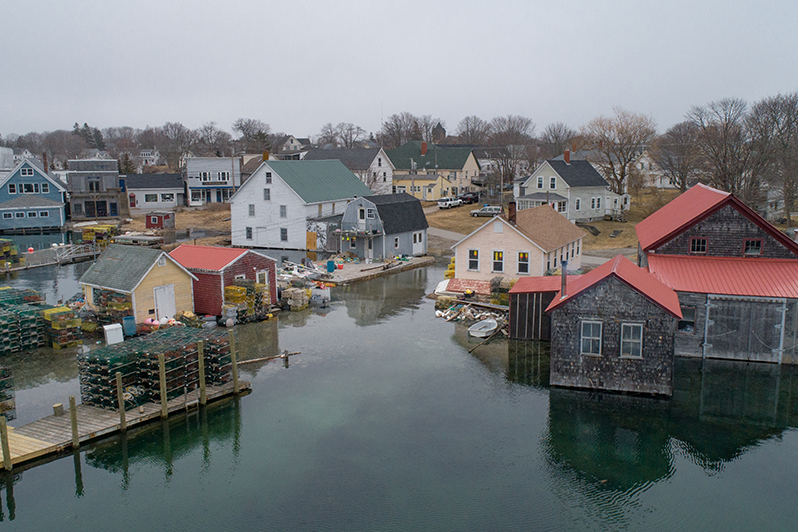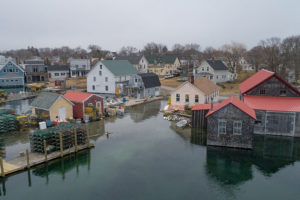 Funding for community Sea Level Rise preparedness
Communities along the Maine coast are taking steps to address coastal flooding exacerbated by sea level rise. Each community faces unique challenges particular to their working waterfront, existing infrastructure, and citizen engagement. Because of that, each community is taking a different approach to planning for the impacts of rising seas.
Island Institute's ShoreUp Grant offers flexible funding and support, so that communities can plan for the assistance they need to start taking the steps that are right for them. ShoreUp Grants offer funding support (up to $10,000) for Maine island and coastal communities as they assess, implement, and/or plan for sea level rise. Sea level rise preparedness projects might include (but are not limited to): risk assessments, infrastructure and natural resource planning, and community engagement programs related to sea level rise.
Learn more here or contact us with any questions.

Tools to Help Guide Your Community
Sea level rise impacts communities in a variety of ways, requiring unique solutions to meet their individual needs. Some are seeing threats to their downtowns, others have working waterfront infrastructure at risk, still others are concerned about underground utilities, water supplies, and wastewater treatment plants being inundated.
How can your community become more resilient to sea level rise?
Start the Conversation: Initiate community conversations through town meetings, informal discussions, documentation of inundation and other impacts​ and active networks with others grappling with similar problems.
Risk Assessment: Better understand the risks related to storm damage, and how these risks are projected to change due to sea level rise through a risk assessment.
Formalize a Plan: Translate this increased understanding into informed decision-making and actionable steps to enhance resiliency by formalizing a plan.
Funding and Adaptation: Secure funding and begin construction of mitigation and adaptation measures. ​
Additional Resources
Check out the links below to learn more about sea level rise in Maine, its impacts on coastal communities, and some of the steps being taken to increase resilience:
Questions?
For more information on how to advance sea level rise resiliency in your community, contact Abby Roche with our Sea Level Rise Resiliency team. For questions regarding financial support through our Community Impact Fund, contact us here.
Film and Video Resources
A Climate of Change: Sea Level Rise
The fifth film in our ongoing climate-related documentary series, A Climate of Change: Sea Level Rise follows the community of Vinalhaven, Maine, over a two-year period as they have conversations around planning for and responding to sea level rise on the island. It highlights some of the challenges they face, but more importantly, shows us how a small, yet engaged community can lead the way to planning for change.
Sea Level Rise in Maine
Sea Level Rise is Happening! Created for the Island Institute, this O'Chang Comics / Puckerbrush Animation original calls attention to the challenges of increased coastal flooding, storm surge events, and sea level rise impacts for Maine communities.