Reflections is written by Island Fellows, recent college grads who do community service work on Maine islands and in coastal communities through the Island Institute, publisher of The Working Waterfront.
Being a "person from away" is not a new experience for me. I was born in the Southeast where my parents' family roots lie but I moved to Southern California before I could develop my own Southern twang.
I listened to my parents' stories, visited my grandparents every summer, and learned how to make my Great Granny's chicken and dumplings. But living across the country I didn't know much about my family or their history.
As an Island Fellow, I moved to Swan's Island for two years to work with the Swan's Island Historical Society on various projects—saving a church building from the 1800s, digitizing archives and curating exhibits, and being an extra set of hands for whatever tasks arose at the volunteer-led organization.
Swan's Island astounds me because everyone I've encountered seems to agree that knowing who and what came before you is important. There is a reverence here for preserving the past and savoring the present that I haven't experienced anywhere else.
There is a reverence here for preserving the past and savoring the present…
People live and die here. Generations of their family have cultivated the culture and community of this island. The soil is steeped in a history that lives on through the people who stay. It's not just an island, it's their island.
I thought I knew the value in preserving and sharing history, but my first few months on this island showed me that my appreciation and understanding of the past were just budding. It has always been hard for me to connect to stories focused on people. I gravitated towards periods of time, events with impacts spanning the globe, and traditions that endured centuries while people came and went. People were always a part of the story but never the focus, the part that kept my attention.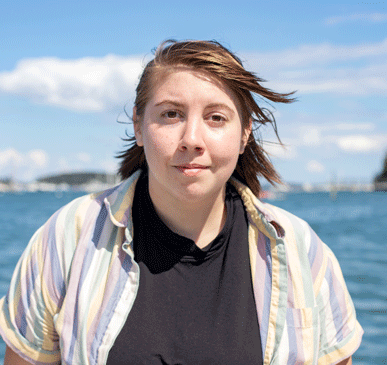 Through my work with the Swan's Island Historical Society, I'm starting to see that those individual experiences are not just a piece of the larger picture, a means to an end.
Working with the collections of old family photos has taught me the most—portraits of stern-faced men and women from the 1800s, candid shots of fishermen of all ages buzzing around wharves, and glimpses of the little things that make life different out here.
One photo has been stuck in my head for months. Two boys sitting in front of a Christmas tree dripping with tinsel and surrounded by their new toys. Their father stands in the doorway, leaning against the frame and looking at his sons with the softest smile. I can't help but wonder if the person behind the camera saw his smile, too.
I've never met the man or the boys, but I've cried for them, looked at their faces fondly as if they were my own flesh and blood. I've seen their relatives who haven't walked the earth for decades grow like weeds with their brothers and sisters, go to war and not always come back, and spend their last years at home on Swan's Island.
These human stories might feel mundane to those living them but they have the power to captivate others, to pique curiosities and shift perspectives.
Stories of love and loss, community and kindness, empower folks to reflect on their own lives, introduce them to different ways of living, and help find common ground and connect with others.
Olivia Jolley works with the Swan's Island Historical Society digitizing its artifacts and archives. Born in North Carolina, Jolley grew up on the coast of southern California and moved to Maine to attend College of the Atlantic.