The El Faro tragedy—the loss of the cargo ship in early October, with the entire crew presumed dead—reminds us of the dangers of the sea.
The United States Coast Guard's week-long search for the ship, covering 172,000 square nautical miles, according to reports, reminds us of the valor of a service dedicated to the rescue and safety of people on the seas.
When this tragedy occurred, The Working Waterfront was in the midst of reporting on Coast Guard's presence in Maine. Among the stations here—in South Portland, Boothbay Harbor, Rockland, Jonesport, Southwest Harbor, and Eastport—we found the same sense of dedication to mariners off the coast.
Maine is part of Sector Northern New England, whose responsibility spans over 5,000 miles of coastline—3,500 miles in Maine—and 11,000 square nautical miles of water. Last year, the ports accounted for the movement of over 160 million barrels of petroleum products, significant bulk and container freight, hundreds of deep draft vessels, scores of cruise ships, many ferries and tour boats, more than 7,000 commercial fishing vessels, and thousands of small craft.
The Coast Guard is responsible for everything from routine boat registrations to maintaining aids to navigation, winter ice-breaking, law enforcement, drug interdictions and search and rescue missions. Day-to-day, Coast Guardsmen are responsible for the maintenance of their boats and other assets, and have many educational and career advancement opportunities that take them to postings around the nation. It's a career of often-routine operations punctuated by harrowing experiences.
STATION ROCKLAND
Chief Carter Seigh is second in command at Station Rockland. At 30, his career has given him travel and a learning opportunities. He plans to complete at least 20 years, and probably longer.
Born and raised in Hyde Park, N.Y., he was once an assistant manager at a landscaping nursery. In 2003, he was doing a delivery in Saugerties, N.Y., where the Coast Guard has an Aids to Navigation Team on the Hudson River.
"I saw members of that station having lunch together, and I started talking with them about what they do and what career paths were available," he said. "It piqued my interest. I always loved being on the water and, talking with them, a career on the water sounded like something I would enjoy."
Initially, Seigh intended to sign up for four years, save his money, then leave to start a landscaping business.
"But after the first couple of years, I discovered it was something I had a passion for."
After boot camp, Seigh started out as a Seaman Apprentice in deck department on the cutter MONOMOY, in Woods Hole, Mass.
"Our main mission was conducted off Massachusetts and the Cape Cod coast, but we went as far as Maine and New Jersey. We executed several major search and rescue cases and several significant fisheries law enforcement actions that involved termination of fishing vessels."
Seigh found he enjoyed helping people in search and rescue cases.
"I remember there was a fishing vessel that sank. We located the life raft and recovered the crew. It was definitely a great feeling for me, as a junior person in the Coast Guard, knowing that I played a role in helping those people."
Seigh was subsequently posted to the cutter BARANOF, in Manama, Bahrain, where the primary mission was the defense of Iraqi oil platforms. Shortly before, a Coast Guardsman had been killed by an improvised explosive device on a fishing vessel. This was a rare occurrence for the service, and it resonated deeply.
"It's not frequently something like that happens with the Coast Guard, [but] the chance that you knew someone in that type of incident is high."
From there, he went to Boston's small boat station, where the primary mission was to escort liquified natural gas tankers in and out of the harbor.
"Because the LNG facility is located in the heart of the city and tankers have to transit the middle of Boston Harbor, that represents a significant hazard and potential terrorist target. Fortunately, it was a relatively uneventful four years."
In 2009, he transferred to cutter ADELIE in Port Angeles. Wash., where he participated in fisheries law enforcement, search and rescue and naval vessel protection in Puget Sound. That was followed by time on cutter HOLLYHOCK in Port Huron, Mich.
"There's a tremendous amount of boating on the Great Lakes, and they rely heavily on aids to navigation. We maintained approximately 124 aids to navigation, and during the winter, we assisted with ice-breaking, which is a huge part of the Great Lakes mission because they have to keep commerce moving, particularly home heating oil."
He transferred to Rockland in the summer of 2014.
"We've had several significant search and rescue missions since I've been here." One of their most notable missions occurred on Nov. 1, 2014, when the station received an electronic distress signal from fishing vessel NO LIMITS.
"Our crew was searching for nine to 10 hours in 12-foot seas and 30- to 40-knot winds to try to locate survivors. One of the crew members was recovered successfully by a helicopter from Air Station Cape Cod, and our boat crew searched diligently for the remaining two persons. Unfortunately, we were unable to find them.
"It's very difficult, when you're trying to hold out hope for the family members as long as you can. It was very difficult to see them go through that."
Seigh married in 2009. His wife, Stephanie, was on active duty in the Coast Guard at the time, and is now in the reserves, traveling to Sector Northern New England in Portland periodically. They have two young children.
"The biggest challenge for me has been finding time to spend with my family while being assigned to various units. You might be gone for several weeks at a time. It's not an ordinary job and there's a lot of stress involved. It's important, when you're home, to make time with your family."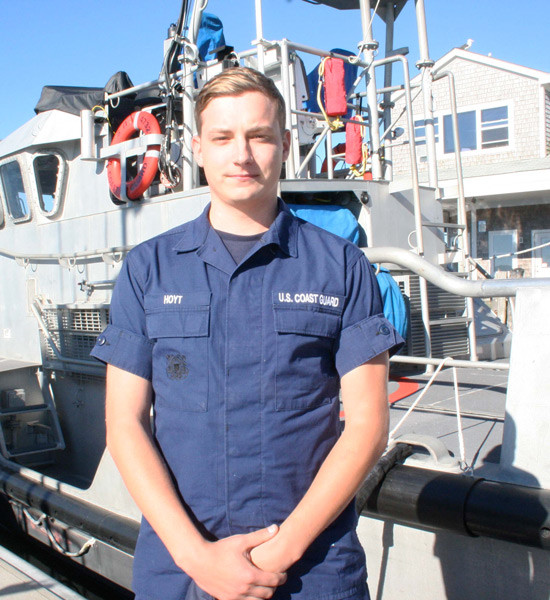 Kevin Hoyt
EXCITING WORK
Boatswain's Mate 2nd Class Dustin Lotz, 28, is stationed in South Portland. He's been in the service for almost nine years.
"I wanted to do something new and exciting and that actually had some meaning to it."
Born in Baltimore and raised in Freeland, Md., Lotz joined about a year after graduating from high school. As an entry-level seaman, his first posting was on the Coast Guard cutter HARRIET LANE, in Portsmouth, Va. From there, he trained in Yorktown, Va. As a boatswain's mate, he must be versatile, capable of performing almost any task in connection with deck maintenance, small boat operations, navigation, and supervising all personnel assigned to a ship's work force or small boat station. The training develops skills such as marlinespike seamanship, navigation and practical exercises underway.
From there, he did just under four years at Station Curtis Bay in Baltimore, Md., at a Coast Guard yard facility.
He's been at Station South Portland, equipped with a 47-foot motor lifeboat and 29-foot response boat, since 2012. His duties are multi-faceted. As section leader, he manages search-and-rescue, law enforcement and other types of assistance. As officer of the day, he's the direct representative of the commanding officer, overseeing day-to-day operations when the command isn't present. He's a boat coxswain, federal law enforcement officer and instructor, and rescue and survival systems petty officer, among his duties.
"It's a very broad stroke given to us," Lotz said. "When people think 'Coast Guard,' they think we're out there patrolling the coast, but there's a whole myriad of jobs placed on us."
In August, Lotz launched a mission to reach the 40-foot fishing boat GRETCHEN MARIE, whose engine room had caught fire about 20 miles offshore in the vicinity of Jeffery's Ledge.
"It was a very long transit. We were the first ones on scene. We beat a helicopter out there and even some good Samaritans that were looking for the vessel and had trouble due to a fogbank."
They found two worried fishermen ready to don their immersion suits and preparing to pull down their life raft. The incident ended well. Lotz and his crew took the fishermen aboard, towed their vessel, the fire extinguished, to Portland.
"Once we found it was safe, we moored the vessel where they could have it worked on. And they were still able to salvage their catch."
Lotz forecasts at least another 11 years with the service, to retire after the standard career term of 20 years and perhaps go for a merchant mariner license.
"The thing I enjoy most about being with the Coast Guard is that I get to do a job that really makes a difference in other people's lives. If someone's vessel is on fire, or if they're sinking or have a medical emergency, we go out and assist them as fast as possible and in the best way we can."
HOMELAND DOWNEAST
At Station Eastport, Petty Officer Third Class Christopher Triana, 24, said he wasn't interested in going to college after high school, but wanted to serve his country.
"I felt the Coast Guard was the best option for me. It allowed me to serve my country in the best way I could, but it also kept me on the homefront where most of the help is needed. Being part of the Department of Homeland Security, we're on our country's frontline, so we're the last barrier."
Born and raised in Virginia, Triana joined the Coast Guard in 2010, initially stationed in Portsmouth, Va., then in Yorktown, Va. He arrived in Eastport in 2013.
In June, Triana and others at the station spotted a sailboat going back and forth on a day cruise. Early that evening, the station received a phone call from the person's significant other, stating that the captain of the sailboat was late and that they weren't able to reach them on their cellphone.
"Remembering back to where I'd seen that vessel, I had an idea where they might be. There wasn't any suspicion that they were in danger, but we decided to go anyway because it was still daylight out and that makes it easier to find a boat. It was fortunate that we launched when we did because they were fairly close to being washed up on the rocky shore. We were able to take them in a tow back to their mooring."
Triana plans to finish his four-year contract, pursue studies in civil engineering with the help of the G.I. bill, and start a business with his father back in Virginia. He's found his experience with the Coast Guard especially helpful for rounding out his leadership and communication skills.
"Our station is mostly run by junior members, so we have the opportunity to branch out and mold ourselves into the type of person we want to be. I'm one of two of our duty coxswains. It's pretty amazing that a 24-year-old is entrusted with that kind of responsibility. It forces you into making the right decisions and having a level head."
LAW ENFORCEMENT
Seaman apprentice Luis Orellana, 19, is also at Eastport. Born and raised in Somerville, Mass., he aspires to be a police officer, and also wanted to serve his country. The Coast Guard "maritime enforcement specialist" position caught his interest.
"The military provides a lot of opportunities, including law enforcement."
Orellana started a four-year tour in March, and is thinking of re-upping for one more four-year term after that.
"Hopefully, with the experience I get from being here, I can end up being somewhere similar in the civilian world."
Kevin Hoyt, 21, is a fireman at Station Southwest Harbor, currently responsible for deck maintenance and operations.
"I had a little bit of a background working on cars, but this is a totally different ballgames. It's definitely interesting."
The station is equipped with a 65-foot cutter, two 47-foot motor lifeboats and a 29-foot response boat.
"Maintenance is a daily battle," he said ruefully. "We do boat checks to make sure everything is running smoothly. If anything needs repairs, we do that immediately. That's all before lunch. After lunch, we do routine maintenance."
Born and raised in Syracuse, N.Y., he entered the service just over a year ago after a short time in college, a couple of years traveling and some time in Hawaii. After basic training in Cape May, N.J., he arrived in Southwest Harbor on Sept. 12, 2014.
The service attracted him for the excitement.
"It's something different. Not a lot of people can say they're in the Coast Guard."
One incident that stands out occurred in the middle of the night last March. A fire on a fisherman's boat, caused by a space heater, blew the boat's propane tanks.
"That was a crazy scene. Fireballs. The boat was floating free from its mooring and coming toward our gas tank, which is 500 gallons. It would have been bad. I was on the pier with a hose, with other people standing by. Our crew was a couple of feet away from the fire, putting it out. I've had a couple of other majors, but nothing of that caliber. That was intense."
What's it like to be rousted for that?
"You're expecting it, really. You always have to be on your toes. That's what we're here to do. One of the best parts of the job is being able help people."
Hoyt doesn't think this will be his long-term career. But he's thrilled about the educational opportunities, and he's pleased that he gets to choose what route he wants to take.
"That's why it's one of the better services, in my opinion."
Soon he'll be going to Yorktown, Va. to train in a diverse range of skills such as welding, plumbing, carpentry and firefighting. Those are skills that carry over well into the civilian world, giving him a lot of options. While he thinks he might travel after his four-year contract with the Coast Guard is up, he's thinking about getting into carpentry after that, with a focus on sustainable housing.
He's also learning a lot about himself.
"I can take on a lot more than I thought I could, whether that be stress or workload. You definitely get pushed a lot. It's an adult world. Before, I don't think I was mature. You get forced into it and you mature very quickly."
Maine Coast Guard by the Numbers
Military Active: 606
Military Reserve: 92
Civilian: 57
Auxiliary: 395
Annual operating expenses: $52.8 million
Fleet: 41 boats, 12 cutters
Mission:
Search and Rescue Cases: 2,337
Aids to Navigation Serviced: 1,464
Boat Registrations: 117,427
Nationwide, on an average day, the U.S. Coast Guard conducts 180 search and rescue cases, saves 12 lives, interdicts 14 illegal migrants, seizes $7 million in illegal narcotics and responds to 38 hazardous spills.