Near the end of my visit with Christina Vincent on North Haven she casually observes that her story could only come through island living. It's not a dramatic story, but it is impressive. And it's hard to see it any other way.
Vincent and her husband built their own house—an attractive saltbox that would readily fit into any subdivision, though it sits in a quiet, wooded part of the island—because that was the only way they could own a home in a place where contractors and materials aren't readily available or affordable.
"We also built my husband's shop," where he is a go-to vehicle repair mechanic.
Buyers like "the story behind it, the personality" of the piece…
Learning building and carpentry skills led to building furniture, she says, because she needed work for the winter months. And because carpentry work can ebb and flow, she decided to launch her own landscaping business for the spring, summer, and fall.
And that furniture-making? Well, it has taken her to successive invites to an annual showcase at the Smithsonian Institution.
Vincent, 40, is a native Mainer, having grown up in Auburn. She attended the University of Rhode Island, majoring in fashion design and marketing with a minor in art. She's been living on North Haven for 16 years. Her husband's brother lived on the island, and visits with him convinced the couple to make the move.
In 2013, she started the landscaping business, and based on my visit on a Friday in May, it's a going concern. Vincent had been working in gardens all morning and met me at the ferry landing in her small truck, loaded with tools and supplies. At her home, plants had arrived via FedEx, and before driving me back to the village, she grabbed bags of soil and tossed them into the back of the truck.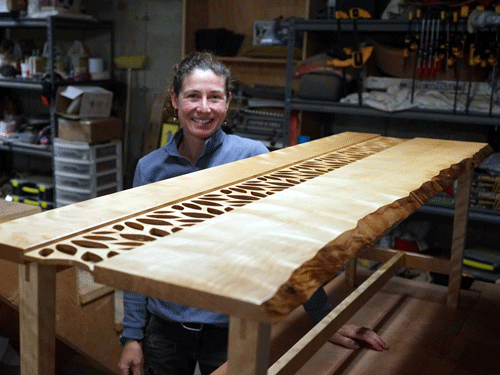 "I tried my hand at carpentry," she says, tracing the journey to her current dual-business life. "I liked that," in part because it allowed her to access her design background. Then, "the landscape business took hold and became my main source of income."
But the highlight of the visit is her furniture. Vincent's approach to the craft grew out of her several experiences, not just the carpentry.
In 2013, she participated in ISLE, a course focusing on developing a business plan once offered by the Island Institute, publisher of The Working Waterfront. It helped Vincent ground herself for taking on the commitment of expensive tools like table saws, planers, and joiners, as well as imported tropical woods, and the significant time required for building fine furniture.
"I think the biggest thing is being confident with tools," she says. "I started to do woodworking in 2015, then it became furniture."
Vincent had met Peter Korn, founder of the Rockport-based Center for Furniture Craftsmanship, "and he encouraged me to take a class." She attended a three-month session at the school and found the creative side of building furniture connected to her artistic side.
"I was always an artist in high school," even being voted "class artist."
The aesthetic of her work is modern, yet not far from traditional shapes and forms. There is a minimalist use of wood, and she challenges herself to see how far she can she go without affecting the structural strength of the piece.
"I tend to be attracted to more delicate lines," she says, while also using negative space by cutting away parts of the form. Benches, dining tables, and small accent tables are the core of her work.
Vincent met Stephanie Crossman of Vinalhaven while at the ISLE training, and Crossman told her how she had her fishing net-inspired art included at the prestigious Smithsonian Institution's fine craft show. Vincent later applied to be featured in the show, sending a resumé and portfolio, and was one of 120 to be accepted. In fact, she was chosen to show her work there in 2020, 2021, and 2022.
"That was a huge goal of mine," she says. "It's an honor." Even with tickets selling for $300, "There was a line for the opening," Vincent says, and a couple of thousand visitors attended.
She brought a dozen pieces to the show, which provides a 10-foot by 10-foot space to exhibit. "I sold three pieces, which was great."
Not surprisingly, the work takes concentration and focused time, with a solid two weeks being a typical start to finish process. About 80 percent of her work is commissioned by customers, most of whom are year-round or seasonal islanders. Buyers like "the story behind it, the personality" of the piece, she says. "I would love to expand and do this more."
"I wasn't that handy a person 16 years ago," when she arrived on North Haven. "I wouldn't have learned carpentry and then gotten into furniture-making if I didn't live here."
Some of Vincent's furniture is available for purchase at Archipelago, the Island Institute store.
For more information, see https://www.christinamvincent.com/.