This Other Eden
By Paul Harding
W.W. Norton & Co., 2023
Kate McBrien needs not even ten words to describe her reaction to This Other Eden.
One will do: "Offensive."
Maine's state archivist has found getting through Paul Harding's newest coastal novel something of a challenge.
"It perpetuates all the myths about early Maine history. And none of them are true. That's problematic."
The novel's characters include mixed-race generations of castaways, "queer squatters" living on a very small island amid nearly 100 years of undiluted genetics, with extended families existing hand-to-mouth within a haunting, other-world reality.
Harding's stark fictional backdrop of Apple Island is salted by the demands of Maine's unforgiving coastline and the ever-swirling, multi-generational eddies of mainland malevolence grounded in fear, suspicion, racism, and eventually eugenics. Harding also spices his Apple Island storytelling with allusions to incest and suspicions of murder.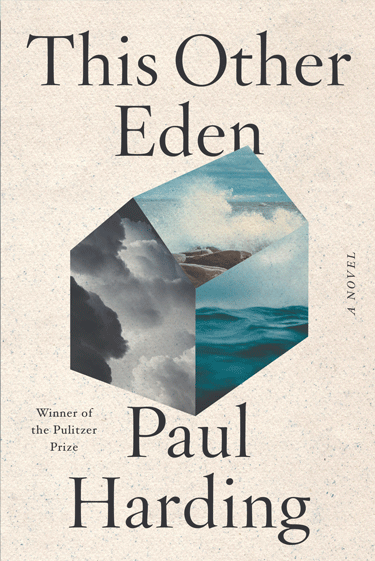 That bothers McBrien, who lectures on the history of Magala Island. The 42-acre Casco Bay Island near Phippsburg was inhabited for more than 100 years by a small, racially diverse fishing community that extended over six generations. Those who lived there were evicted by decree of Maine's governor in 1912, a process that demolished the homes of 47 residents, including eight inhabitants deemed "feeble-minded" who were then committed to a state institution.
Corpses buried there were exhumed and removed to an on-shore cemetery. To preclude resettlement, the state bought the island for $471. It was acquired by Maine Coast Heritage Trust in 2001 and is now an offshore preserve popular with tourists in kayaks.
"It's sensationalistic," McBrien says of The Other Eden. "There was no incest. There were no murders. But I hope at least it sparks interest in the real story because it is an important story of the role abolition, racism, and eugenics played in Maine's early history.
"Magala Island was the only Maine community broken up by eugenics, although it happened in other states and to other individuals. I hope at least this book sparks an interest in the real story. Paul Harding has won a Pulitzer Prize, so I suspect that readers might think this is the real story. There is one book now in progress that better reflects Magala Island history."
Harding's debut novel Tinkers is also multi-generational and Maine-based. First published in 2009, it won the 2010 Pulitzer Prize for Fiction.
History aside, Harding's methods of melding words and his way with characters of his own invention is often stunning, both in concept and execution: "The islanders were so used to diets of wind and fog, to meals of slow-roasted sunshine and poached storm clouds, so used to devouring sauteed shadows and broiled echoes."
Fictional travels through The Other Eden island's stony woods include a delicate and insightful portrait of a young man as an artist, a boy whose pale-skin and brilliant talent doom him to wander from a cloistered life of island isolation onto the mainland and well beyond, perhaps even as far as the killing fields of the trench warfare French battlefields of World War I.
Equally brilliant is Harding's crafting of intriguingly eccentric Apple Island characters, including a recluse known to the community as Zachary Hand to God Proverbs, age unknown, a master woodworker who lived alone as freezing temperatures would allow in a hollowed out oak tree of his own design. Working by candlelight, Zachary carved scenes from the Bible on the inside of his oak—Samuel beheading Saul, Judas kissing Christ. Before eviction, he cuts his totem down.
Historical fiction? Or Fictional history? Therein find the rub.
Tom Walsh is a retired journalist, academic, and author of Erin's Hope, a historical novel about Irish rebellion in 1867.