E.B. White was a writer's writer.
He wrote poetry, columns for magazines like The New Yorker and Harper's—essays, really, and in a style that remains in vogue 70 years later—and, of course, children's books like Stuart Little and Charlotte's Web.
He literally wrote the book on writing, too, building on earlier work by William Strunk to craft The Elements of Style, a guide still recommended to English 101 students and cub reporters.
And White was a Mainer, at least one who, through no fault of his own, happened to be born in New York. His Brooklin farmstead is where he hung his heart, and where he spent most of his life.
So it is entirely fitting that White should be held up to students as an exemplar. And why wait until they're sitting in that college classroom?
Island Readers & Writers, a nonprofit dedicated to "inspiring a passion for reading and learning" among island children, is sponsoring a tour of island schools with Melissa Sweet, author and illustrator of Some Writer! The Story of E.B. White. Sweet visited North Haven Community School Oct. 6-7, giving a presentation at Waterman's Community Center and then working with students at the school.
"We consider her a treasure in Maine," Jan Coates, executive director of Island Readers & Writers said of Sweet, who lived in Rockport for many years—where White's granddaughter Martha lives—but now makes her home in Portland. An illustrator whose work has been featured in national publications, Sweet's children's books include Balloons Over Broadway: The True Story of the Puppeteer of Macy's Parade, Tupelo Rides the Rails, and Carmine: A Little More Red.
Her visits are much more than book tours. On North Haven, the students had been preparing, with each level reading or being read White's work.
Earlier in the day, Sweet met with elementary students, who had Charlotte's Web read to them in advance.
"I showed them pictures of E.B. White at their age," she said.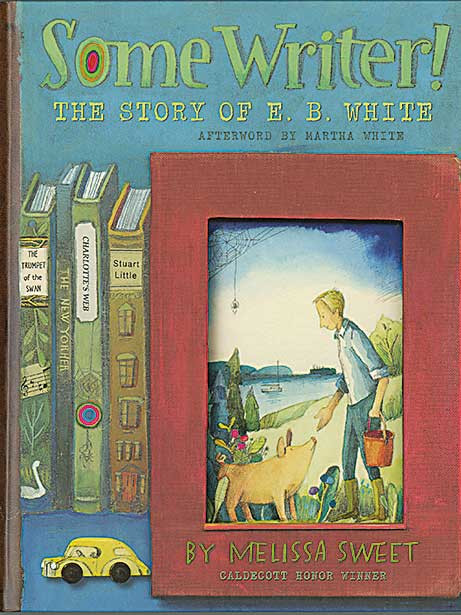 High school students worked on "sensory writing," using a trip to the White Mountains as their subject. Reading their work aloud earlier, Coates and Sweet said, impressed both with the mastery of "voice."
"Simple, but lyrical," with a "three-dimensional component," Sweet said, describing what she heard, as the students wrote about the fog and wind on Mount Washington, the taste of a cup of coffee after climbing to the summit.
The previous night, adult ed students read portions of White's essays collected in One Man's Meat at Waterman's.
In their preparation, middle school students read the essay "Once More to the Lake."
The 14 students sprawled on the carpeted floor of the school library to hear Sweet speak. She began by holding up a map that showed how close Brooklin is to North Haven—by boat, that is.
Though White is a role model for writers, Sweet told the students he was more interested in attending to the birth of his animals and other farm matters than studying.
"He was not a great reader," she said, and once received a D in English class.
"I spent my youth on a bicycle and in trees," White wrote.
Holding up her book, Sweet walked students through White's decisions in beginning Charlotte's Web. An early version begins with the farmer walking to barn to witness a pig giving birth. But the final version is quite different:
"Where's Pop going with that ax?" said Fern to her mother as they were setting the table for breakfast.
Sweet asked the students, "Does that make you want to read that story?" They agreed it did.
In those first paragraphs, Sweet continued, "We're getting some character development" about Fern. "Fern is onto it. They're going to kill this pig."
Also in that page are references to spring, morning and then wet sneakers, all of which put the reader into a vibrant, colorful setting.
Sweet's book is richly illustrated and annotated, with family photos, collages and paintings depicting scenes from White's life and his books, and pages of his letters and drafts from his books. Sweet has even created shadow boxes—one of which she brought to North Haven—which were photgraphed for the book.
Every student received a signed copy of Some Writer!
Sweet's visits to islands will continue: Vinalhaven (Oct. 20-21), Swan's Island (Nov. 3), Great Cranberry Island (Nov. 4), Deer Isle-Stonington (Nov. 15-16) and Mount Desert Island (Nov. 28-29).