It's hard to overstate the importance of cod in New England and Maritime Canada history. The fish has sustained those living here before and after the arrival of Europeans, and even fed those back on the continent.
Stonington's fish pier was built in the late 1980s in anticipation of increased landings when foreign fishing boats were pushed farther off the coast by international law, and some 10 million pounds were landed from 1989 to 1999.
And so the collapse of the fishery 30 years ago is nothing short of tragic. Landings fell off "a pretty sharp cliff," said Pat Shepard, a research specialist with the Maine Center for Coastal Fisheries (MCCF), which hosted a webinar March 17 on an ongoing survey of cod and other groundfish along the Maine coast.
"There were over 15 crabs in one stomach," she said. One cod had eaten a lobster a third of the size of the fish itself.
The survey doesn't suggest a dramatic rebound, but it does shed light on the status of cod and what may be contributing to a friendlier climate for the fish.
The Eastern Gulf of Maine Sentinel Survey has been gathering data on Atlantic cod and other groundfish in 5,000 square miles of the coastal shelf for over a decade. Shepard and MCCF's chief scientist Carla Guenther were joined by Robyn Linner of Stony Brook University in presenting results.
The survey follows carefully and consistently applied sampling methods.
Linner noted that models predicted increases in the 2018-2021 period, and that the latest data supports that forecast.
"We've actually seen increases, essentially every year since then," she said.
Shepard noted that Ted Ames, a Stonington-based former fisherman and scientist, discovered that alewives play an important role in supporting the cod population.
"They hang out at the mouth of rivers and feed on the young of that year," Shepard said of cod. And so the collapse of alewives was part of the collapse of cod. "Their prey base collapsed."
Sampling is done with a 200-hook long line, Shepard said, often 1,200 feet long. Rod and reel jig gear also is used in waters closer to shore.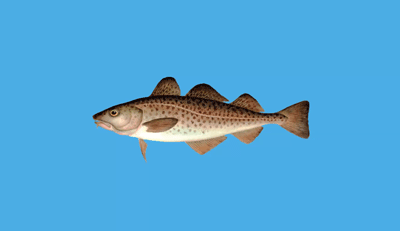 "We don't sample the same areas year after year," he said, and instead scout the location and set lines. The surveys are randomized—a computer selects an area, though the boat captain selects within squares with a grid.
"Everything that comes aboard gets weighed and measured," Shepard added, with researchers taking photographs, muscle samples, fin clips for DNA, gonads, otoliths (a structure near the fish's brain), and the contents of stomachs.
Linner noted that cod samples showed most of the fish measuring between 20 and 55 centimeters (7.8 to 21 inches), and at that size, they are still immature. The small- to medium-sized cod are eating small crustaceans and other seafloor organisms, such as lobster, Jonah crabs, spider crabs, and worms.
"There were over 15 crabs in one stomach," she said. One cod had eaten a lobster a third of the size of the fish itself, she added. Not many shrimp were found in stomachs.
The fish that were found in cod stomachs were too digested to be identified, though Acadian redfish was the most common identifiable species. There was no strong evidence of alewives, also known as river herring, in the sample stomachs.
"They clearly have food," Linner said, but wondered about the diet of crabs, which take longer to digest. Is this exacting a higher cost on the cod?
After the webinar, Shepard noted that the low numbers of adult cod remains puzzling, though recent work by Jim Wilson of the University of Maine suggests that the fish are failing to get "social learning." The theory is that young cod learn from older fish how to avoid predators and what food to eat.
Another theory is that seals are eating adult cod. As an aside, Shepard noted that hake populations seemed strong, which adds to the mystery of the lack of cod resurgence.
The sentinel survey project is a collaboration between commercial fishermen and scientific partners from the region. It aims to answer questions about stock structure and recovery, diet, and life history in an area not well sampled by traditional survey programs.