Reflections is written by Island Institute Fellows, recent college grads who do community service work on Maine islands and in coastal communities through the Island Institute, publisher of The Working Waterfront.
My alarm clock rings, I turn over and look at the time—it's 4:48 a.m., still dark, very breezy, and by the looks of the frost lingering on the window, it's undoubtedly cold. Normally, in moments like this I would sink back into my covers and call it quits until the first warm rays of early morning sun peered through my windows.
But this was not a normal day. Most days you can find me behind a screen at home in Cutler, or at the Sunrise County Economic Council office in downtown Machias. But on this day, I would be knee deep in muck trudging through the mudflats of Sipayik, the Passamaquoddy Tribe's community at Pleasant Point near Eastport.
And what does trekking through the mud on a cold spring morning have to do with my fellowship work? Well, everything!
Just one green crab can consume 40 half-inch clams a day.
Throughout the Downeast region there is so much work happening, and I've been lucky enough to participate in it first hand—fisheries management, conservation, tourism, and education. But there is often a lack of external communications between local organizations and the communities they are trying to impact.
So again, why trudge through the muck on a cold spring morning? For communication's sake, of course!
The Downeast Fisheries Partnership is one program working with communities across Washington and Hancock counties. It's worked along the Bagaduce, St. Croix, and other rivers restoring habitats, researching, educating the community, and advocating for policy.
I was asked to work with a "clam garden planting" event in Sipayik, part of DFP's initiative to replenish the once abundant clam flats surrounding Half Moon Cove. Experts believe one of the main barriers to soft-shell clam revival along the cove's intertidal zone has been the abundance of invasive European Green Crabs (carcinus maenas) in the region.
These pesky crustaceans are known to dig down more than 6 inches to find clams to eat, and just one green crab can consume 40 half-inch clams a day. In areas where European green crabs have established large populations they are known to consume as much as 99.9% of the juvenile clams. For tribal clammers and other members of the working waterfront this could mean a reduced level of food security and income.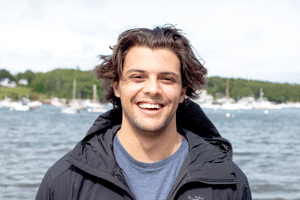 When planting that day, I couldn't help but wonder how many other communities were being impacted by similar issues.
The Sipayik Clam Garden project will certainly serve as an inspiring example for other coastal communities. It demonstrates the power of combining traditional ecological knowledge with modern science and management techniques, paving the way for more sustainable solutions to complex problems such as this one.
As the project progresses, the lessons learned and successes achieved will continue to fuel further collaboration, empowering communities to safeguard their invaluable marine resources while fostering a more sustainable, resilient future.
Kawai Marin works with the Sunrise County Economic Council focusing on marketing, outreach, and communications. Originally from Brazil, he spent most of his life in Massachusetts and earned a bachelor's degree at Bates College where he studied environmental studies and anthropology.