Patricia Festino has built a number of houses in the course of her 77 years. The Chebeague Island resident knows the ins and outs of working with architects and carpenters, and the ups and downs of construction and design.
Having worked hands-on on her homes, she also knows how a house comes together. But the last house she built, the home she calls the Woodlands because it sits on a hill above the ocean surrounded by trees, was something different from her previous building experiences. It was a kit house created by Woolwich-based Bungalow in a Box.
Kit houses—ready-to-assemble homes in a variety of shapes, sizes, and styles—were all the rage from the start of the last century until World War II. They were considered an affordable option that were so simple to put together, homeowners could assemble them themselves, or hire someone to do the assembly. Among the best known were mail-order houses from the Sears, Roebuck catalog.
Driven by trends in simpler living, economic tightening, and a thriving DIY culture, these ready-to-assemble homes are once again gaining traction with potential home owners.
However, Festino wasn't looking for a kit house when she decided to build on her property on Chebeague Island. She was looking for an energy-efficient one—and that is what led her to Raoul Hennin and Bungalow in a Box.
Founded by husband-and-wife team Raoul and Vicki Hennin, Bungalow in a Box specializes in energy-efficient construction and offers standard and customized kit houses and other buildings. Their proprietary construction method uses a hybrid of traditional timber framing and panelized walls.
The panels are structural insulating panels (SIPs), which are made up of a rigid insulating core sandwiched between boards. SIPs are known to create tighter building envelopes and increase a building's insulation, which results in lower energy costs for the home owner over the long term.
While SIPs are generally considered to have higher upfront costs (by some estimates, up to 20 percent higher, depending on the region) than traditional stick-built materials, overall project costs are usually lower (by as much as 30 percent). The overall lower project costs are partly due to savings in on-site labor costs.
Looking over the house models on the company website, Festino wasn't confident she could get what she wanted, but after a phone call with Raoul Hennin, she knew he was the right partner for her.
CUSTOM KIT
Hennin says the idea of a kit house is a bit of a myth because it's a rare client that doesn't want some amount of customization, and that was the case with Festino. She wanted an energy-efficient home that had floor plan flexibility so that it would be easy for her to live on the first floor of the home as she ages. She, Hennin, and a local architect spent more than a year working on a custom design for her 1,960-square-foot, passive solar, farmhouse-style home.
While she opted for a fully customized home plan rather than one of Bungalow in a Box's standard models, like the standard models, all her home's components were built in Hennin's "bungalow barn" on his property. The giant, ready-to-assemble timber and panel pieces were barged to Chebeague Island.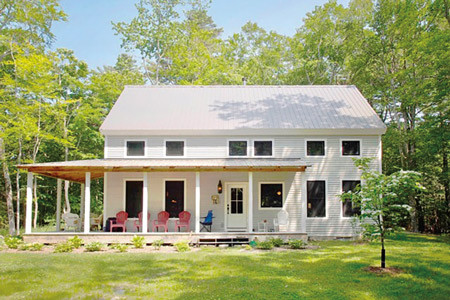 PHOTO: COURTESY PATRICIA FESTINO
"When Raoul arrived on the property, the islanders were stunned. It looked like pieces of a puzzle—and it was basically," said Festino. "I think half the island walked on (her property) to watch the whole process."
The entire Hennin family—including Vicki and Raoul's two children, then ages 10 and 11, and a hired helper—put the timber and panel pieces together to form the structure of Festino's new home.
In true kit house fashion, once the timber and panels were pieced together, Festino was left to finish the house in whatever manner she wanted, either by hiring a contractor to do the work or by doing the work herself. She hired a contractor.
Two years after moving into her customized kit house, she couldn't be happier with it. "I love the house," she said. "It lives well."
For more information, see: www.bungalowinabox.com