It's not often that ordinary folks get to help protect the state's ancient cultural history, but a group of academics, archaeologists, and scientists is spearheading a citizen scientist initiative to do just that.
These newly minted citizen scientists will monitor some of the state's 2,000 or so known prehistoric shell middens.
Located along Maine's coast and islands, these shell middens—and the historic information they contain—are in danger of being wiped out by the rapid acceleration of rising sea levels, said Alice Kelley, a geo-archaeologist at the University of Maine who is helping to organize the citizen scientist effort.
Sea level has been rising along the Maine coast for at least 10,000 years, Kelley said, but climate change is hastening the process.
"In at least one case, we went to a spot that had been located as a midden and were going to use it as a study site and it was completely gone," she said. "It's not just that they've been disappearing; they're disappearing more rapidly."
Exactly how many shell middens have been lost recently is unknown, said Kelley, but she hopes a Maine Sea Grant-funded project can be the starting point for gaining an understanding about what has been lost, current erosion rates, and the impact of storms.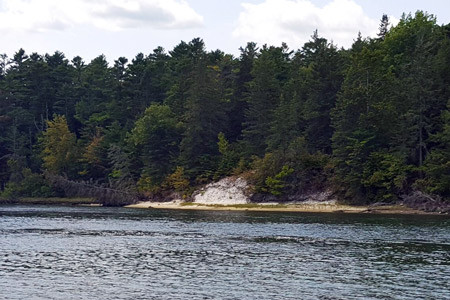 STEPHANIE BOUCHARD
In the not-so-distant past, the shell middens, which were created by Maine Indians over a period of about a thousand years approximately between 200 B.C. and 1000 A.D., were considered trash dumps whose resources should be used for practical purposes rather than the valuable historic troves they are known to be today.
SHELLFISH TO CHICKEN FEED
Early Europeans made the lime used to build Fort William Henry in Bristol (colonial Pemaquid) with shells from the Whaleback Shell Midden in Damariscotta. Residents of the area also used the shells for road construction and fertilizer.
The Whaleback midden, once considered the largest of its kind on the East Coast, was nearly eradicated in the late 1800s when a Massachusetts company mined it to use the shells as an additive to chicken feed.
Prior to the excavation, Harvard University's Peabody Museum purchased the rights to all prehistoric materials uncovered at the midden during the mining operation and hired a local man to manage the removal and shipment of those materials, which included pottery, animal bones and tools, as well as the remains of a small number of human and dog burials.
At the same time sea level rise is causing the more rapid erosion of Maine's middens, researchers are realizing the middens have more information to offer than just what the region's prehistoric peoples were eating and what tools they were using, said Kelley.
In the last decade, she said, researchers have returned with new eyes to the artifacts previously uncovered. They're using the information from the shell middens to get an understanding of what a less-impacted Gulf of Maine ecosystem looked like—how people lived on the coast before European contact and the size ranges and presence and absence of animal species, including extinct animals like the sea mink and great auk.
They can also see the impact of climatic events and how the ecosystem, and to a certain extent, the people of the time, responded and adapted to those climatic events. This sort of information may be helpful to us today, as we face our own changing climate, she noted.
HELP NEEDED
With 2,000 known shell middens along Maine's coast, it is impossible for a small group of state, academic and independent historians, archaeologists, and scientists to monitor them all, hence the need for a monitoring strategy.
During a two-day conference in August, Kelley and other interested parties strategized options for monitoring the eroding shell middens. One of the strategies the group believes will have the most impact is a citizen scientist program. Some of the conference participants are from Scotland and Ireland, where citizen scientist programs have been successful and strongly supported.
Those who work and recreate on the ocean and live on the islands or along the coast have the potential to be a crucial lifeline for these eroding historic sites, she said. As fishermen, for instance, go about their daily work, they may pass by a midden and can keep an eye on its condition without ever having to set foot on land. If a storm causes a hunk of a midden to fall off, the fisherman watching the midden can notify Kelley and her team so they will know about the change and perhaps launch an emergency rescue operation of what remains.
Right now, no funding has been allocated to support a citizen scientist program, but Kelley and her colleagues are determined to get the ball rolling. She is hoping to have three pilot groups, potentially set up through land trusts, started by next summer.
If you're interested in becoming a citizen scientist or simply keeping an eye on a midden, send Kelley an email at akelley@maine.edu.