When schools closed in March 2020, the doors to a new after-school program in St. George also closed. In the latter half of its first year, the Blueberry Cove 4H after-school program had finally gotten its feet under itself. The program was formed as a response to families needing reliable, affordable, and local after-school care.
For the past two years, I worked as an Island Institute Fellow on the St. George peninsula, primarily with the K-8 St. George School and the nearby Blueberry Cove 4H Camp to develop and implement an afterschool program for elementary students.
Conversations between Blueberry Cove and the St. George school had led to the creation of the program in 2019. The week of the closure, we had big plans to take students up to Aldermere farm in Rockport to learn about the maple sugaring process. Instead, we sat at home staring at each other through our computer screens, trying to figure out what our next steps would be.
Our plan was to offer our K-5 after-school program every day the school was also open.
The process to reopen was long and complex. Conversations involved school and 4H staff, families, public health officials, and more. For months we worked through new guidance, community opinions, and logistical challenges to redraft this program, which was still in its infancy. The goal was to return students to in-person learning and after-school programming while keeping our community safe.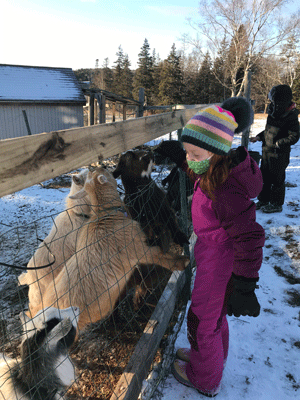 Much can be said about the setbacks of at home learning, especially for younger students. In rural parts of Maine, many households don't have access to the technology needed for children to fully connect online. Additionally, a lack of socialization leads to a decrease in social and emotional growth and learning, which has been a key pillar of instruction in the St. George school. We were also aware of the strains on working families which had to reshuffle work schedules for their children now learning from home.
With that in mind, we relaunched the after-school program last September in conjunction with the return to in-person learning at the school. Our plan was to offer our K-5 after-school program every day the school was also open. During this year of COVID we focused heavily on outdoor programming and spent as much time as possible exploring our local school trails around the marsh. We built forts and fairy houses, played lots of hide and seek, made crafts from found objects in nature, and adapted to the changing circumstances in our community.
In the winter our plans changed again as the school started to offer basketball indoors and the gym was no longer available to us. We pivoted to an early dismissal so students could ride the bus to the Blueberry Cove 4H camp and spend afternoons there where they had access to the garden and greenhouse, the farm animals, woods, and the beach.
The sudden change ended up creating a fun and healthy solution that opened the doors for more learning and enrichment opportunities for students.
In the spring, we also worked to add two new programs for 4th and 5th grade which ran in addition to our regular daily after-school program. In March, we offered an art program after school which introduced students to new mediums such as printmaking, collage, and using the laser cutter in the
school's makerspace.
We also offered a garden club where students readied the school garden and planted in the hoop house at the public library. On the last day of "Imaginative Design," our March program, the school's instructional administrator told me that in a round of "rose, bud, thorn" most students named the
end of the program as their thorn.
As the after-school program enters its third year this fall, and as I leave my role as an Island Fellow in this community, I am proud of what we have created, proud of what we have accomplished, and heartened by the community support and engagement that fueled our successes during this pandemic year.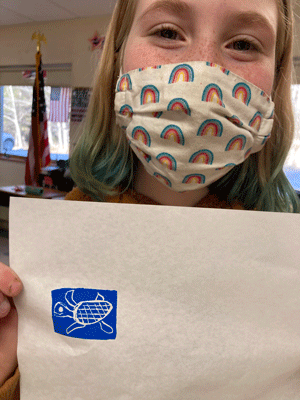 Throughout the school year, I'd check in with other nearby after-school programs and one by one they would tell me they had temporarily shut down their programs. I often felt like I was out here on my own, navigating a program that didn't have anything to model itself on.
It was the K-5 teachers, the facilities and transportation crew, and the Blueberry Cove staff who pulled together to keep our program running. As a result, students had a safe place to learn after school and parents were able to return to their jobs.
This year, the program will continue to be offered daily and will continue to focus on curiosity driven learning outdoors. We plan to spend more time at Blueberry Cove and will be taking field trips around the St. George peninsula to explore local trails, history, and community spaces.
After-school programming in St. George has grown well beyond solely a community vision to something that working families count on and value in our community.