The disappearance 94 years ago in May of the White Bird biplane and its two pilots—possibly in Washington County—remains an unsolved mystery of aviation history. The plane's two French pilots may have been the first to fly nonstop across the Atlantic Ocean, less than two weeks before Charles Lindbergh's famous flight from New York that touched down in Paris on May 21, 1927.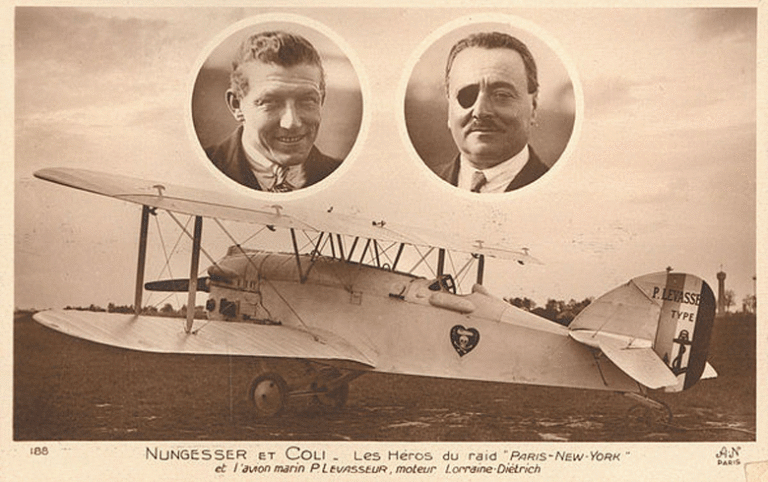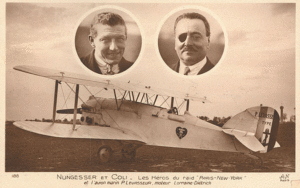 Charles Nungesser and Francoise Coli were attempting to win the Orteig Prize of $25,000 as the first aviators to fly a plane nonstop across the Atlantic between Europe and North America. They took off in their biplane—called L'Oiseau Blanc, or White Bird—from an airport outside of Paris on May 8 and planned to land in New York Harbor near the Statue of Liberty on May 9. The pair never arrived and no remains were ever found.
The late Arthur Dolan of Princeton in eastern Washington County, who passed away in 2017, thought he knew what happened to the plane and its pilots. He believed the White Bird and its pilots crashed during an emergency landing attempt onto Meddybemps Lake. Dolan's story has never been included in the published history and folklore about the disappearance of the White Bird.
Harold Vining from Cooper later said he heard a plane fly over his home heading towards East Machias and Machias.
During the fall of 1958 Dolan and his friend Al Stevens left Massachusetts to go deer hunting in Downeast Maine. They traveled down a long gravel road and parked under a large rock formation. They then left the car and walked into the woods. Dolan—a privately licensed pilot—was shocked when they came upon some debris.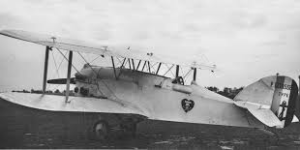 He later wrote, "In the center of the trees we saw the remains of an airplane. There were no wings, wheels, cockpit or fuselage. What remained of the framing were two large beams running parallel to each other and about four feet apart. These beams were slanted and seemed to be connected to an engine. The engine was clearly visible and was about four feet up in the air supported by the frame resting on dead trees and brush, slanted upwards."
The shape, design, and size of the engine intrigued them. They saw that logging had been done nearby and assumed people knew about the wreck. At the time neither was aware of the disappearance of the White Bird.
In 1988 Dolan moved to Princeton. In a periodical published by the National Air and Space Museum he read about the mystery of the White Bird and realized the significance of what he and Stevens saw in 1958. Stevens died sometime after they began searching again, but Dolan kept looking for the substantial gravel road they had traveled on and for the prominent rock formation under which they had parked.
Dolan learned that Route 9 had been a gravel road from 1950 into the 1960s. When he drove down the now-paved road from his home in Princeton, he saw the rock formation. He sought out the owner of the land where he and Stevens had seen the remains years before. The owner gave him permission to visit the site, which is in Alexander, but there was no longer any visible evidence.
There are rumors in the area that the White Bird engine was removed from its crash location intact, hauled onto Route 9 and taken away to Minnesota or hidden away in a building.
Dolan spent years trying to convince organizations to search the site using modern technology. Dolan always said his most important goal was to gain recognition for Charles Nungesser and Francoise Coli for being the first pilots to complete a transatlantic flight.
HEARD IN COOPER
Nungesser and Coli's flight plan drafted in France in 1927 described how they would fly over the English Channel, southern Ireland, and then follow the 54th parallel across the North Atlantic to Newfoundland. Coli and Nungesser would then turn southward and fly down the eastern coasts of Canada and the United States. If they had maintained an average cruising speed of 100 mph, they would have reached New York Harbor in approximately 36 hours.
Any successful flight depends on an accurate interpretation of expected weather conditions, especially wind speed and direction. Winds can favor or disrupt calculated fuel consumption. Weathermen in France thought there would be easterly tailwinds that would help Nungesser and Coli in the L'Oiseau Blanc fly westward on May 8.
But Nungesser and Coli instead encountered unexpectedly strong westerly headwinds as they flew past Ireland. Ships in that area reported very stormy weather, thick cloud cover, and heavy precipitation and wind.
The cruising speed of the L'Oiseau Blanc could have been lowered and more fuel consumed. Coli and Nungesser might have had to make a course change to get out of the stormy conditions and been worried that too much fuel consumption would decrease their time aloft. There was no radio aboard the biplane.
During the process of building the White Bird, the designers knew the plane had to complete a very long flight, so they included three large aluminum fuel tanks that could contain 1,000 gallons of fuel—limiting how much additional weight the White Bird could support—so it was decided not to carry a radio or life raft. The biplane had been designed to safely land on the water of New York Harbor, leaving no need for heavy landing gear, so it had been jettisoned after takeoff.
Early on the very foggy morning of May 9, Newfoundland residents reported hearing and seeing the White Bird flying overhead. Reports from Nova Scotia, New Brunswick, and the Bay of Fundy followed. These seem to show that Nungesser and Coli were flying on a straight, southwest course. They could have entered American airspace just north of Perry.
On the afternoon of May 9, heavy fog cover was obscuring visibility along the Maine coast and inland for some distance. Nungesser and Coli would have had difficulty finding and recognizing any land and water features. If they were running low on fuel, perhaps they hoped to find a water body long enough to land on.
Harold Vining from Cooper later said that on that date he heard a plane fly over his home heading in a southwest direction towards East Machias and Machias. The plane's engine was loud and seemed to be sputtering. Anson Berry was fishing at Round Lake, which is southwest of the Vining residence. He also heard a loud and sputtering plane engine. He said he looked up and briefly glimpsed a white plane heading northward and the sound faded away.
HOPE
Although there have been many searches in the waters off eastern Canada and the U.S., nothing has ever been found. Organized searches done by The International Group for Historic Aircraft (TIGHAR), the National Underwater Marine Association, and other groups and individuals have failed as well. The Quoddy Tides published articles in 2015 about the mystery, which included an anonymous donor's offer of a $5,000 reward for the whereabouts of the White Bird's special and one-of-a-kind engine. Despite this effort to revive interest, nothing resulted.
Arthur Dolan died in the Maine Veterans Home in Bangor in 2017. He said he was terribly disappointed that he failed to convince someone to search the Alexander site. He felt he had failed to prove that Nungesser and Coli had successfully reached mainland North America, and was saddened their families still do not know what happened and where they died. He also hoped for some sort of memorial to be erected at the Alexander site.
Before he left France with Coli in the L'Oiseau Blanc, Nungesser spoke to the crowd gathered to support what was considered a patriotic and heroic effort for France. He said, "You know what this thing means, and we both do. We are taking a risk, I know, but we are taking it willingly and with all our hearts."
This story first appeared in The Quoddy Tides newspaper, based in Eastport, and is reprinted by permission.