Too many people ashore and not enough animals under the water have forced one of Mount Desert Island's most popular tourist attractions to move its operations this summer from Bar Harbor to Eastport on Passamaquoddy Bay.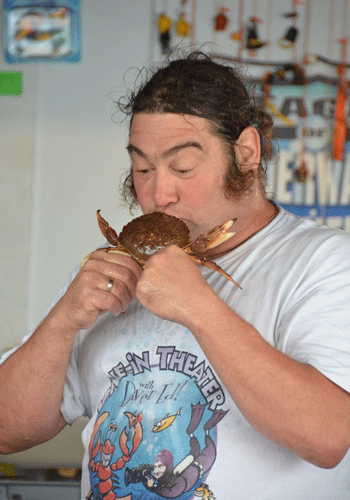 Ed Monat, universally known as "Diver Ed," has run his Dive-In Theater in Bar Harbor for some 20 years. A graduate of College of the Atlantic and one-time town harbormaster, Monat, and his wife and business partner Edna Martin, live on MDI and have no plans to move, but changes both on land and in the water persuaded them to shift their tour business to Eastport where the diving is "beautiful" and where "we could actually find sea creatures to show people," Monat said.
"We're going to show people some really pretty things."
Customers who take a trip on Monat's 51-foot tour boat Starfish Enterprise enjoy prime reality TV. While the boat is anchored in some sheltered spot, Monat dons diving gear and heads underwater with a high-resolution video camera connected via cable to a large onboard monitor that displays what he is seeing beneath the water. His dive mask is equipped with a microphone so he can talk to his passengers from the sea floor. When he returns onboard, Monat brings samples of the sea life he has found—perhaps sea cucumbers or crabs, lobsters or starfish—for his passengers to inspect before they are returned to the ocean unharmed.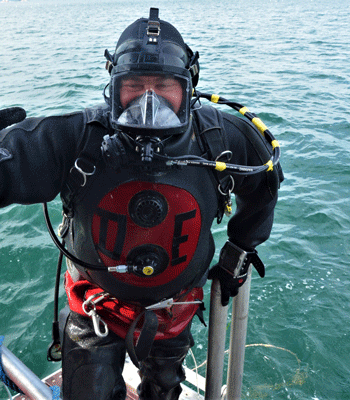 Those sea creatures, or rather their absence, are the main reason Monat decided to move his Dive-In Theater from Bar Harbor on the shores of Frenchman Bay to Eastport.
When Monat started his business two decades ago, he said, "You could put an anchor over anywhere" and find an abundance of sea life. Things began to change about a dozen years ago when it began to get more difficult "to find spots to show people cool stuff," especially near the Porcupine Islands situated close to the College of the Atlantic dock that serves as home base for Monat's business and provides a reasonably roll-free anchorage.
In recent years, he said, the situation has been "getting worse and worse."
By contrast, the waters of Cobscook Bay around Eastport offer wonderful diving, "ginormous tides" notwithstanding, and are rich with sea life displaying brilliant colors—orange, reds, pinks, purple—that excite his customers.
"There's stuff that lives there we don't even see in Frenchman Bay," Monat said. "We're going to show people some really pretty things."
Eastport has other attractions for Monat.
Although he notes that COA has been great as a home base for his business, "Working out of Bar Harbor logistically is getting harder" as the number of summer visitors continues to climb. He believes the town will be "saturated" this year which will make it harder for his customers to enjoy their experience.
In Eastport, the Starfish Enterprise will be based at the Eastport Windjammers dock inside the Sullivan Pier basin where there is plenty of convenient parking. With the first trip scheduled for June 21, the windjammer company, which has offered boat tours from Eastport for decades, will handle all the ticketing and scheduling for Monat's Dive-In Theater. Eastport Windjammers' owners, Butch and Janna Harris, "are just great," Monat said.
This summer won't be the first time Monat has operated from Eastport. In the past, he has run tours during the city's annual Pirate Festival and he and his wife often travel to the Downeast city to enjoy the diving and the "nice and helpful" community.
"We're super excited about the move," Monat said. "I'm over the moon. I love diving here."
Whether the Dive-In Theater will return to Eastport in the future depends on how business is this summer, but Monat's expectations are high.
"Our goal is to get people excited about the ocean and marine life," he said. "This is where the animals are. I think we're going to have some incredible trips."