With a shortage of affordable housing impacting the ability of Acadia National Park to hire enough seasonal workers, Friends of Acadia is making the issue a top priority.
"If we recognize that Acadia National Park is one of our national gems, doesn't it deserve the most talented workforce in the nation?" said Eric Stiles, who became the new president and CEO at Friends of Acadia in July.
Stiles previously led New Jersey Audubon. During his tenure, the state's largest conservation organization grew its philanthropic resources and obtained permanent multi-billion-dollar funding for preservation and restoration projects.
"You have thriving communities in the middle of this amazing gem."
At Friends of Acadia's annual meeting last month, Acadia's superintendent, Kevin Schneider, characterized Stiles as "a huge bundle of kinetic energy."
Stiles said he and his wife Lydia were frequent Acadia visitors for three decades, admiring both the landscape and the park's intersection with surrounding communities.
"You have thriving communities in the middle of this amazing gem," he said. "In this intersectionality, you have quality of life and quality of economy that are entirely linked with the park. That's really powerful."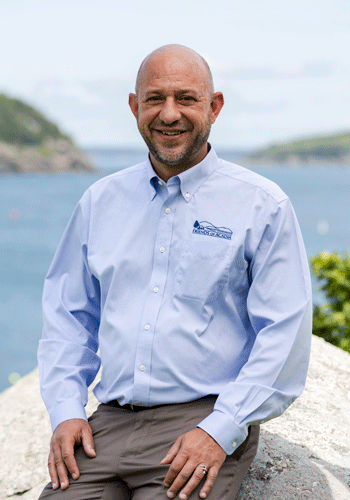 Now goals include boosting workforce housing to aid recruitment, supporting accessibility and high-quality visitor experiences, and becoming a national model for climate resiliency and adaptation.
The issues are linked to growing visitation: 2021 was a record year with 4.1 million visitors, a 15 percent increase over the previous record, resulting in crowds and traffic congestion that have become top challenges.
This year is trending up, too.
But the park is short-staffed by about 25 people—not for lack of potential hires, but for lack of affordable housing, said Schneider. Acadia has about 75 beds for seasonal workers and would like to employ twice that number.
Empty positions include fee collectors, trail crew, interpretative rangers, and lifeguards.
"This problem will only become more acute given the real estate situation here," said Schneider.
Stiles said Friends of Acadia is conducting a study to find solutions. Examples of approaches could include upgrading existing Acadia-owned structures for housing, adding structures on or adjacent to the park, and looking at collaboration on commercial facilities in nearby communities. Accessibility to mass transit such as the Island Explorer will be a consideration.
Park resilience in the face of climate change, engaging young people, expanding diversity and inclusion, balancing visitor experience and use with resource protection, and maintaining trails and carriage roads are also top issues, Stiles said.
"These projects today are an investment in the future," he said.