In this difficult time of failed public expectations, when thoughtful people wonder where to look for hope, I keep returning in my own mind to the thought of the renewal of the rural communities…
But to be authentic, a true encouragement and a true beginning, this would have to be a revival accomplished mainly by the community itself. It would have to be done not from the outside by the instruction of visiting experts, but from the inside by the ancient rule of neighborliness, by the love of precious things, and by the wish to be at home.
—Wendell Berry
By Scott Planting
Where do we look for hope in difficult times? The recently published Downeast: Five Maine Girls and the Unseen Story of Rural America, by Gigi Georges, offers clues to where to look for hope in difficult times. Not a pollyannish hope, but the real thing, a confidence in the future we see expressed through the voices of five young women growing up in Washington County, a place for whom it is simply home.
It is their voices we hear in Georges' book, along with the voices of family and community members who support them, not the visiting experts Wendell Berry alluded to above. Georges gives these communities and the reader a gift, a story of renewal. I know of no other book that gives such a rich portrayal of the complexity of life in a rural community.
Georges offers a window into Washington County through these five extraordinary young women. When we meet them they are students at Narraguagus High School in Harrington. Downeast opens at the 2016 Class C North state basketball championship game played at the Augusta Civic Center, which pitts the Narraguagus Lady Knights against the favored Boothbay Seahawks, with team co-captain Audrey Barton at the foul line. The Lady Knights pull off the victory and take home the gold ball for the first time in school history.
Late that night, back home in the school parking lot where the town has turned out to welcome the champions, we are introduced to the five girls:
• academic and basketball standout Audrey Barton who will be awarded a scholarship to Bates College
• McKenna Holt, captain of lobster fishing boat F/V Spittin' Image, who is passionate about the sea
• Willow Newenham, a photographer who sees deeply into her troubled world and is determined to overcome her family's struggle with addiction and abuse
• Vivian Westford, a talented writer who works hard to find her place in the changing cultural norms of Eastern Maine
• Josie Dekker, class valedictorian bound for the Ivy League, who courageously pushes a human rights agenda at Narraguagus High School.
Georges spent four years getting to know these girls and that time and access is a testament to the trust she built, rare for an outsider. Listening closely, following where their story led, and offering the best of current literature on rural America, she opens the Downeast Maine to the reader.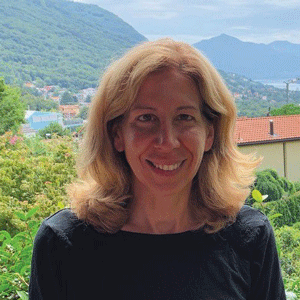 An hour's drive east of Mount Desert Island, Washington County has a landscape whose beauty is equal to the island that hosts Acadia National Park. Yet it could not be more different. The overriding narrative is poverty.
Naming it brings to mind statistics of need—poorest county in Maine, highest unemployment rate, one in four children hungry, opiate addiction epidemic, on and on. The storyline is that high school students should leave and find their futures elsewhere; those that stay can't leave and are stuck.
This sad narrative is George's starting line, but though harsh conditions do exist for too many in Washington County, she discovers there is more to the story.
"I saw plenty of challenges, of course, but I saw just as many amazing stories of community, and being connected to the land, and resilience," Georges told the Bangor Daily News earlier this year.
It is these "amazing stories of community" that I find so powerful. Berry wrote that "we have hardly begun to imagine community life," and that imagination is what Georges opens to her readers. It is a new landscape for us.
I think our imagination has been so dominated by the notion of mobility that it has been difficult to hear the story of people who wish to stay in a place. Society tells us we must be on the move in an economy prepared to leave us behind. Philosopher Simone Veil said: "To be rooted is perhaps the most important and least recognized need of the human soul."
But this sense of place—strong local, independent, and inter-dependent communities, this whole—is in large part only a memory. And we are all diminished for it. We live in what James Howard Kunstler calls "the geography of nowhere."
This geography creates the illusion that it doesn't matter where we live or work, because one place is pretty much like another. It fosters neglect, ignorance and destruction.
The storyline is that high school students should leave and find their futures elsewhere…
The common ground holding the girls' story together is the community of Narraguagus High School. Located on Route 1 between Cherryfield and Harrington, the grades 7-12 regional school serves Cherryfield, Columbia, Columbia Falls, Harrington, and Milbridge. Georges introduces us to students, committed teachers, coaches, and administrators. It's a good school, and a rare thing to see into the day-by-day workings of a public high school.
We meet art teacher Brit "Frannie" Frances, who at 52 leaves the fast pace life of northern California for what she thinks will be the tranquility of a new home in Addison. She attends fundraising suppers and finds her way into the community.
"What was so amazing to me," she said, "was the number of benefit suppers to support students that have gotten sick, siblings that have gotten hurt or wounded, families that have faced an acute hardship. Everybody comes, and they drop a lot of money, and sometimes they don't even eat," we learn.
"For these were the rituals—the uncomplicated gestures and unspoken bonds that came with simply being there—that allowed Britt to begin to understand the culture of her adopted home," Georges writes.
Because Britt was willing to step into community life, students responded to her.
"For a handful of students each year, most often girls, the connection to Britt straddled teacher and friend… So it was for Vivian, and in turn, for Josie and Willow… Each girl was drawn to the art room in ways particular to her passion: for Vivian, through her writing; for Josie, through drawing and sculpture; and for Willow, through the clarity of purpose that she discovered behind the camera lens," Georges writes.
She also writes compellingly about the multi-layered nature and complexity of the Downeast region. It may come as a surprise to many readers.
We are introduced to traditional lives like that of Audrey Barton, whose family lobsters in Milbridge.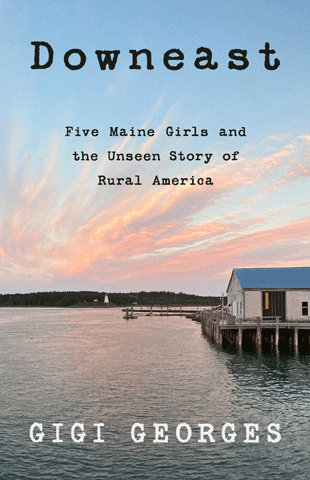 "Four generations of Bartons lived on the Back Bay Road, in a dozen homes with crisscrossing land, with more structures rising as grandkids began to have kids of their own," we learn. And we meet newcomers to the region. The Barton family has new neighbors—immigrant families, farm workers from Mexico and Central America—part of nomadic harvesters working in the blueberry barrens and wreath factories who found steady work in Milbridge and stayed.
One of those families, the Alvarezes, has opened several businesses, including what Georges calls the best Mexican takeout restaurant this side of California. "Their work ethic, ambition, faith, and unassailable family ties helped them break down barriers," she write. "Most arrivals found, in Downeast, a community that welcomed and encouraged them, and they in turn, excelled and embraced their new neighbors."
This success story does not minimize the struggles many face. I think of Willow Newenham's story:
"When Willow was born William and Lily [her parents] were students at Narraguaugus High. Lily was 18. William was 16." William was a cocaine addict, Georges writes. Willow's childhood is marked by movement from house to house among family members and friends, all in search of a safe, nurturing home which she never found. Her consolation is managing the Lady Knights basketball team whose team members called her "Mom," teachers who helped her discover her love of photography, and a job working at the Sea Carnations lobster wharf.
"As soon as she could drive, Willow developed a nighttime routine that stood in sharp contrast to her chaotic life. She would slip out of whatever place she happened to temporarily call home, and steal away to Sea Carnations Wharf in the dark of the night… There she would stretch her body across the massive dock's bobbing planks, and stare outward to the vague and unreachable horizon… Willow knew that this was the place she could find peace within herself and the world around her."
It's a difficult story to absorb, but all too common in Washington County.
GIRL POWER
Perhaps the most significant contribution of Downeast to the discussion of contemporary life in rural America is the focus on young women.
"In this seemingly male-dominated culture, local girls are kicking ass," says Narraguagus principal Lauren Donovan. "Year after year, they rose to the top. They are the leaders, the really good athletes. Dominating academically, and taking top honors in science and math. Finding their way into medical fields and engineering."
Georges' insight is that these five girls represent the best of what is going on in rural America. They honor the legacy of home while bridging to a hopeful future of their own creation.
"Downeast women are fierce," Georges said in an interview with the Bangor Daily News. "These girls are choosing to maintain a connection to their home, to Washington County, whether they live there or not. It runs counter to the narrative that you have to leave in order to find success."
Georges' thesis in Downeast is that young women are finding new ways forward for coastal Washington County. They are figuring out "stay options"—opportunities to make a good life for themselves and their families.
The story in Downeast that for me most exemplifies this new future is Audrey Barton's. An academic and athletic standout, she earns a scholarship to Bates College. She transfers to the University of Maine at Orono after her first year at Bates to study speech therapy.
These five girls represent the best of what is going on in rural America.
Georges explains, "By leaving Bates and intercollegiate basketball behind, Audrey had closed a door that she'd worked hard to open in high school—and walked away from a prize that few from her hometown could ever dream of grasping… Yet the few times Audrey had found herself wondering if she'd made the right decision it didn't take more than a good look at all she had Downeast—and all that she could build within it—to remind her that her choice was spot on."
I find Barton's decision remarkably mature in its profound appreciation of her home—Downeast—and her desire to contribute to "build within it" as a child speech therapist. For many readers, her decision to give up a Bates degree with all the prestige and connection it brings is unthinkable. But as Georges notes, Audrey's choices were "transcendently logical and rational."
In her mind she was contributing to the good of her home—by providing much needed services, and by having a family and sending children to local schools, caring for the wellbeing of aging family members, and b being civically engaged.
Georges concludes: "Choices like hers are as valuable as gold to rural communities like those Downeast. They kindle optimism for the future."
Barton's choice may seem like a visit to a strange land. Very few of us have any experience of the importance of home at the depth of these five girls. I think this is the value of her book.
Wendell Berry writes that most of us live "on the far side of a broken connection," meaning we feel no gratitude and exercise no responsibility for places like Downeast.
It's "a division that is rapidly deepening in our country: a division between people who are trying to defend the health, the integrity, and even the existence of places whose values they sum up in the words 'home' and 'community,'" Berry writes, "and people for whom those words signify no value at all."
I think we do live "on the far side of a broken connection" and the "division" is deep. Our culture does not encourage a sense of place, but it seems to me critical to our future. I have chosen to "stay put," to learn how to dwell in a place. I cannot live a grounded life without being grounded in a place.
Downeast is trying to heal the breach by taking us inside a threatened community, and for all its problems, it is teaching us something fundamental about the value of home. The voices of these five extraordinary young women carry outward like ripples moving from the center of a stone dropped into a pond. They take us to places we've never been before: around kitchen tables, into school classrooms, out to blueberry barrens, and onto the ocean in lobster boats, connecting all we observe with trends across rural America.
Our Downeast communities may be "endangered species," as the core lobster and blueberry industries face huge challenges, yet we see them whole. I am deeply grateful to Georges for writing a book of quality and beauty, heartfelt and thoughtful, about Downeast Maine.
Her love for the girls and her abiding respect for the place shine through. For those of us who have labored in these communities—whether Downeast or anywhere we call home—it is a precious gift and a true encouragement.
Scott Planting spent most of his career working in rural settings—35 years as pastor in rural Franklin and Somerset counties, then ten years as president of the Maine Seacoast Mission. He lives in Northeast Harbor.