Effective local leadership in town government, nonprofit organizations, and island-based businesses is the single most distinguishing feature of strong year-round island communities. Leadership programming at the Island Institute seeks to build informed, networked, and supported leaders across the coast of Maine and beyond. 
---
Creating Informed Leaders
The Island Institute offers education and training experiences for teams and organizations, as well as individualized support to build on leadership skills, whether or not an individual holds a formal leadership position. The topic and format of the training sessions are based on community needs.  The cost is dependent on the time and topics covered.
Examples include:
Mission, vision, and values
Meeting facilitation
Strategic planning
Fundraising and budgeting
Communication strategies for effective teams
Focus groups for community input
---
Creating Networked Leaders
The Island Institute convenes groups around specific topics in order to build key skills and network between organizations to share their knowledge and practices.
Examples include:
Maine Islands Coalition
Education leader working groups
Island Leadership Exploration and Development (ILEAD) Trainings

Sea Level Rise
Affordable Housing
Historical Societies
Board Leadership
Nonprofit Organizations
---
Supporting Leaders
The Island Institute offers trained facilitators to work with boards or community groups and seeks to offer support to established, new, and emerging leaders in their field by connecting them with peers, mentors, and training.
Examples include:
Facilitation services
Municipal leader peer-to-peer mentoring
Peer-to-Peer learning groups
---
Maine Islands Coalition
The Maine Islands Coalition (MIC) is a collaboration of island communities, facilitated by Island Institute staff, that discusses and, when possible, reaches consensus on issues brought forward by its appointed community representatives.
Initiated at a meeting hosted by the Institute in the fall of 2002, and formally organized in 2003, the Maine Islands Coalition sets its own agenda and schedules meetings four to five times a year. The purpose of the group is to provide a consistent—if not always unified—voice for islands in Augusta, to the press, and to outside groups. Since islands are generally sparsely populated, this provides a group of citizens with common interests and problems a stronger voice at the state level.
Maine Islands Coalition representatives are selected by town officials in order to make sure that the representatives are somehow accountable to the people they represent. A term of appointment lasts three years, and there are no term limits.
For more information about the Maine Islands Coalition, including representatives and meeting minutes, please visit our MIC page here.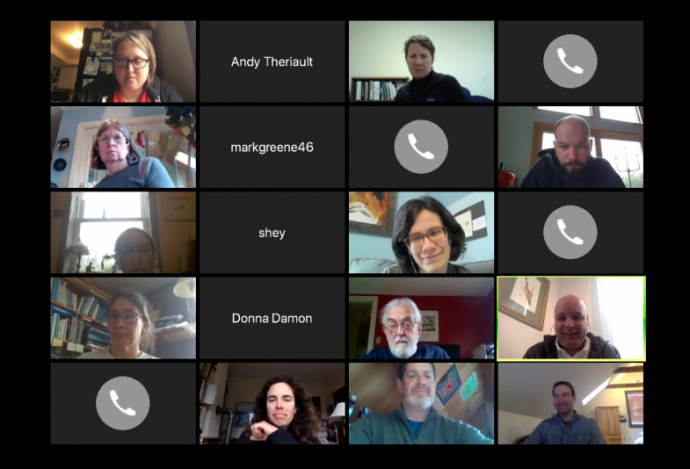 ---
Leadership programming at the Island Institute is supported by The Isaacs-DeFrancis Fund for Community Leadership.
If you have any questions about our leadership training or would like more information, please contact Kate Tagai.