For a new grower, developing a good relationship with the surrounding community can be both important and difficult. There are many real and perceived conflicts that can arise with individuals including riparian/waterfront landowners, fishermen and recreational users, environmental advocates, and even other aquaculturists. If unaddressed, in the short-term, these conflicts can slow the process of acquiring a lease or even lead to a declined application. In the longer-term, poor community relations can worsen the overall reputation of aquaculture in Maine and hurt the business of other growers throughout the state.
Despite this, there are actions that both new and experienced growers can take to minimize conflict and ease concerns, and many examples of aquaculturists who have developed great relationships with their surrounding communities. In addition to shortening the leasing process, these relationships can often result in partnerships and assistance from the community that is invaluable for both parties.
While lobster fishing has long been the primary marine occupation on Chebeague Island, in 2013, Chebeague Island Oyster Company (CIO) became the first island business to use the surrounding waters for aquaculture. Over the past four years, CIO has thoughtfully navigated tensions in its growth and is now widely accepted and appreciated throughout the island.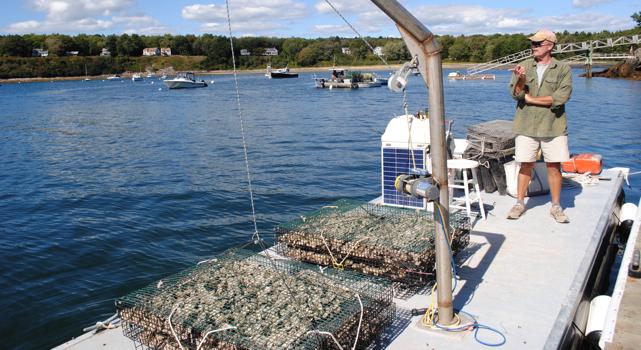 HOW IT WORKS
When getting started, founders Bob Earnest and David Whiston took a variety of steps to minimize conflict with their surrounding community. As island residents, they got the word out early and often to those individuals they thought would be most impacted by their plans, focusing primarily on the local fishermen. Rather than being received with outrage, they were met by interest and gained two partners in the process: lobsterman Hank Whetham and his wife Caitlin Gerber, a marine biologist. On their farm, they started small; first applying for two limited purpose aquaculture licenses with 50,000 oyster spat and working their way up to a 2-acre experimental lease stocked with 500,000 spat in 2016. In addition to this thoughtful approach, they have also worked to provide education to the local community, as well as fishermen and others interested in starting their own oyster farms, about the basics of aquaculture.
KEY FACTORS
Get word out early and often: While you are required to notify landowners near your proposed site when you submit a lease application, it is a good idea to let fishermen and others in the area know about your intentions as well.
Use a personal touch: People will generally be more receptive to a knock on the door or a phone call rather than hearing something secondhand or receiving a notice from the Department of Marine Resources.
Start small: There are several types of leases that new aquaculturists can apply for, and each one varies based on the size and time period under consideration. By working your way up from a small amount of product grown in a small lease area (such as an LPA or an experimental lease) to a larger farm, you will be more in control of your product. In addition, this will allow time for locals to learn about and adjust to your presence.
Don't step on toes: Do your best to be aware of and sensitive to the potential concerns of people in your area about aquaculture, as these are often unique to a community. If you are unsure what these concerns may be, try contacting someone who can help. Organizations such as the Maine Aquaculture Association, the Maine Lobstermen's Association, local shellfish committees, and harbormasters may be able to point you in the right direction. You can often get good advice from other sea farmers in your area as well.
Q&A WITH BOB EARNEST, CO-FOUNDER, CHEBEAGUE ISLAND OYSTER COMPANY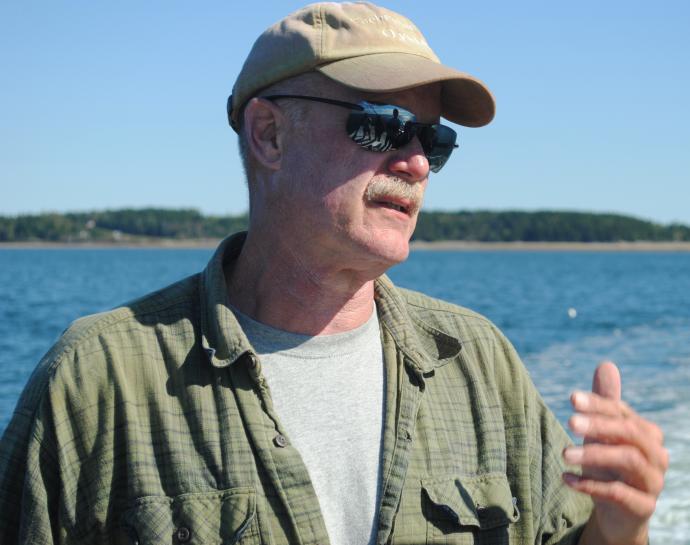 Could you give us a background of attitudes towards aquaculture on Chebeague Island?

There were lobstermen who were opposed to it being done, and their primary issue was the concept of leasing of the bottom. From their standpoint, nobody owns that bay, everybody gets to fish that bay, and there are unwritten rules about how that works – for example, where the boundary between Long Island and Chebeague exists. For the state to come in and say, "we are now going to take part of that ocean away from everybody and give it to a few," was a major point of contention for several lobstermen. But, it's happening all over the state, and a few of the lobstermen have begun to say, "if it's going to happen anyway, how can we make it most beneficial to our community?"
Given that atmosphere, how did Chebeague Island Oysters approach siting and getting word out about starting an aquaculture business?

We've had nothing but support from the community, and in a lot of ways, this has been enhanced by the approach we took of trying to walk softly and not step on toes. We watched another aquaculture operation in this area be less conscious of the community, and saw them reap the rewards of offending some people. It led us to be really careful. The mistakes made by the original operation still affect community perceptions of aquaculture on Chebeague, but now it's basically separated into, "that's what people from away do, and this is what local guys are doing."
What advice do you have for new aquaculturists, particularly in engaging with their community?

I talked to one woman who was interested in getting into aquaculture, and she was telling me about the farm she wanted to start in Penobscot Bay. I asked her how many oysters she intended to go for, and she said a million a year. I asked her the size of the lease she was going for, and she said 30 acres. To put it midly, it's in a challenging place to come up with 30 acres, so I recommended that, at least to start, she should try to cut down on the number of acres that she applied for. To me, that is one way to avoid stepping on people's toes. So, to new aquaculturists, I would say, see how you can minimize your impact on the community.
How do you predict that residents of Chebeague's views will continue to change as Chebeague Island Oyster Company grows and other aquaculture businesses start up around the island?

So far our farm has gotten really positive reviews, and I think that support of aquaculture will continue to grow as we sell more oysters on the island. I think it will grow to a point and that positive reactions will grow as we and others provide some jobs on the island. That's the next step for us and something that will take our business up a notch in the community. Everybody knows we need more jobs out here to maintain a sustainable year-round community. If we can provide a couple of part-time jobs and a couple of other people can provide some part-time jobs, and if some lobstermen are adding additional dollars into their cash-flow, then that's the next step.
OUTCOMES / RESULTS
CIO has steadily moved from several LPAs to an experimental lease and now is considering applying for a standard lease. Due to their caution in getting started, they have received nothing but support from the island community in applying for these leases, greatly reducing the time and hassle of this process.
Positive reviews of the business have led to opportunities for assistance and partnership from the surrounding community. As an example, they now locate their upweller at the island's boatyard.
Island sales of oysters have been steadily increasing, expanding the market for CIO oysters.
After seeing the positive example set by CIO, a few new aquaculture businesses on Chebeague Island are starting and have, so far, received support from the community.
ADDITIONAL RESOURCES
Originally Published November 2016