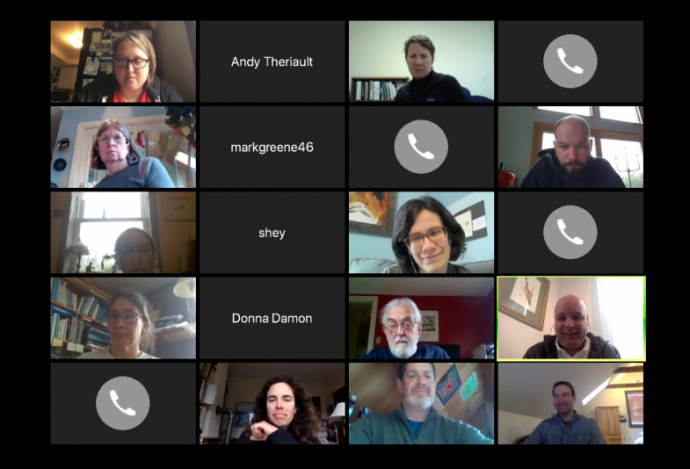 The Maine Islands Coalition (MIC) is a collaboration of island communities, facilitated by Island Institute staff, that discusses and, when possible, reaches consensus on issues brought forward by its appointed community representatives.
Initiated at a meeting hosted by the Institute in the fall of 2002, and formally organized in 2003, the Maine Islands Coalition sets its own agenda and schedules meetings four to five times a year. The purpose of the group is to provide a consistent—if not always unified—voice for islands in Augusta, to the press, and to outside groups. Since islands are generally sparsely populated, this provides a group of citizens with common interests and problems a stronger voice at the state level.
Maine Islands Coalition representatives are selected by town officials in order to make sure that the representatives are somehow accountable to the people they represent. A term of appointment lasts three years, and there are no term limits.
MIC Representatives
MIC representatives and alternates are appointed or elected by the governing officials of the town or in the case of non-municipal islands, a local association or civic group of the community.
Roger Berle (Co-Chair) – Cliff Island
Rachel Bishop (Rep) – Frenchboro
Michelle Brown (Alt) – Peaks Island
Kendra Chubbuck (Co-Chair) – Isle au Haut
Shey Conover (Rep) – Islesboro
Cheryl Crowley (Alt) – Cliff Island
Donna Damon (Rep) – Chebeague
Andy Dorr (Alt) – Vinalhaven
Mott Feibusch (Rep) – Monhegan
Ingrid Gaither (Rep) – Cranberry Isles
Arch Gilles (Alt) – Islesboro
Donna Wiegle (Rep) – Swans
2023 Meeting Schedule
Dates could be subject to change depending on speaker availability.
January 20, 10 a.m.- 11 a.m. (virtual)
Topic: GLIA Summit Learning and Lessons
February 24, 10 a.m.- 11 a.m. (virtual)


Topic: Lobster, Mid-Winter, and More
March 29, 10 a.m.- 2 p.m. (in-person in Augusta)
Topic: GOPIF/Island Updates  

April 21, 10 a.m.- 11 a.m. (virtual)


Topic: Department of Education Commissioner
May 19,

10 a.m.-12 p.m.

(virtual)
Topic: Life Flight/Island Updates
Summer Break

September 22, 10 a.m.- 11 a.m. (virtual)


Topic: TBD 
October 20, 10 a.m.- 11 a.m. (in-person in Rockland)


Topic: TBD 

November 17, 10 a.m.- 11 a.m. (virtual)


Topic: TBD 
Meeting Notes
2023
2022
2021
2020
General Meetings
MIC Coronavirus Response Meetings
2019
2018
For more information about the Maine Islands Coalition, please contact:
Kate Tagai
Senior Community Development Director
Island Institute
Email: ktagai@islandinstitute.org
Phone: (207) 594-9209, ext. 116