By Jennifer Helman
 
There is no shortage of information about the trouble ticks bring into our lives. They lay thousands of eggs at a time, live parasitically off animals, spread Lyme and other diseases, and are yucky little critters. Various methods have been employed to reduce the number of ticks in coastal Maine, but Swan's Island residents recently decided to take things into their own hands.
Burning fields is a long-standing way to stimulate new growth and improve the health of the soil. Controlled burns also have the side effect of destroying adult ticks, thereby preventing their breeding.
With fire trucks and crews lined up, volunteers gathered for three evenings in late April to conduct controlled burns in various locations across the island.  According to fireman Charlie Wiegle, the town used to burn fields on a regular basis, but it had been several years since the last burn. There is only a brief window each spring between complete snow melt and new grass growth.
"It's been impossible to schedule around the weather the last few years," Wiegle said.
Notices were posted online and in public buildings seeking land owners who would be willing to have their fields burned. Several were selected and then the weather watch started.
Because conditions must be just right, the dates and times couldn't be confirmed until the last minute. Even with little notice, 20-30 residents met at the Atlantic fire station each evening to help control the fires. Two or three teams led by experienced fire crew headed out to different sections of the island.
Propane torches were used to start fires in a planned pattern. Volunteers stood by with Indian tanks and rubber tampers in case fires spread in the wrong direction while others used rakes to help spread the flames.
Volunteers ranged in age from 10 to 70, and though they had no formal training, with the guidance of the fire crew members manning the pumper trucks the project was completed without any problems. 
Swan's Island resident Lisa Stanley said such burns were not unusual years ago.
"We used to do this all the time! We didn't need the fire department's permission," she said. "If the field needed burning, we just burned it." She believes the increase in ticks is due at least partially to not having regular burns of the island's fields.
Christal Applin volunteered this year because her husband Josh works on the fire crew. She thought it would be nice to help and be able to do something with him.
"It's kind of like a date night for us," she said with a laugh.
Ticks may be resilient, but so are islanders, and these controlled burns are just one way to adapt to this new threat.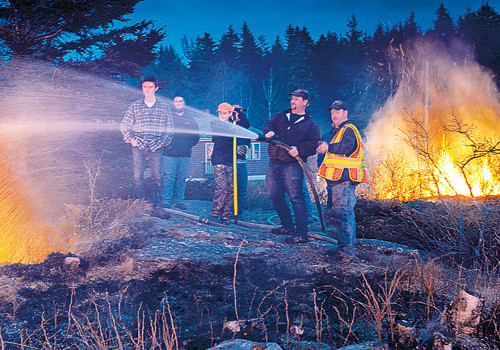 DALE JOYCE/HARBOR VIEW STUDIO