Without Maine's shipping ports, many home heating oil tanks would run dry this winter. Without trained pilots, who take the "con" of tankers, guiding their navigation as they make their way up Penobscot Bay, the cargo would not be delivered. And without their extensive training, that fuel could be at risk of spilling through a grounding or collision.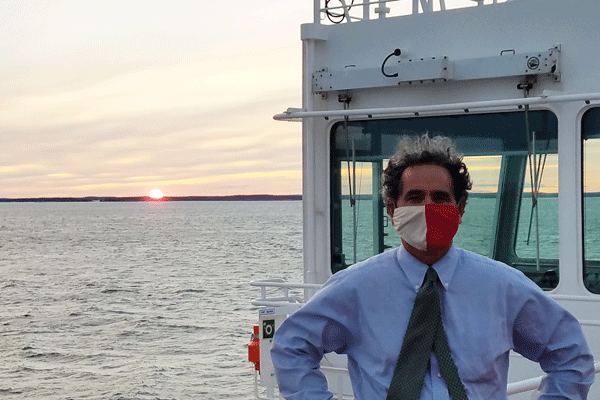 Dave Gelinas, 59, has been working as a ship pilot in Penobscot Bay for almost 30 years. As president of Penobscot Bay & River Pilots Association, based in Searsport, he works with three other pilots to safely bring the vessels to dock at Mack Point, and in Bucksport.
Maine has a compulsory state pilotage rule for all foreign vessels with over 9-feet in draft, so a pilot is at the helm anytime they are underway in Penobscot Bay. Gelinas answered our questions about the work earlier this year. The interview has been edited for clarity and length.
The Working Waterfront: What are the primary cargoes that come up the bay these day, and have they changed since you've been doing this work?
Gelinas: Our primary cargoes are still petroleum-based—gasoline, diesel fuel, home heating oil, asphalt, kerosene, #6 oil, and jet fuel. As paper mills closed over the last 25 years and with the arrival of the Maritimes and Northeast natural gas pipeline, we have seen a drastic decrease in the amount of #6 oil imported. Similarly, we used to bring in several barges of coal per year; that commodity disappeared from the mix over 15 years ago. Heating oil also seems to be on a decline, as consumers switch to heat pumps, propane, or natural gas as available.
In addition to the petroleum products, we're still seeing commodities such as petcoke, gypsum, iron oxide, caustic soda, and road salt. Some of the newer cargoes that have come in the last ten to 15 years include kaolin clay slurry from Brazil, and wind turbine components. The port operator in Searsport has a very good reputation for handling high-value wind power components. Recently, we began receiving shipments of wood pulp from Northern Europe.
Several years ago the Port of Searsport began exporting scrap steel. Export cargoes that we have lost include newsprint and directory paper, and import cargoes like tapioca and lumber.
We also used to bring refrigerated cargoes up to Winterport, which almost entirely consisted of frozen fish. Sadly, that terminal has ceased operations.
WW: Is it primarily Mack Point that receives ships, or is there still some cargo bound for Bucksport and Bangor?
Gelinas: Mack Point receives the vast majority of cargo bound in or out of Penobscot Bay. There are two docks there—the liquid dock (oil, caustic soda & china clay slurry) and the dry bulk cargo dock. But there is a very active and well-maintained oil dock in Bucksport, operated by Penobscot Bay Terminals.
Virtually all petroleum bound for Bangor and Brewer ceased many years ago. The only commercial traffic we pilot up and down the river now are the commercial tugs and barges bound to and from the Cianbro Eastern Manufacturing Facility in Brewer.
WW: Do you see any threats to shipping as the culture of the bay communities change?
Gelinas: There is no doubt that as the coast becomes more developed and economically stratified, the commercial maritime sector has come under greater scrutiny. It is difficult to imagine any proposed port development not being challenged by one special interest group or another.
WW: Why do feel confident that shipping is safe for the bay's natural environment?
Gelinas: In the nearly three decades I have worked as a pilot, I have seen tremendous advances in shipping safety. Thirty years ago, "double-hulls" for oil tankers were little more than a concept; now, every single oil vessel has a double hull.
Navigation equipment such as chart plotters and radars have improved significantly. Automated information system "black-boxes" are now required on all commercial vessels. Our pilots carry portable navigation units aboard every ship we pilot.
Our profession has changed considerably, with the development of bridge resource management, fatigue mitigation, and the requirement for ongoing continuing education in order to maintain state licensing. Additionally, the Coast Guard practices robust enforcement of international safety standards which include equipment condition, crew competence, and oversight of proper shore-side garbage disposal.
We're fortunate to have Penobscot Bay Tractor Tug Company, operated by brothers Doug and Patrick Fournier in Belfast, to assist us in Searsport and Bucksport. Their equipment is light years ahead of what we had to work with 25 years ago.
With Searsport's proximity to Europe and its ice-free harbor, I think the port is well positioned for growth. Ocean shipping has the least environmental impact of all modes of cargo transportation, followed by rail. In Searsport, both of these modes are present at Mack Point.
WW: What's it like walking onto the bridge of a foreign-flagged and foreign-crewed ship? Are these folks friendly? Do you ever get to chat with them?
Gelinas: As you might guess, the initial dialogue is very professional in nature. After assessing whether or not there are any immediate concerns from local traffic, the pilot will learn from the captain what the heading, engine order, and deepest draft of the vessel are. Then, the pilot and captain will conduct a comprehensive briefing regarding the maneuvering characteristics of the vessel and any peculiarities or gyro error that the ship may have, as well as a discussion about the anticipated local weather, tides, currents, intended route, local traffic, assist tug capabilities and use, and dock configuration and tie-up details.
As our voyage tends to be several hours in duration, there is an opportunity to converse with the crew. Almost without exception the crews tend to be friendly and happy to be visiting a U.S. port. There are always questions about local shopping opportunities. Typically, they inquire about the location of the nearest Best Buy. A surprising number of them know about Steven King and ask where he lives in Maine.
WW: I'm sure you've had some scary moments jumping from the boat that delivers you to the ship, especially in the middle of the night in winter. Both vessels are moving, right? Do you ever get used to it?
Gelinas: In most instances, getting to work is the most hazardous part of our job. Our pilot boats run us offshore to an arriving ship, which will have a rope ladder slung over the side at a height of about 5-feet above the water. Once the ship is slowed down to eight knots, our pilot boat will then match speed and land alongside, allowing the pilot to step onto the ladder and climb up the side of the ship.
The height of the ladder can sometimes be as much as 20-plus feet. This is a challenging part of the job, and while you may get used to it with time and experience, you never get complacent about the dangers. In 2019 and 2020, two pilots were killed in the New York-New Jersey area in falls from pilot ladders in two separate boarding incidents.
WW: Is it possible to lose all the electronic navigational aids?
Gelinas: Commercial ships today are "paperless," meaning they no longer have paper charts aboard. However, they must have two fully redundant electronic navigatonal units. To completely lose all forms of electronic navigation would require a major electrical malfunction, and in such an instance a ship would likely not even be allowed into port.
But the core of the piloting profession is based on local knowledge and observation. When we train an apprentice pilot, we don't emphasize dependence on electronic navigation. A good pilot is always looking out the window.
Our headings and course-change positions are largely based on local landmarks. After years of training, a pilot develops a keen awareness of a visual picture that looks "right" when transiting up and down the bay. Even when everything is working 100 percent, you want to make sure that what is shown on the electronic chart matches that mental picture of what looks right.
One example is when transiting northbound in Penobscot Bay on the longest leg of the recommended route. If you are in the middle of the route, you should be steering due north and have Ducktrap Mountain in Lincolnville directly ahead of you. That may sound simple, and it is, for good reason. Sometimes the best systems are the simplest ones.
WW: What's enjoyable about the work?
Gelinas: It is a very challenging job, but with that comes a sense of satisfaction when you do a job well. Penobscot Bay is one of the most visually stunning bodies of water in the country, and every day at work brings a new observation. While lots of recreational boaters get to see it in the summer and fall, few people get to experience it year-round.
It is stunning to see the Camden Hill blanketed in a foot of fresh snow after a passing nor'easter. Breaking ice on the Penobscot River is an experience that is almost other-worldly. There is so much to see.
And the people I get to work with are top-shelf, from my partners to our pilot boat crews, the dock workers, agents, and tugboat crews. hey are all professionals. Finally, meeting mariners from around the globe is a special experience. As my mentor Capt. Bill Abbot used to say, "It's the best job you could ever have—you get to meet people from all over the world and you never leave home."