After the deadliest crash in airline history, the collision of KLM and Pan Am airplanes in 1977, killing 583 people, the airline industry made major changes, including the adoption of cockpit resource management.
For the maritime industry it was after the Exxon Valdez accident in March 1989 that similar changes were adopted, dubbed bridge resource management (BRM).
According to the Allianz Global Safety and Shipping Review 2020 report, the number of 100 gross-ton shipping losses declined in 2019 to 41, the lowest this century, and a 70 percent fall over ten years.
A captain who doesn't listen to his crew "creates an intimidating bridge presence."
"Improved ship design and technology, stepped-up regulation and risk management advances such as more robust safety management systems and procedures on vessels are some of the factors behind the long-term improvement in losses," the report notes.
The International Maritime Organization, a specialized agency of the United Nations, developed the standards of training, certification, and watchkeeping in 1978 which were amended in 1995 and in 2010. The standards require BRM training.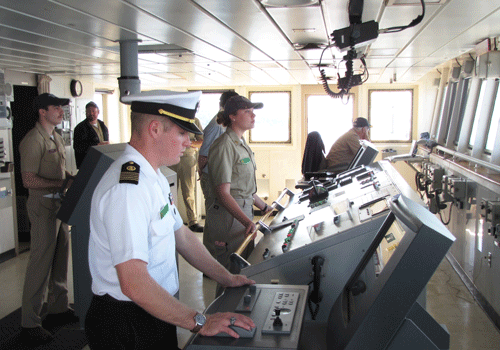 These are exacting qualification standards and requirements for personnel on seafaring ships. The procedures and guidelines are dynamic, with near misses and non-conformities reported, and routine audits conducted. There's a phone number by which any crew member can report any concern, 24/7.
Factors that can lead to mishaps include: poor visibility/weather, equipment failures or misuse of instruments, fatigue/exhaustion, inter-ship communication deficits, and BRM/pilot problems.
There are six marine schools in the U.S., including Maine Maritime Academy in Castine, where Steve Cole, a captain turned professor, teaches BRM. He explains that traditionally, there was a rigid hierarchy in the maritime world, where the master was master.
Yet bridge resource management ends the "tough guy or gal" model that had been in place.
"BRM has sought to achieve the opposite, to achieve a team structure with a leader," he explains. Cole tells students it's not that you should report something they've seen or even sensed, but rather that they are obligated to report it. It's a matter of ignoring any feelings associated with being wrong, he says.
Some ships have offered monetary incentives for filing nonconformity reports, but that got out of hand when reports were submitted for such trivial matters as a rag dropped on deck.
A captain who doesn't listen to his crew, says Capt. Mike Flanagan, "creates an intimidating bridge presence." Flanagan retired as a master mariner after 30 years sailing in the freight business.
There's a lot of traffic at sea, he says, and that increases the risk of accidents. The Straits of Singapore are a bottleneck, with about 2,000 ships passing through every day. The Gulf of Tokyo has about 400 ships a day.
Flanagan prefers the bare minimum of people on the bridge because it's quieter with less risk of confusion. He regularly trained the chief mate to take his job.
"If the chief mate is in charge of bringing the ship in, I just sit in my chair and supervise," he says. There were very few times when the pilot was making a mistake, he adds, which called on him to "take the con."
Management of the bridge typically has four different watches, Cole explains. Each subsequent watch number reflects increasing risk and mandates more people on the bridge. Watch one calls for two people on the bridge. Watch two is in effect if foggy or tricky navigational conditions were observed, and would call for a chief mate and possibly two able seamen. Watch three is in effect when approaching port and picking up a pilot, and may require three able seamen. Watch four is the same as watch three with the addition of the pilot.
Cole says students need confidence and a belief that they can do the job, and this new approach helps achieve that.