Lucy By the Sea
By Elizabeth Strout (Random House, 2022)
Review by Tina Cohen
In reviews of Elizabeth Strout's earlier Lucy Barton novels, I have not only pointed out but complained about the main character's hesitant, unsure, anxious attitude. In her latest work, Lucy by the Sea, it now makes complete sense.
Since the novel is set at the beginning of the COVID pandemic, it's a reasonable response to the times.
Not only is this the second book in a row to primarily focus on Lucy Barton, but it picks up where Oh William! left off. Lucy is back in New York City after several trips with William, her ex- and the father of their two grown daughters. It is March of 2020. People are getting sick with "that virus," as she refers to it.
William and Lucy take the dangers of the virus seriously, and see their children only briefly…
William, a scientist, grimly and quickly recognizes the threat and forms a plan before Lucy even realizes the pandemic's scope and impact. He tells her they'll drive to Maine, live on the coast for a while.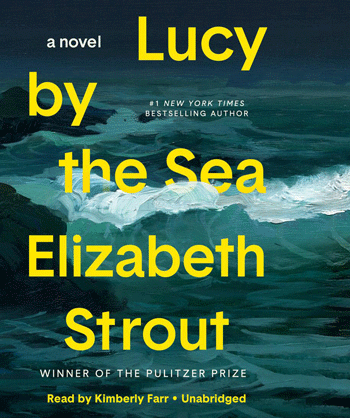 Whereas previously Lucy might have seemed paranoid, her fears are now valid. People in Maine are treating the couple not just as outsiders, but as a danger. There is no mistaking the overt hostility.
Bob Burgess, an old friend of William and someone Lucy also knows (as do readers from his previous appearances in Strout books, including one about his family, The Burgess Boys), has arranged for them to stay in a recently vacated home in "Crosby," the fictional coastal town we also know from other Strout books. (Would anyone be surprised Olive Kitteridge is also mentioned? And Isabelle?)
Despite the conditions and measures in response—wearing masks, maintaining social distancing, many businesses closed—Lucy is not reclusive, but instead curious to see more of Maine with day trips, and to get to know some of the locals.
And she wants to know what's going on elsewhere.
She is aware of the politicization of the virus, with questions about how real it was or how much protection could be mandated. She watches on TV the demonstrations and protests in support of Black Lives Matter and defunding the police. Her daughters, living temporarily in the Connecticut home of the married one's in-laws, are themselves out marching in the streets in New Haven.
William and Lucy take the dangers of the virus seriously, and see their children only briefly and infrequently. But William, once relocated to Maine, rebuilds his family to include members he'd been cut off from.
Lucy, after having initiated his possible reconciliation in Oh William!, is now uninvolved with that process; supportive but not included. Her focus on family is on their two girls, missing their regular contact. She worries there are things she is not being told and suffers the limits to her involvement. It is hard for her to accept. On the other hand, there is an improved, easier intimacy with William, and a growing friendship with Bob Burgess.
This book holds many pleasures. For Strout's regular readers, Lucy is now an old friend. We know about her childhood, its abuse and neglect; her divorce, her widowhood after another marriage. We can understand her insecurity.
But even with loss, all kinds of loss—a constant reality of the pandemic—Lucy rises to the challenges. Many of us will recognize ourselves in the pandemic experience Lucy has, especially those of us who wanted to be in Maine in 2020.
When Lucy tells Bob they will not return to New York yet, he questions her tone of uncertainty. Lucy responds, "I mean I don't know what will happen when all this is over."
Leave the coast? Maine? Some dramatic and positive changes to their lives occurred that otherwise might not have. She and William are a reconciled couple, they have a home there now, he is interacting with family and heading into a new professional role, and she is finally writing again.
What has helped Lucy through the pandemic? Was it Maine? By the sea?
Tina Cohen is a therapist who is a seasonal resident of Vinalhaven.