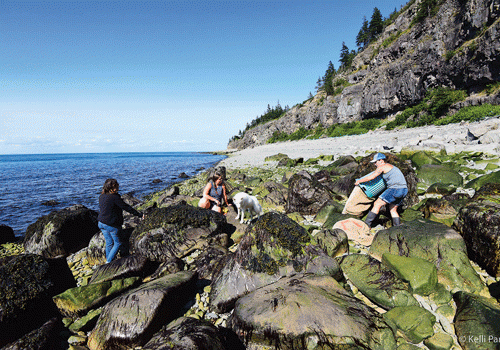 KELLI PARK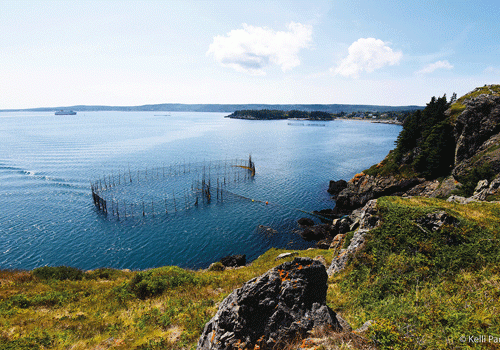 KELLI PARK
STORY and PHOTOS by KELLI PARK
There are places that live in our imaginations and seem just beyond our reach. If you've been to easternmost Maine and looked across the water, you have seen one of these places.
Those sheer distant cliffs are on the island of Grand Manan, whose name is a fusion of French, and the Maliseet-Passamaquoddy-Penobscot word for island place: mananook. Although the landscape is stunning and ethereal in many ways, Grand Manan's true appeal lies in its ability to sustain a delicate balance. The island is a confluence of evolving elements, including its heritage of livelihoods found in its working waterfront. In recent decades, islanders have turned to tourism to create economic activity, a logical move given the island's natural beauty.
Grand Manan has a rich maritime history. Island life during the 19th century depended on ten steam-powered sawmills, six shipyards, and the booming commercial fishing industry. By 1851, most of the island's population of 1,200 was involved in the working waterfront; men fished and women pickled and cured herring. Innovative fishing and seaweed harvesting techniques were developed, including weir fishing, torch fishing, and lobster fishing, with the introduction of lobster traps in 1870.
As of 1884, Grand Manan was the largest supplier of smoked herring in the world, with 300 smokehouses on the island, employing 40 percent of the population. Smokehouses, ice and salt houses, fish shacks, dulse (seaweed) drying grounds, and shipyards filled the island as the market expanded and communities thrived. By 1920, Grand Manan had produced 20,000 tons of smoked herring, but by the 1930s, the industry began to decline. 
The island's fishing industry changed with the end of smoked herring in the late 20th century, but it still lives in lobstering, scalloping, weir fishing, dulse harvesting, and pen salmon aquaculture. Lobstering remains the main source of income on the island. Some Grand Manan boats haul 13,000 pounds of lobster in a day, with 4,000 pounds being the typical daily minimum. Grand Manan's reputation as the dulse capital of the world also has grown since the health and nutrition benefits of seaweed are more widely recognized.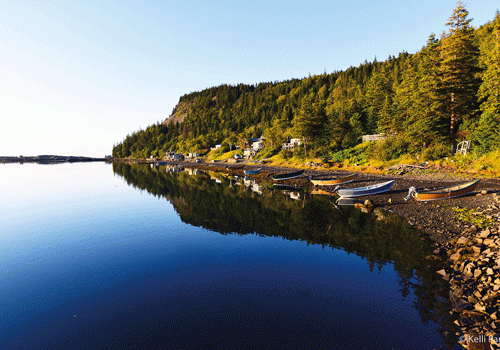 KELLI PARK
The island's fishing legacy has become tourism's draw.
"From when I grew up, the balance between fishing and tourism has become more equal," says Darlene Cossaboom, an island native and supervisor of the visitor information center.  
"For some people, it's a non-entity," other than longer lines at the grocery store, she said. "For those that run the accommodations, the gift shops, the restaurants, it's a huge part of their lives." 
The synergy between tourism and the working waterfront is linked to the preservation of waterfront access. Each village has a protected harbor and a commercial wharf where recreational boats are rare. The lack of recent commercial and residential development has allowed the communities to retain their authentic character, though housing and land prices have grown significantly in the last two decades. It is said that half of the property on the island is foreign-owned. The 1990s saw an average housing cost of $35,000, which increased to over $100,000 by 2006. Today, it's not unusual to see residential properties listed at over $200,000, out of reach for many locals. 
FOR THE BIRDS
During the Victorian Era, Grand Manan became a destination for naturalists, scientists, artists, and writers. The Grand Manan Archipelago is located on a major eastern flyway and is home to over 300 species of birds, which drew John James Audubon in 1831. Nearby Machias Seal Island is home to the largest Atlantic puffin colony in the Gulf of Maine, and Kent Island, originally purchased by John Sterling Rockefeller at the suggestion of Grand Manan native Allan Moses (the "Birdman of Grand Manan"), has housed the Bowdoin College Scientific Station since 1936.
The Bay of Fundy is also home to over 300 whales, including finbacks, minkes, humpbacks, and North Atlantic right whales, which bring their calves to the rich food supply found in the Grand Manan basin each year. The whales also contribute to tourism.
Peter Wilcox is an island native and lobsterman who operates his family's whale-watch tour boat, Sea Watch Tours.He says the connection with visitors is powerful.
"Last week, I had a woman who cried. That was her reaction. She'd never seen them before. Some people jump up and down," he said. One whale "would bring her calf over to show us."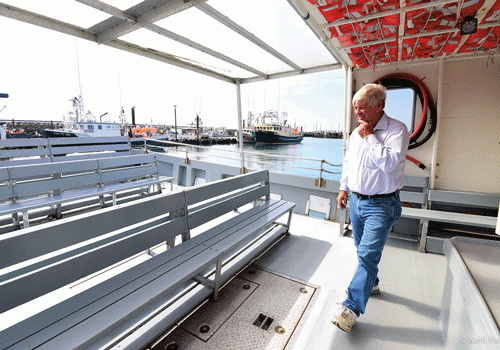 KELLI PARK
Grand Manan's natural wonders also have drawn American painters like Winslow Homer and writers like Willa Cather. A wave of 19th century artists made their way to the island to find inspiration among idyllic rolling meadows, vast beaches, rugged cliffs towering 300 feet above the ocean, tight-knit fishing villages, picturesque lighthouses, and the highest tides in the world.
Grand Manan has reinvigorated its arts allure with the recent shift toward cultural tourism. Artists from the mainland often host workshops on the island during the summer, although there are a handful of working artists who live on the island year-round. The arts and cultural presence on the island has been enriched by the presence of Grand Manan Art Gallery, established in 2010, and Grand Manan Museum, which hosts educational exhibits and community events throughout the summer. The island also is home to Summer's End Folk Festival, begun in 2009.
GETTING THERE
It takes planning to get to Grand Manan. The island is nine miles from Lubec, but Mainers have to cross into Canada and take a 23-mile ferry ride from Black's Harbour.
But that remoteness is one of its draws.
Beginning in the late 19thcentury, more overnight accommodations were established, including guest houses, inns, and hotels. Families from away began to buy seaside cottages and establish themselves as yearly summer residents, many of whom have continued the tradition through the generations.
The 20th century brought larger ferries able to carry vehicles and island businesses sprang up to serve them. In 1990, Grand Manan saw a boom in tourism connected with the regular service provided by theMV Grand Manan V, which holds 300 passengers and 64 cars and currently runs in conjunction with the MV Grand Manan Adventure.
"I think if you talked to people 25 years ago, they never felt a need for tourism," says Greg Pidduck, president of the island tourism association. A recent visit by a cruise ship illustrated the change.
"It was amazing how many people went to the wharf to see the boat and talk to the people. We actually had difficulty with people leaving to get on the bus because we had four or five fishermen regaling the people with stories," he recalled. 
The nature of accommodations is changing, though; although campgrounds, bed and breakfasts, cottages, and inns are still popular (and are all often booked on August weekends), there has been a growing presence of Airbnb and VRBO properties, which creates more opportunity for tourists and people traveling to the island on business.
A recent passenger on Peter Wilcox's whale-watch boat asked about the security of her parked car. "I said, 'Well ma'am, when I go to the wharf, I leave my keys in my truck. Anybody who wants to move it or borrow it, they can.' And she said, 'Do you lock your house at night?' And I said no. And she said, 'I didn't know there was any place in the world left like that.'"
My Grand Manan story
Finding Grand Manan was the result of what I like to call good travel karma: a beautiful fusion of serendipitous circumstances. We knew we were heading north for the weekend with no itinerary and a sense of spontaneity (and passports), and we knew we were intrigued by an island on the map off the coast of Canada, but the rest was up to chance.
Our sense of adventure led the way as we happened to slide into the last spot on the ferry; the stars aligned again after we arrived on island and stumbled upon a last-minute cancellation at Hole-in-the-Wall Campground. We jumped at the chance to camp atop 200-foot cliffs on the Bay of Fundy. We could have stayed there all day, staring at the horizon and looking for whales, but we had a feeling that this was just a taste of what Grand Manan had to offer, and we were right.
I had never seen anything like it, and I knew I was hooked.
—Kelli Park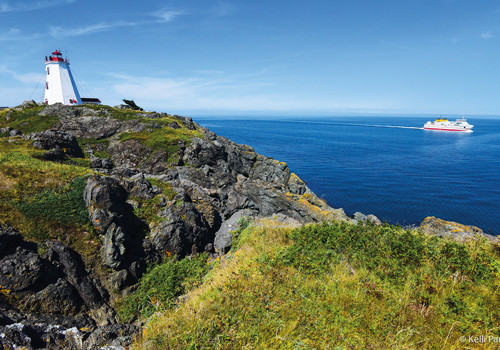 KELLI PARK