In the fall of 2020, the Bates College Museum of Art mounted a remarkable exhibition, "Let's Celebrate Ashley Bryan," in honor of a gift of the award-winning author/illustrator's work that came to the museum the year before from Henry Isaacs and Donna Bartnoff Isaacs, the artist's longtime friends and Little Cranberry Island neighbors. The collection includes collages and original artwork from Bryan's children's books as well as prints and his signature paintings of flowers. That a substantial cross-section of his art has a permanent home in his adopted state of Maine is heart-warming.
As part of programming for the show, the museum invited another of Bryan's friends, the award-winning poet Nikki Giovanni, to talk about his life and work via Zoom. From her home in Blacksburg, Va., (she teaches at Virginia Tech), Giovanni began her talk by noting that Bryan was one of her "very, very favorite people." She reported that he had slipped the week before and broken his wrist. Since he couldn't paint, he had been calling her, "which is great," she said, "because I know his voice."
That voice! For anyone who has heard Bryan perform poetry or one of his stories, it's the range that amazes, from a gravelly bass to the higher notes. He takes his audience on a kind of vocal roller coaster, with spirited syncopation adding to the joyous and at times raucous ride.
About 25 minutes into the talk, not long after Giovanni had declared, "All that Ashley has wanted to do is bring some love to the world," there was a sudden laugh and Bryan appeared on the screen, smiling, his ear buds attached. In greeting him, Giovanni raved about his latest book, Infinite Hope, a first-hand account of being in a segregated battalion during World War II. Bryan thanked her and said, "It meant everything to me to get it out." Then he returned the compliment: "I feel that everything [Nikki] speaks is poetry."
Bryan's voice was strong, musical, a little raspy, but forceful. Responding to the pandemic, he noted, "We go along day by day with what comes up as a challenge, but there is always the magic and mystery in every moment—even now, speaking with you, it's all such a wonder!"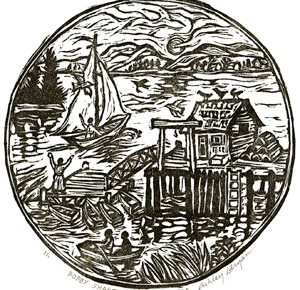 A wonder it was as the two friends shared their impressions of life and art. "There's nothing like being restored each day by what we love—It's always new," Bryan said. Later he declared, "I'm trying to match the good and creativeness that is given to the world, in everything I do, to say thank you for the inspiration of all that's been created in the world, you know."
Giovanni, for her part, spoke of the need for hope. And when Bryan said, "I need to get this hand back so I can really work," she replied, "Take your time."
Toward the end of the event, an audience member asked about the importance of the prophetic voice.
"You have nothing that's more important than your prophetic voice," Bryan noted with fervor, "because everything is all dead and gone and used and not important, but what you're projecting and what you're seeing and religiously opening up again is at the heart of everything because when they say that 'in the beginning was the word, and the word was God,' everything comes from that beginning word of Genesis."
Giovanni added her own take on the question: "What we do is we go forward, because everything was yesterday. And there's nothing wrong with yesterday—you learn, or you hopefully learn, from yesterday."
In reference to the upcoming presidential election, she added, "We'll learn on Nov. 3 whether we've learned anything, but that's another discussion."
Rewatching the video of the conversation is to realize one is witnessing two incredible human beings in the most loving of interchanges, sharing their wisdom on the creative process in a completely open and genuine manner. The stories they share, poignant and funny, reflect their brilliance as storytellers.
I've had the honor to write about Bryan on a number of occasions, dating back to a profile in Down East magazine in the early 1990s and including reviews for this newspaper and other publications. Whether interviewing him in person or by phone, I always found his voice comforting and uplifting. Here was a man who found glory in the world, whose many arts brought joy to audiences far and wide. That singular voice and vision will echo down the years.
Bryan will be the recipient, posthumously, of the Farnsworth Art Museum's 2022 Maine in America Award. The museum will present "Ashley Bryan— Beauty in Return" opening in May.