I can't help but imagine how the discussion about Donna Wiegle's book might have gone at a big-time publishing house.
"The writer has stage IV ovarian cancer, and she writes about her courage in facing this diagnosis? And there's a motorcycle involved? How are we supposed to sell this?! Who wants to read something so bleak, so depressing?"
Well, it turns out that Finding Courage: Navigating Cancer on my Harley is neither bleak nor depressing and is both inspiring and entertaining.
Donna Wiegle PHOTO: JACK SULLIVAN

She has her teal-colored Harley shipped west, flies out to meet it, and she's on her way.
Wiegle lives on Swan's Island, where she and her husband Charlie settled after the 9/11 attacks. In fact, they saw the news on TV in Belfast as they were traveling to their Pennsylvania home after a vacation on the island and decided then and there to relocate to the island.
Wiegle does write clearly and precisely about her condition and that's not a surprise, given her background. She has worked in healthcare for decades, and on the island, became the part-time administrator of its small health center.
She first faced cancer in 1990 but a hysterectomy left her cancer-free. Until 2013.
Full disclosure: Wiegle serves on the board of the Island Institute, publisher of this newspaper, and I've gotten to know her. We share a birthday, though she's a year younger than I. And, I'm pretty sure, she's a lot more energetic, focused, and determined than I am, qualities that were apparent before her cancer returned.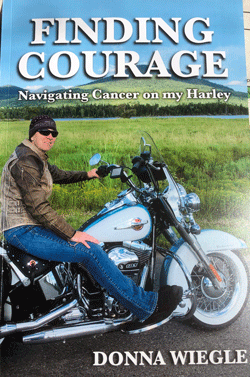 The structure of Finding Courage has Wiegle narrating her solo cross-country motorcycle trip of 2019, a kind of "bucket list" adventure that some of us might fantasize about but few would actually undertake.
She has her teal-colored Harley shipped west, flies out to meet it, and she's on her way. Though the journey takes her on a circuitous path to hit some iconic parks, vistas, and scenic roads, it's not entirely a joyride. She's a woman on a mission.
Her "Teal on Wheels" trip was a fundraiser to raise awareness about ovarian cancer, whose symptoms often are missed. Teal is the color that has been selected to highlight this disease, which is the fifth-leading cause of cancer-related deaths in women; one in 78 will be diagnosed with it. The pap test does not detect it.
Though she is matter-of-fact candid about some pretty challenging health setbacks, those shorter chapters make up a minority of the book, which reads more like a travelogue. Wiegle is gregarious and, whether ordering a beer and a burger at a bar or bumping into another biker outside a motel, is very willing to alter her plans to engage.
And friends in Maine, new friends made on the road, and old friends in Pennsylvania are over-the-top generous in helping her raise money and complete the trip.
A couple of her encounters with random strangers in remote locations have her speculating whether she'll be the victim of a psycho killer. But, time and time again, her openness instead leads to meaningful and encouraging conversation and shared appreciation of the beauty of the countryside with those folks. And the book includes photos of those "strangers," most grinning from ear to ear after meeting Wiegle.
I learned a lot about the challenges of two-wheeling it—intense desert heat, made worse by wearing leather and a helmet, and biting cold on desert early mornings; minimal visibility when rain pelts the helmet's visor and treacherous traction when it's under the wheels; battling crosswinds on mountain passes; and planning every stop so the heavy bike doesn't have to be rolled backwards to hit the road again.
As tough as Wiegle is, ovarian cancer is tougher, she confesses. And she wants you to know the early symptoms: the need to urinate urgently or often; trouble eating or feeling full quickly; pelvic or abdominal pain; and bloating.
To purchase the book, see www.tealonwheels.square.site or tealonwheels.org or write Wiegle at donna@tealonwheels.org.
Tom Groening is editor of The Working Waterfront.