The Other Mrs. by Mary Kubica
Park Row Books, Toronto, Ontario, Canada, 2020
For centuries, there's been nothing like an island on the remote coast of remote Maine to spark the imaginations of writers and artists, both native and non-native. It can be an idyllic summer paradise of sailboats and cottages, or a windswept, lonely, sublimely frightening instance of rugged beauty. A fog-shrouded haunted house, maybe. In the most daring literary excursions, a glimpse of winter.
In Mary Kubica's new novel, The Other Mrs., we get the glimpse of winter. The "tiny island" where the story is set has a police department, ambulance service, health clinic, and multiple daily ferry runs taking commuters to work and kids to school in the city on the mainland, plus "abandoned military fortifications at the far end of the island" where teenagers are rumored to gather. It sounds a lot like Peaks Island, which I personally have never thought of as tiny, or remote, but, anyway…
She feels inexplicably alienated at her job as staff physician at the island's clinic…
All this is of acute concern to Sadie Foust, who has recently moved to the island with her husband, Will, and their two sons, from the Chicago area, where Sadie was a physician and Will a writer just completing his graduate studies. In need of "a fresh start" following incidents, we soon learn, involving the school bullying of their teenage son and a tragic mistake at Sadie's clinic, Will serendipitously inherited an island house upon the sudden death of his sister Alice, which we soon learn was a suicide. Along with the house comes Alice's daughter, Imogen, who from the first pages is a kind of haunting, punked-out 16-year-old version of Daphne du Maurier's Mrs. Danvers.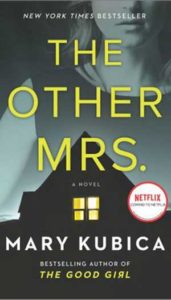 Sadie tells us in the first sentence of the story that "There's something off about the house," and it's not long before we start to suspect there is something off about Sadie. She narrates most of the chapters, with interspersed, mostly shorter chapters narrated by Camille, who pursues Will and is the flamboyant dead opposite of neurotic Sadie, and a little girl named Mouse who tells the story of "Fake Mom," an evil stepmother.
Sadie projects a sort of clinical rationality toward everything that happens, but it's quickly apparent that she is jealous of Will's interactions with other women. Extremely jealous.
If Imogen is a version of Mrs. Danvers, Sadie starts to seem like a version of Henry James's governess in The Turn of the Screw. She comes to believe that Imogen participated in Alice's death. She feels inexplicably alienated at her job as staff physician at the island's clinic (where "the minds of the people are as small as the island itself"). She's hypersensitive to signs her teenage son is facing more bullying.
She describes Will as the perfect consoling, calming husband and father who holds everything together, except amid her increasingly tenuous fits of jealousy. To make matters much worse, a neighbor is horrifically murdered one night right down the street. When the police show up with routine questions, Sadie insists the murderer must be the woman's husband, even though he was in Japan at the time. So who did it?
The backdrop of all this is the island in winter. And while this imagination of a Maine island has the feel of a kind of suburb-by-boat, still, the gothic images of winter well reflect the creeping creepiness of the story's plot. There are slips and falls on unseen ice, a Wuthering Heights-in-Maine blizzard, a knife buried under snow, heavy overcoats, school cancellations and non-cancellations, and the general feeling of twilight bleakness that plays with your head on a winter afternoon in Maine.
The Other Mrs. is not going to win any awards for stylistic grandeur, but the story is told with remarkable pace, it has a surprise ending, and enough of the gothic side of winter is evoked to provide a viable objective correlative to Sadie's windswept, lonely, frightening state of mind. Read this book at night within range of a foghorn for full effect.
Mary Kubica lives in the Chicago area and is the author of other best-selling novels such as The Good Girl, Pretty Baby, and others. The Other Mrs. is in the process of being turned into a Netflix movie.
Dana Wilde, a former editor and college professor, lives in Troy in Waldo County and writes the Backyard Naturalist and Off Radar columns for the centralmaine.com newspapers. He is a member of the National Book Critics Circle.