One Last Lie
By Paul Doiron, Minotaur Books
The title "game warden" conjures images of men and women in forest-green fatigues with a mission to steward natural resources, which in Maine primarily means moose, bear, and deer, along with fish and fowl. Thanks to Paul Doiron's Mike Bowditch mystery novel series, now numbering 11, that image has been, shall we say, dramatized—these dedicated conservation officers are first and foremost law enforcement and they can be badass.
In One Last Lie, Bowditch reconnects with his mentor and surrogate father Charley Stevens, but under mysterious circumstances. The older man up and disappears, leaving a cryptic note encouraging Bowditch not to try and track him down. And so, the action-packed search is on.
He goes out of his way to underscore crimes against the environment, from encroaching development to clearcutting.
Once again, the pace is brisk, the story engaging, and the cast of characters memorable. Doiron knows the warden service inside and out and is expert at describing the protocols. And the reader never forgets that Warden Bowditch has an eye for the natural world: the serene song of a mourning warbler or house sparrows "picking dead bugs out of the grilles of the semis in the parking lot."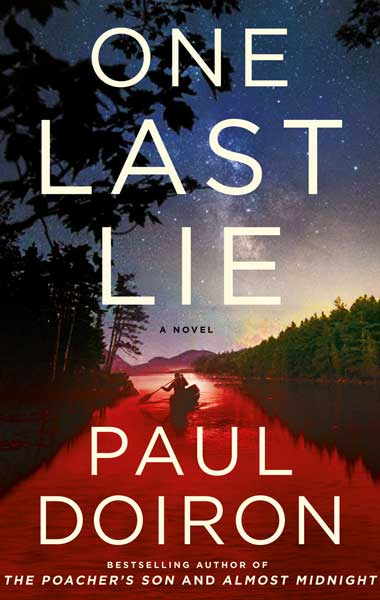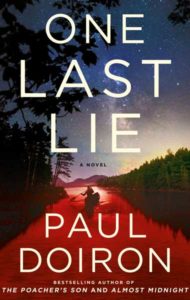 Reading Doiron's novels, one comes to appreciate his wicked sense of humor. A favorite moment in One Last Lie occurs when Jon Egan, a squirrely snowplow driver, is being interrogated. When confronted with previous misdeeds, Egan says, "That's all ancient history," to which the detective replies, "'Those who forget the past are condemned to repeat it.' That's a quote from Santayana."
The lowlife's answer is priceless: "I don't listen to that kind of music. I prefer country."
When he isn't sequestered away in his Rockland waterfront office working on his next book, Doiron is apt to be fly-fishing. His hero Bowditch also happens to be an experienced angler and shows off his stuff in a memorable scene battling a brookie on remote Moccasin Pond.
Doiron often incorporates references to cultural/societal issues in the text, be it sexual harassment in the military, the negative impact of the American-Canadian border on surrounding communities, the poverty of Maine's Native Americans, or the fear of ICE. He also goes out of his way to underscore crimes against the environment, from encroaching development to clearcutting.
In the course of 11 books, Doiron has covered much of Maine, from Flagstaff Lake in The Poacher's Son (when Bowditch was a 24-year-old rookie) to way Downeast. Much of the present novel takes place in Aroostook County.
Francophone aspects of the narrative reflect the author's family origins; as he explains in an afterword, his great uncle, the Rev. Romeo Doiron, was parish priest at St. James in St. Agatha.
When the Fort Kent police chief, Plourde by name, uses the word "désolé" to apologize to some fellow diners for his colleagues' crass language, I couldn't help thinking of another favorite crime writer, Louise Penney. Her Chief Inspector Gamache often uses that word—translated as "sorry"—and it leads me to fantasize about a future cross-border collaboration between him and Bowditch. Another fantasy: a TV series called Bowditch along the lines of Longmire or Bosch.
Some Bowditch fans, including my son James, relish these books because to those living in exile—he's in Brookline, Mass.—they provide a return to Maine, an escape to the woods and waters. And then there's the action: a python attack, a wolf dog devouring a turkey poult, a full-tilt boat chase.
In the end, the mystery is (mostly) solved, but these novels lack complete closure, and that's just right: We want to know how Mike will resolve his conflicting love interests (Dani or Stacey), in what desperate situation he'll find himself next, and when/if his luck will run out. Stay tuned.
Carl Little is the author of more than 25 art books, including Paintings of Maine, The Art of Monhegan Island, and The Art of Maine in Winter.