Much of the maritime industry and its history has been dominated by white men. A new photographic exhibit at Maine Maritime Museum in Bath seeks to take a look at that male-dominated legacy through the lens—literally—of three women intimately connected to it.
"Women Behind the Lens" displays together for the first time a selection of photographs by Maine photographers Emma D. Sewall (1836-1919), Josephine Ginn Banks (1863-1958), and Abbie F. Minott (1874-1944). The 50 photographs in the exhibit come from the approximately 2,000 photographs created by these three women which the museum has in its collection of 100,000 photographs.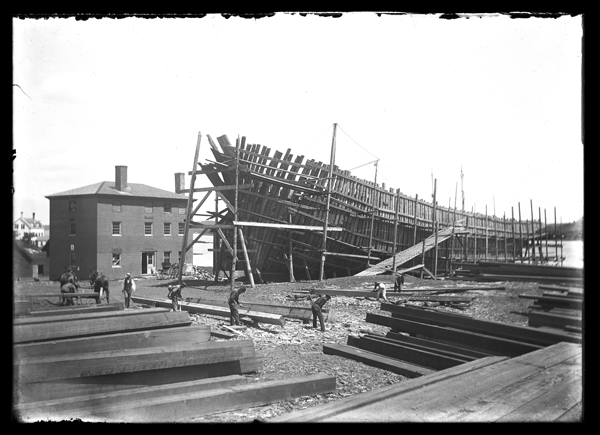 The exhibit, said Catherine Cyr, the museum's exhibition coordinator, "shows that we can broaden the scope and narrative of what maritime history is and how we tell maritime history."
The photographs in the exhibit document the day-to-day work of shipbuilding in Maine at the turn of the last century and the seafaring people and communities supporting those shipyards in the Midcoast and Penobscot Bay.
Some are of places and scenes that are still recognizable today, such as of a horse taking a drink from a watering trough at the Civil War monument across from the front of the Sagadahoc Courthouse in Bath, and some detail the hard work done in shipyards and granite quarries, while others reflect privileged white domesticity.
While the photos of this trio may present their world from the perspective of women, Cyr is quick to note that it is still a perspective from a select segment of society.
"I was very cognizant that these are women of privilege," Cyr said. "They had leisure time, they could afford a camera. But, at the same time, it is a perspective that has not necessarily been valued or really looked upon as a source of material and of wealth of knowledge."
Emma Duncan Crooker Sewall grew up among the shipbuilding elite in Bath, and was married to one of the city's top shipbuilders (and a candidate for vice president of the United States), Arthur Sewall. Josephine Banks was the daughter of a sea captain from Prospect who experienced trans-Atlantic travel aboard with her parents. And Abbie Minott was the youngest surviving child of the founder of Minott Shipyard in Phippsburg.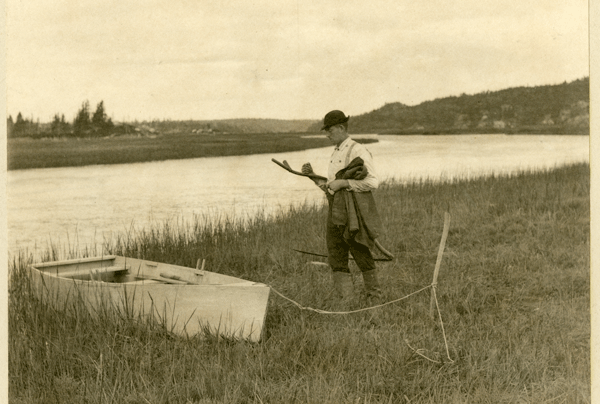 All three women took up photography as a hobby, but some of their photographs were published in local newspapers and even exhibited nationally and internationally. Emma Sewall received national and international awards for her photos, some of which were exhibited in Paris in some of the same exhibits that famed photographer Alfred Stieglitz exhibited in, said Cyr.
"These are just, for the most part, average women—they're not professional photographers—who are just happening to capture both your everyday moments but also significant moments in Maine's history."
Some of the scenes they photographed are today quite historically important, said Cyr.
"Some of the images are so significant [because] they're the only ones of that type and documenting certain aspects of the shipbuilding process that we have from any Maine shipyard," she said.
This is particularly true for the shipyard photos taken by Abbie Minott.
"She had this really unique position of being able to go onto the shipyard that was just outside of her house and take photos of it being active," said Cyr. "That's pretty darn cool."
"Women Behind the Lens" is on exhibit in the museum's Crooker Gallery until early November. Maine Maritime Museum is at 243 Washington Street in Bath. It's open daily from 9:30 a.m. to 5 p.m. Admission is $20; $18 for seniors; free for youth age 17 and younger.
Admission is free for all on weekends in January, February, and March. Go to www.mainemaritimemuseum.org or call 443-1316 for more information.