By Laurie Schreiber
One of the most defining characteristics of the legendary Haystack Mountain School of Crafts, an international craft school in Deer Isle, is the campus itself, designed by American architect Edward Larrabee Barnes and overlooking the Atlantic Ocean.
When the campus opened in 1961, 11 years after the school was founded in 1950, it was recognized as an icon of American modernism.
"We're the stewards of the history and discipline of American craft," Haystack executive director Paul Sacaridiz said of the school's mission. "At the same time, we're stewards of this incredible architectural treasure."
Celebrating its 70th anniversary in 2020, Haystack last fall received an early birthday present, of sorts, when Little Rock, Ark.-based Windgate Foundation, which supports visual art and crafts in the U.S., bestowed a gift of $4 million.
"We've worked with the Windgate Foundation for many years," said Sacaridiz. "They've been one of our strongest and most dedicated funders."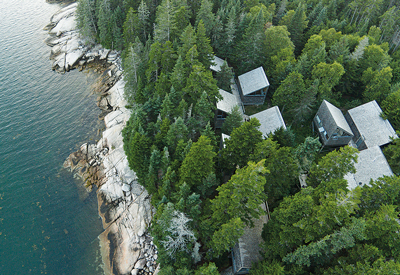 The school's previous largest gift of $2 million came from Windgate in 2013, to endow a free, two-week open-studio residency, which brings 50 emerging and established artists to campus annually. All together, Windgate has given Haystack almost $7.5 million since 2002.
The latest gift, the largest in the school's history, will establish an endowment for campus preservation.
"While this does not replace the need for fundraising, this gift changes everything for us," said Sacaridiz. "We know the most critical infrastructure needs will always be attended to and we can now think more ambitiously about upgrades and about how we can plan for the future. It allows us to think bigger."
Haystack offers studio workshops, residencies, exhibitions, tours, artist lectures, and community and youth workshops; supports visiting artists and inter-disciplinary scholars; and functions as a think tank examining craft in broader contexts.
"Haystack was founded at a critical historical moment when the American craft movement was beginning to articulate itself in the 1950s," said Sacaridiz. "It was a post-war moment, a time when artists across the country were beginning to define themselves as studio artists and craftspeople in a way that hadn't happened before."
Situated on a wooded slope overlooking the rock-bound ocean, Haystack was one of a handful of similar institutions to become a craft epicenter.
"The radicality of Haystack goes back to our founding principles: We have no permanent faculty or student body, we award no degrees or certificates," Sacaridiz said. "It's an educational model that is democratic, non-hierarchical, and open."
Over the years, those values made it possible for thousands of people from around the world to participate.
"If you think about the history of American craft, the majority of figures who went on to establish significant careers came through Haystack," he said. "We're also writing our future history right now, because the same thing is happening today.  Many of the people who are coming here now, both as students and faculty, will have the same presence moving forward."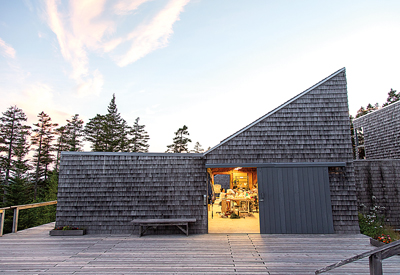 Haystack is also vital to Maine's identity.
"The ways in which artists have been drawn to Maine as a place, to its stunning beauty and the ethos that's embodied  here—from the back-to-the land-movement to entrepreneurs to people seeking a different way of life—is wrapped up in the school's entire being," he said.
"We're proud to be one of a number of leading cultural institutions in Maine with national and international reach. We take leadership very seriously, not through a position of elitism but as being in partnership with and learning from other remarkable organizations. We're part of an incredibly dynamic ecosystem that has allowed Maine to be a destination for the arts."
The campus itself epitomizes those values. Edward Larrabee Barnes designed 34 modest, cedar-shingled structures that include studios, a dining hall, and cabins, clustered around a dramatic central stairway that leads to the shore. Built with local materials, the structures are connected by walkways that encourage community. In 1994, Haystack joined institutions like the New York's Guggenheim Museum when it was awarded the American Institute of Architects' 25-year award in recognition of the campus's integrity, design excellence, and cultural significance. In 2006, Haystack was added to the National Register of Historic Places.
The infrastructure is itself an expression of American craftsmanship.
"Part of what the architecture does is reinforce that extraordinary things can happen with ordinary materials," said Sacaridiz.
Haystack is now embarking on a two-year strategic planning process, with Boston, Mass., consulting firm TDC, to explore the school's next chapters. The examination comes from a place of strength—the last three years of fundraising have broken records and the school is thriving. It also comes within a broader climate of change, as craft plays a growing role in activism, community-building, and social engagement.
"Part of our job now is to look at how craft is being defined more broadly in the world, while preserving the historical roots that have defined the field," he said.