Along the Maine coast, spring arrives with an explosion of daffodils, the sound of peepers, and a pilgrimage of spotted salamanders crossing darkened roads.
Life also returns to boatyards that provide winter homes to Maine's lobster fleet, as fishermen ready their boats for another season on the water.
To the casual eye, the lobster boats look much the same, distinguished only by size and paint job. All-white is the leading color scheme, but a few hulls are painted black, or green, or perhaps some bright primary color. The pilothouses—open on at least one side so the lobsterman can haul traps out of the water and set them on the rail, are almost always white.
"A lobster boat that would reduce fossil fuel use would help the environment and save a lobsterman money."
—Tom Duym
In shape and form, the boats share a high bow, sweeping sheer, and relatively low sides in the middle of the boat—the traditional Downeast look seen in countless photographs of picturesque Maine harbors. That look is also reflected in the designs of "lobster yachts" popular with many recreational boaters and turned out with varying degrees of fit, finish, and technology by many Maine boatbuilders.
All the boats, whether built to haul lobster gear far offshore in the Gulf of Maine or to cruise between summer anchorages, share another feature besides their traditional looks. Like the lobster boats designed a century ago, give or take, by such legendary Beals Island boatbuilders as Will Frost—and nearly all powerboats drawn by designers today—are monohulls.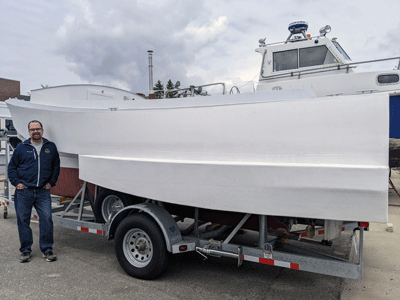 Could that change? Could a multihull—a twin-hulled catamaran or three-hulled trimaran—ever replace boats with the traditional hull form in the lobster fishery? Multihull workboats are common around New Zealand and Australia. There are signs—faint signs—that things could eventually change in Maine waters.
In Belfast, Front Street Shipyard is one of the largest and most innovative boatyards in the Northeast. In addition to servicing both commercial boats and luxurious yachts, the company also builds custom and production boats incorporating cutting edge designs and technologies.
Recently, Front Street announced it was partnering with Newport, R.I. yacht designer and builder David McCollough on the development of an outboard-powered pleasure boat that combines traditional New England styling with a state-of-the-art catamaran hull incorporating lifting hydrofoil technology. According to McCollough, the foil will be adjustable for performance and fully retractable.
Early drawings show a boat with the look of lobster yachts from builders such as Hinckley or Lyman Morse above the waterline and an estimated $2.7 million price tag. The rationale for the design—dubbed the Hope 40 and still in its early stages—is to build a boat offering "less fuel burn and greater comfort," McCollough said.
Lower fuel consumption and more comfort are attributes that should be appealing to anyone who, year in and year out, spends 2,000 hours or more on a lobster boat with a big diesel engine gulping fuel that currently costs upwards of $4.30 per gallon and beating up his or her body shifting heavy lobster traps in often rough seas. Unsurprisingly, someone has been working on those problems for more than a decade, but progress has been slow.
"It started out as a simple question," Tom Duym, fisheries education specialist at the Stonington-based Maine Center for Coastal Fisheries and a former commercial fisherman, said recently.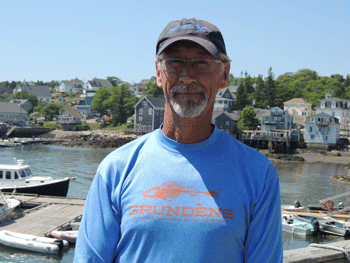 "Is there a feasible way to develop a better, greener lobster boat? After all, a lobster boat that would reduce fossil fuel use would help the environment and save a lobsterman money."
In 2010, MCCF formed a partnership with Douglas Read, an engineering professor at Maine Maritime Academy. The aim was to produce a design that would reduce fuel consumption by 20%-25%, reduce pollution, and provide a more comfortable working environment that still offered the large deck space and trap capacity needed for modern fishing practices.
With "a tremendous amount of input from fishermen," Duym said, Read developed "a revolutionary green lobster boat design featuring a newly-patented trimaran hull form" and an above the water profile that looks just like a conventional lobster boat.
A few years ago, a one-fifth scale model of the hull underwent tank testing, and its performance was compared with that of a popular 38-foot lobster boat design.
More recently, the Landing School in Arundel built a 22-foot scale model of the hull that is currently stored at Maine Maritime Academy and slated for in-the-water testing soon, powered by a small diesel engine that is equivalent, at scale, "to a pretty decent size motor," reports Pat Shepard, MCCF's collaborative research specialist.
While the design is still subject to refinement to meet lobstermen's concerns about how the boat would handle in following seas, Read has estimated that a full-size boat—say around 45 feet long and appropriate width—would use 20 percent less fuel than a conventional monohull. The savings would come because the trimaran could use a smaller diesel engine—perhaps 500 horsepower—and achieve the same performance as conventional boats using 1,000 horsepower and even larger diesel engines.
Another significant savings would result from the lower initial cost of purchasing a smaller engine for a new boat.
Besides generating lower costs, Duym sees the trimaran as offering fishermen an opportunity for to rethink the way they handle their lobster gear and reduce the strain fishing imposes on their bodies. He and Shepherd both say the physical toll of fishing is a significant reason why so many fishermen self-medicate with drugs or alcohol.
Whatever its advantages may be, the trimaran lobster boat is still a long way from joining the fleet in Stonington or anywhere else.
"I think the biggest hurdle here and a lot of places on the coast of Maine is that we're so stuck in what we've done for a thousand years, because it's how we've done it," Shepard said. "I think it has a lot to do with a cultural shift," among the fishing community, "and to make that cultural shift, you have to prove that it works, because it's all about trust."