By Stephanie Bouchard
Buffeted by merciless winds, the schooner Joseph Luther wrecked on Whaleback Rock on a raw January day at the turn of the last century. Stranded on the rock in a miserable winter storm, the crew was in trouble. 
A surfboat was launched from the nearby lifesaving station at Popham Beach and made its way toward the incapacitated schooner, but could only get close enough to fire a line between the two boats. 
Hand over hand, crew members from the Joseph Luther inched their way along the line between the boats and dropped into the safety of the surfboat. With all human crew aboard, they were ready to head back to shore, when Gussie Hodgkins of the lifesaving station realized one crew member remained aboard the stricken ship: the ship's cat, Tacks. 
Hodgkins, a great lover of animals, risked his life to rescue the tiger cat, who became a media sensation and the lifesaving station's cat once back ashore. 
The story of Tacks and the wreck of the Joseph Luther is one of many told in the Maine Maritime Museum's exhibit "Shipwrecks and Salvage," which opened in May and runs into mid-2020. 
About 1,300 vessels have wrecked off Maine's coast in recorded history, says Christopher Timm, curator of exhibits at the museum. The museum's exhibit explores our fascination with shipwrecks and our responsibilities toward them, he says. "What happens when things go wrong? We always love those stories."
In addition to the stories of shipwrecks themselves, the exhibit takes a look at historic and modern technologies used to explore shipwrecks and asks visitors to consider and understand what our obligations are to those wreck sites.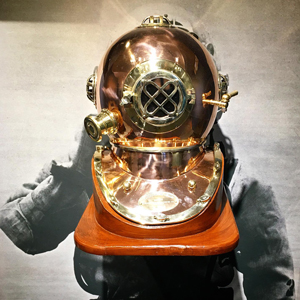 Underwater exploration technology has come a long way. Today, underwater remotely operated vehicles (ROVs) are the mainstay of underwater exploration of shipwrecks. Much like drones, ROVs were once mainly available to a select group of people and organizations that could afford such devices, but prices are dropping, says Timm, making them more available to a wider range of people. 
As more people who are not steeped in archaeological and preservation practices have easier access to wreck sites with ROVs, it is important to raise awareness of legal and preservation issues, Timm says, which the museum hopes to contribute to with this exhibit.
To that end, the exhibit's final display presents visitors with a thought-provoking question. Attached to the display wall is a 5-inch fastener (essentially a long, thick nail) recovered from the wreck of the Laura Annie Barnes, a schooner built in Phippsburg in 1921. The question asked of visitors is if you found this fastener, say, walking along one of Maine's beaches, what would you do? Would you pick it up and take it home, finder's keepers? Or leave it? What if it were a glass bottle instead of a fastener? 
The state owns submerged land from the mean low water line to three nautical miles offshore so technically, anything found within that zone, say on a beach, is property of the state. If that bottle you pick up and take home is a modern-day soda bottle, maybe the state wouldn't care. But if it's a 200-year-old relic? That might be a different story. "At what point," says Timm, "do you become a stickler?"
If you go…
Where: Maine Maritime Museum, 243 Washingon St., Bath
When: Open daily, 9:30 a.m. to 5 p.m.
How much: $17.50; $16 for those age 65-plus; $10.50 for youth ages 6 to 12; free for children under age 6. Admission grants ticket holders a two-day pass to be used within seven days of purchase. 
Related events: A lecture series covering topics related to the exhibit is running throughout the exhibition period, as well as other events. Summer events include a lecture on preserving maritime artifacts with marine conservator Molly O'Guinness Carlson, of the Head Tide Archaeological Conservation Laboratory, at 6 p.m. on June 27; a lecture and book signing with Rachel Slade, author of Into the Raging Sea: Thirty-Three Mariners, One Megastorm, and the Sinking of the El Faro, at 6 p.m. on July 18; an introduction to salvage laws with Capt. Bruce White of water taxi service, Sea Tow, at 6 p.m. on Aug. 8; and a presentation on the 20-year search for the final resting place of the Bath-built schooner Wyoming with John Perry Fish, who led the oceanographic team on that search at 12:30 p.m. on Aug. 22.
More info: Check out the calendar for more details at www.mainemaritimemuseum.org.
Maritime Music
Alongside "Shipwrecks and Salvage," the museum is running a smaller exhibit devoted to maritime music. Open through Oct. 20 in the Marjorie W. Kramer Gallery, "Maritime Music," takes a look at sea-related music, including sea shanties, ballads and story-songs.
The exhibit includes sheet music from the museum's collection, instruments that would have been used in the performance of maritime music, and recordings of maritime songs. 
The recordings are of traditional songs by contemporary local performers, including Bowdoin College's all-women a cappella group, Miscellania, which will perform live at the museum sometime during the exhibition, says Timm. 
Another as-yet unscheduled event related to the exhibit will be the book launch of a collection of approximately 200 seafaring songs painstakingly researched by Julia Lane, of Round Pond-based duo, Castlebay. Lane has spent the past 20 years transcribing sea songs from an audio collection of field recordings done in Maine between 1923 and 1943. The music from the recordings has been shaped into singable tunes and lyrics (and includes background notes) that can be used by modern educators, singers and others.