It's the difference between a snowplow and a rake.
The traditional way of harvesting scallops, the high-value seafood now in season, uses a dredge, or drag. Heavy chains or steel hardware scrape across the bottom, tossing the scallop shells upward, where they are caught in a bag. Inevitably, some of the targeted beds are destroyed by the less-than-surgical nature of the process.
Tim Sheehan, who with his wife operates Gulf of Maine Inc. in Pembroke in Washington County, believes he's found a safer, more fuel efficient, and less environmentally damaging way to harvest scallops.
Sheehan is now selling a scallop drag, or dredge, that has been in use in Scotland for several years. The design is closer to a rake, with thin wire tines that scrape bottom.
The N-Viro Dredge has had success in U.K. waters, Sheehan said, and was developed in response to pressure by regulators there to find a less intrusive method to harvest the shellfish.
"I know first-hand what we're doing to the bottom, and it makes me sick," Sheehan said.
Earlier this winter, during a particularly cold stretch of weather, he noticed more dead scallops, sponges, and other organisms than usual in the intertidal zone, and speculated they were killed through scallop harvesting.
Under-sized scallops, sea urchins, and other creatures were being caught and set on the "drag table" on the boat's stern, where they would freeze and die, Sheehan said.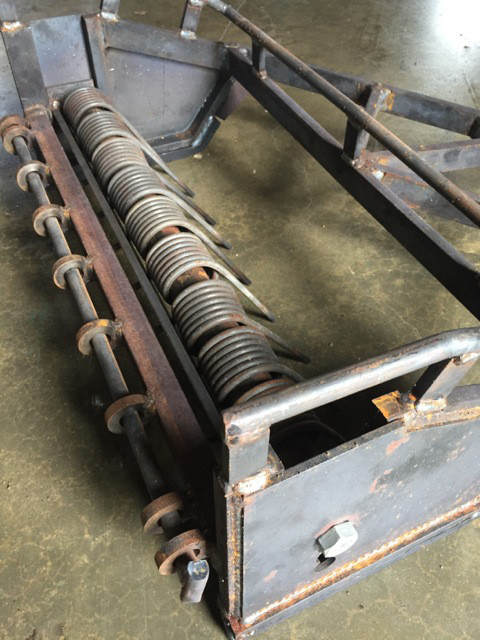 "It all freezes instantly and dies. How many are we killing, totally legally? There's got to be a better mouse trap out there," he concluded, and began searching on-line for alternatives, which is where he found the N-Viro Dredge.
"I picked up the phone and called the guy," he said. The inventor and developer,  Richard Gidney of Scotland, had been a commercial fisherman, and understood how the process might become more environmentally friendly.
"When you eat Maine shrimp, you don't think of the starfish that came up with it" and died, Sheehan said. Users of the new scallop dredge find that instead of dragging "everything else on the bottom—worms, fish eggs, fish," the nine tines, which can bend backwards if they encounter hard resistance, flip the scallops up where they "float like a leaf" and then fall into the bag.
Two years ago, Gidney, worked with Sheehan to bring some of the dredges to Maine for testing.
Eastport fisherman Butch Harris participated in the testing, and the results showed less bycatch, and less fuel use.
"I like it," Harris said of the N-Viro Dredge. "They're definitely easier on the scallops. They definitely pick up less rocks, less trash."
Gulf of Maine Inc., operating as N-Viro Dredge USA, is selling the gear to fishermen from Long Island, N.Y. to Atlantic Canada. Sheehan's business also provides sea organisms to labs and colleges around the world, and he also buys shellfish dug by hand in the intertidal zone.
In addition to reducing by-catch and being easier on the bottom, the N-Viro Dredge is a lot lighter, meaning fishermen burn less fuel.
Harris confirmed this, noting also that the N-Viro could be towed at a lower speed.
The flexible nature of the tines also may mean a boat is less likely to fetch up on a rock or ledge and flip.
The tines can be replaced for $5 each, Sheehan said, another benefit.
"This seems like a total game-changer," he said.
The business will be represented in the trade show at the Maine Fishermen's Forum in Rockport, March 1-3. For more information, see: www.n-virodredgeusa.com.