If books about Vinalhaven's history were acorns, then readers could squirrel away some volumes now to enjoy over winter hibernation. One of those acorns could be a recently published book of photographs, Vinalhaven Island's Maritime Industries, part of the "Images of America" series from Arcadia Publishing.
Cynthia Burns Martin, a professor of business administration at New England College in Henniker, N.H., has worked extensively with collections of the Vinalhaven Historical Society (her previous research focused on the island's Bodwell Granite Company) and provides the meaty, informative captions.
Here she has turned her attention to those island enterprises with a maritime orientation: fishing, lobstering, shipbuilding and marine transportation.
This is a salty story, not a spicy one. There are no tales of pirates (although in recent history, they gather once a year on Green's Island), rum-runners, or Ahab-esque sea captains. It is all about the hard work in maritime jobs, which involves physical labor and finessing the elements—specifically, weather and water.
The photographs here are testimony to gritty endurance. And there's some silver lining, with the camaraderie created among fellow workers, and membership in a small, supportive community.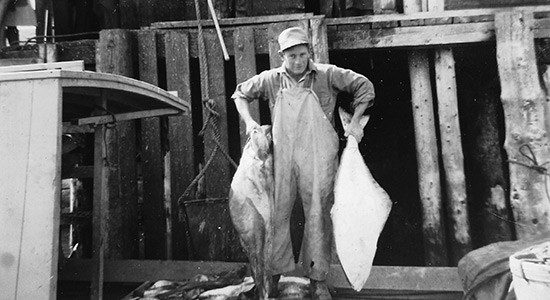 Martin notes the bonds forged through family relationships as well as business dealings. As a result of cooperation, dedication and constant innovation, islanders persevere. 
Those familiar with photographs from the heyday of granite on Vinalhaven know that the town was then, in the second half of the 19th century, a thriving metropolis. Pictures in this book illustrate the bustling waterfront of Carver's Harbor, chockfull of buildings, docks and vessels supporting maritime industries.
Photo after photo provide wordless testimony showing how successfully Vinalhaveners have met the challenges of living on, and off of, the sea. Numbers may quantify "the catch," but pictures seem to celebrate the achievement. We see nets full of herring, pounds full of lobster and halibut bigger than the men who caught them. These are hard-earned accomplishments.
I wished for some maps while reading so I could have had a better sense of destinations, distances and dangers experienced at sea. But that's a small quibble.
Vinalhaven Historical Society director emeritus Roy Heisler's foreword was a grace note; Heisler and his wife, Esther Bissell, were for many years dedicated staff overseeing the museum and collection.
Not simply a sentimental look at the island's past, this book also serves to position us for questions about its future. In Martin's final sentence, she reminds us of the importance of "sustainable practices." Vinalhaven's relationship with the sea remains full of challenges.
Vinalhaven Island's Maritime Industries is available from the publisher online at www.arcadiapublishing.com or by calling 888-313-2665.
Tina Cohen is a summer resident of Vinalhaven.