At Fishermen's Net Seafood Restaurant & Market in Brunswick, the new owners are infusing the flavors of Vietnam in their cuisine with Bánh Mì, a traditional Vietnamese sandwich.
Co-owner Hoa (Flower) Truong, 30, purchased Fishermen's Net on Forest Avenue in Portland in 2018 with her cousin, Quang Nguyen, 33, who wanted to continue his family's involvement in the seafood industry after 30 years of raising tiger shrimp, fish, and escargot along the shores of Khánh Hòa, Vietnam. After the business was lost to a fire in September 2021, the family reopened in on Bath Road in Brunswick within three months and have since made it their own, in more ways than one.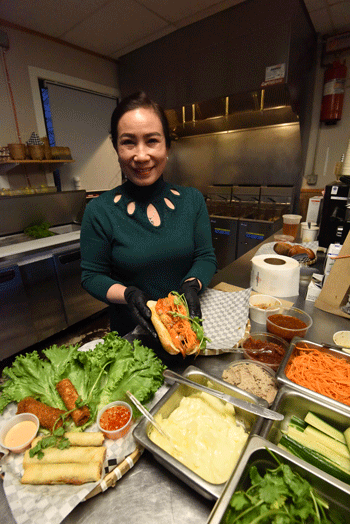 In addition to buying and selling wholesale seafood from local fishermen, including lobsters, crabs, oysters, scallops, and a variety of fish, they ship lobster anywhere in the U.S. within 24 hours. They also sell some specialty items, including caviar, sea urchins, and smoked fish, the most popular of which is salmon smoked with a spicy and sweet maple brown sugar.
Their creativity, however, extends beyond the market and into the restaurant, which has historically served fried seafood and lobster rolls.
"We didn't have space in Portland because it was just a fish market, not a restaurant. We didn't even have a chance to think about it," said Truong, who was a law student in Vietnam and went on to study business administration at Southern Maine Community College.
"When we moved up here, we could think about adding something new."
Located in between a Chinese restaurant and a seafood restaurant, and with an abundance of Asian-style restaurants in downtown Brunswick, Truong said she wanted to do something a little different by infusing the local culinary scene with a unique combination of Vietnamese street food and Maine seafood.
With that in mind, Nguyen's mother, Hoa Le, agreed to join the family business after repeated requests to share her culinary talents with a new community. When she wasn't busy farming fish in Khánh Hòa, Le cooked and sold street food, including the popular Bánh Mì sandwich.
"I make food from experience, not from a recipe. The recipe comes from my mind in that place," said Le, through a translator. "I love the feeling that people love my cooking! When I cook, and people enjoy it, I feel happiness."
Truong shares more.
"Her goal is to have people love her food," she said of her aunt. "She wants everybody here to know about her sandwiches! If the customers support her, she will make 10,000 different kinds of food!"
At Fishermen's Net, Bánh Mì balances the fresh flavors of Vietnamese cuisine with pickled carrots, cucumber, cilantro, mayonnaise, chili paste, pork pâté, and a choice of lobster, pork, chicken, or shrimp on a French-style baguette, along with Le's secret sauce, which features zesty hints of lemongrass, ginger, and garlic.
Although the baguette was introduced when Vietnam fell under French colonial rule in the mid-19th century, it wasn't until the 1950s at the end of French rule that the Vietnamese were able to infuse their own culinary traditions into the baguette to create Bánh Mì. After spreading throughout food carts on the streets of Saigon, it has since become popular worldwide.
"Every morning in Vietnam, I woke up and ate a Vietnamese sandwich. I love Vietnamese sandwiches. It's a tradition for me," said Truong.
"My husband is American and he wakes up and eats bagels with ham and cheese every day. It's not surprising that the sandwich is something we eat every morning," she said.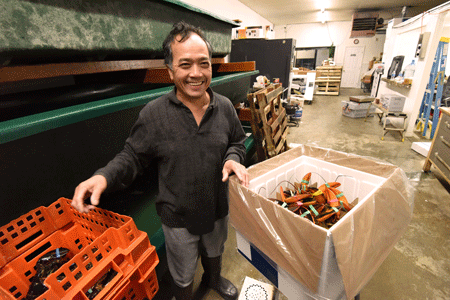 "We're proud to be Vietnamese and we're proud of our cuisine. It's a small country, but people know about our food," said Truong. "I was very happy when I posted the Bánh Mì sign and the customers came in and, instead of saying, 'I want a Vietnamese sandwich,' they would say, 'I want Bánh Mì.'" Bánh Mì, however, is just the beginning. If Le's culinary zeal is any indication, there's plenty more where that came from, including Shu Mai, a traditional Vietnamese pork meatball, and lobster pho, a noodle soup, along with the future fusion recipes that will pair together the flavors of Vietnamese street food and Maine seafood.
When asked about her goals for the future, Truong replied simply: "To sell 5,000 Vietnamese sandwiches a day!"
Fishermen's Net Seafood Restaurant & Market is located at 36 Bath Road in Brunswick. Their websites are www.fishermensnet.me and mualobster.com.