Hidden in Plain Sight: How Men's Fears of Women Shape Their Intimate Relationships (2021)
By Avrum Weiss
I read Hidden in Plain Sight: Men's Fears of Women and immediately asked myself "What is he talking about'?"
I've not been in as many relationships as lots of men my age, but I'm fortunate to have enjoyed a few and endured a few others—the reverse is doubtless true—each heterosexual, and I don't recall feeling afraid of my partners in any of them.
Still, I read this book because if nothing else is apparent, it is certainly true that there is more to everything than meets the eye and that very likely includes me. And, so, I read it again.
Author Dr. Avrum Weiss is a psychologist and well-regarded practicing psychotherapist with a particular interest in understanding and illuminating the subtleties that nearly always define relationships between men and women. He is the author of four books and articles in professional publications and argues persuasively, and well, that while opportunities for women to fear men abound, men are just as often afraid of women.
Men's fear lies in far less transparent reasons, reasons that are usually buried so deep…
Men's fear lies in far less transparent reasons, reasons that are usually buried so deep and unacknowledged that they're not on his radar—or hers. Those reasons, frequently cited, include the fear of being dominated and controlled by women, of being entrapped, the fear of being responsible for women, of being inadequate or feminized, and the fear of being abandoned by them.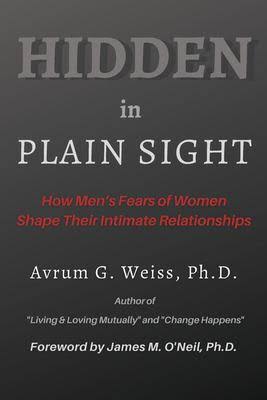 For as long as I can remember, just about the worst thing one man could say to another is that he's hen-pecked. That could mean all sorts of things but the notion that men might actually be frightened—not simply subservient or obedient, but afraid—of women was quite a leap for me and will be, I'm sure, to thousands of contemporaries.
It initially begs incredulity. We're men, after all—what's there to be afraid of? Certainly not her.
Yet, that is the essential message of Weiss' book, that most men are, in fact, afraid of women. On the other hand, although I am in a happy and fear-free relationship presently, others failed quite decidedly.
Perhaps destiny, long ago, smiled on me during those liaisons, foresaw my present circumstances on a distant horizon and benevolently took the helm.
Truth be known, however, there were likely other reasons for the collapse of those earlier relationships, more than met the eye. Perhaps it wasn't that she was simply being difficult! Perhaps I did, in fact, harbor a fear of those women but, at the time, having recognized only that something was wrong, didn't explore further.
It was easier to simply abandon ship. What, after all, might have been the impetus for entertaining such an uncomfortable alternative as delving into my deepest feelings to discover my distressed reality? There wasn't one.
Hidden in Plain Sight offers that impetus, reveals many possibilities and invites the prospect of a less stressful, more truly loving and comfortable relationship.
Phil Crossman lives on Vinalhaven and is the author of Away Happens and As the Crow Flies.