Jacquelyn Gill stood entranced inside a permafrost cave in Siberia. Woolly mammoth tusks protruded through glistening walls. A lion cub, dead for 30,000 or more years, appeared as if it was napping.
"In those 30 minutes (inside the cave), I had the opportunity to get closer to the landscape I've devoted my career to understanding than the rest of my whole life as a scientist," said the University of Maine paleoecologist.
Gill, who studies the geology of the past and the geographical distribution of living things, was a member of a research team taking part in a September 2018 expedition to film Lost Beasts of the Ice Agefor the Science Channel.
The permafrost caves in Siberia—made by residents with high-powered water hoses searching for tusks to sell to collectors—provide a new window into the past, says Gill.
She and other scientists are eager to throw open the window.
"These are the best specimens in the world," Gill said of tusks, bones, and mummies of woolly mammoths, woolly rhinos, wolves, lions, and birds.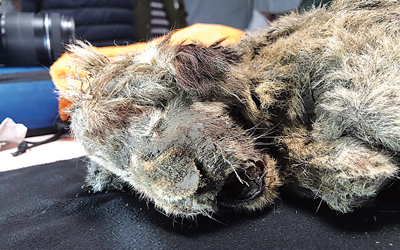 Some specimens are nearly fully intact, frozen in place an ice age ago.
September is an ideal time to be in Siberia, said Gill. The temperature is 30-45 degrees Fahrenheit; not super cold yet cold enough to keep the swarming bugs at bay.  
The exploration group included George Church, a genetics professor at Harvard Medical School, who seeks to genetically engineer a mammoth-elephant hybrid. Scientists believe the animals could slow the thawing of the Arctic permafrost that contains about 1,500 billion tons of planet-warming carbon.
The re-introduced mammoth-elephants would trample trees and shrubs to re-create grasslands (which absorb less heat than trees). In the winter, the animals would compact snow (an insulator), allowing the frigid temperatures to cool the ground.
In the permafrost cave, a 34,000-year-old wolf from an extinct breed was located, as well as a spear and rectangular piece of mammoth skin, indicating the presence of humans.
A tusk hunter handed Gill a bird—possibly 40,000 years old—with stomach contents intact. Another directed her to a clump of muddy grass in the tunnel that contained a preserved moth.
Birds, moths, and plants of the last ice age are key to understanding its food web, said Gill, who examines causes and consequences of extinctions.
Survivors of the Pleistocene—the epoch from about 2.5 million to 11,700 years ago—also yield valuable information and lessons.
"We want to know what strategies made them successful," Gill said. "This gives me hope that there's more resilience built into nature."
During the last ice age, grasslands that supported mammoths and bison covered large portions of the Arctic. But by 10,000 years ago, this habitat — the mammoth steppe—had disappeared. So, too, had the large mammals that lived there. Gill said it's not known whether "extinction was a cause or an effect of habitat loss." To find out, she'll reconstruct ecological prehistory to establish the timing and nature of extinction, environmental change, and habitat loss.
Gill will visit several Arctic locations, including Wrangel Island Reserve (the last known location of woolly mammoths on Earth) and Pleistocene Park in Siberia, where her colleagues are working to restore the mammoth steppe ecosystem. They've brought in bison, musk ox, moose, horses, and reindeer to do that.
They're awaiting woolly mammoths.