Before she arrived at the University of Maine Machias, Yani Nganzobo admits she wasn't an exceptional student.
"I was never an 'A' student. There were moments I cried because things weren't going well," Nganzobo says. "My perspective of life completely changed in 2019 when I arrived in Maine."
When she arrived at UMaine Machias, she saw opportunities open up to her—and it motivated her.
Nganzobo not only made it on the Dean's List every semester she's been at UMaine and earned numerous honors and scholarships for her studies, but she also was valedictorian of her class this spring.
Nganzobo was born in Kinshasa in the Democratic Republic of Congo, but grew up in Johannesburg, South Africa. She wanted to study in the U.S. and applied to UMaine after hearing about it from a friend of her sister, Jeni (who also attends UMaine Machias).
"The school helped me with paying my tuition fees, I had friends who would help me in every way possible, and the community was very helpful," Nganzobo says. She graduated with a degree in business with a concentration in entrepreneurship with a certificate in HR management, which she started at the University of Johannesburg before she made her way to UMaine Machias. She plans to continue her studies after graduation and pursue an MBA at Maine Business School.
Last summer, she interned at Avesta Housing in Portland and, based on that experience, she hopes to someday start her own business to invest in properties.
She also has volunteered for groups like Maine Environment Education Association and Gateway Community Services Maine. She sings in the church choir at Machias Fellowship, where she attends service every Sunday.
"Community work has made me a different person," Nganzobo says. "It has made me an independent young lady."
Nicholas Sanborn of Standish was salutatorian, graduating with a degree in recreation and tourism management, with a focus on conservation law enforcement and natural resources.
"It was the small campus feel and the efforts of those on campus to make me feel welcome that made me decide to go to UMM," Sanborn said. He served as both the Outing Club president and a member of the Student Security Team. He also served on the Student Senate, and held positions as a resident assistant and a campus lifeguard.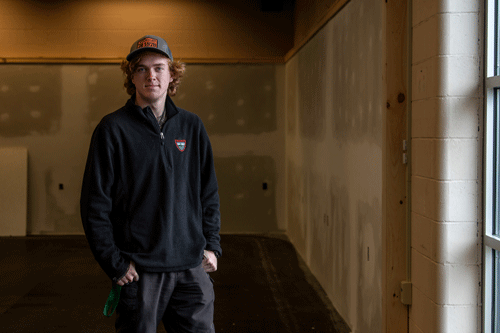 During his time at UMaine Machias, Sanborn was awarded the Penobscot County Conservation Association Award, the Nathan C. & Dorothy W. Burbank Scholarship, and the Edna Higgins Scholarship. He was also certified as a wilderness first responder in January 2021.
Since 2020, Sanborn has helped improve the Outback Trail on campus, when he started developing the new trail with an outdoor leadership class and worked on an interpretive master plan for the property, which included designs for waysides, trail signs, and a kiosk. As his senior project, he drafted a stewardship plan to guide maintenance decisions on the property.
"I will spend much of my time this summer preparing for the application process for the Maine Warden Service," Sanborn said. "This includes the physical fitness test, general knowledge test, and the oral board."
Sanborn says that current and incoming UMaine Machias students looking to succeed should always attend class, take good notes, and complete the reading that professors assign.