Full Moon Suppers at Salt Water Farm by Annemarie Ahearn (Roost Books, 2017)
The Lost Kitchen: Recipes and a Good Life Found in Freedom, Maine by Erin French (Clarkson Potter, 2017)
Two new cookbooks from Midcoast chefs—Full Moon Suppers at Salt Water Farm in Lincolnville by Annemarie Ahearn and The Lost Kitchen: Recipes and a Good Life Found in Freedom, Maine by Erin French—suggest that our rugged, salt-hued terroir nurtures creative cooking.
Each book has come not only from hard-earned expertise in the restaurant world but also from lifelong bonds to the area. Both books, infused with the authors' enthusiasm for good eating and a commitment to seasonal, locally sourced food, are a delight to read cover to cover.
And both are beautifully illustrated with color photographs, French's by Nicole Franzen and Ahearn's by Kristin Teag. As well as highlighting ingredients and plated dishes, the landscapes and people personalize the pictures. And the books have enough narrative to provide insight into who they are and where these recipes come from.
Ahearn traces her connection with Maine first to childhood summers spent on a Dresden blueberry farm in the Ahearn family for five generations, and then the purchase by her parents, when she was a teenager, of 17 acres in Lincolnville.
"Little did I know that this piece of land would change my life forever… that every thought and every feeling I had from that point on would be fundamentally altered by my new place in the world," she writes.
"Because of this land, I would go on to start a farm with no farming experience, a cooking school in my family's home, and a restaurant in a town with less than two thousand people."
Now, Ahearn's cooking is focused not in the restaurant that had operated in Rockport, but in classes and monthly feasts at Salt Water Farm in Lincolnville. She grows herbs, fruits, vegetables, edible flowers, and chickens, and harvests urchins, mussels, periwinkles, and lobsters.
The 12 "full moon supper" menus provided in the cookbook share an attitude as well as recipes. Ahearn encourages home cooks to garden and forage; know the people who provide what they buy, ideally from local purveyors and growers; appreciate the seasonal offerings; and gather with friends and family regularly "to feast upon food that feeds all the senses."
Cold weather meals for the upcoming months include recipes for mussel chowder,  kale and Brussel sprouts salad, potato gnocchi with lobster and tarragon, roasted beets with horseradish yogurt, and smoked mackerel with pickled cucumbers.  Desserts include a pear tart tatin and apple pie with maple ice cream. Recipes are sized to serve eight, and drink suggestions are also included. You'd have to wait until spring now to try the gin and tonic using fresh lovage, but it's something to put on the calendar. 
Erin French's book, The Lost Kitchen, also celebrates Maine's seasonal bounty. Her restaurant is located in a historic gristmill in Freedom, 16 miles inland from Belfast.  French grew up locally and is self-taught, honing her culinary skills while working in her family's "rural greasy-spoon" diner where she fried clams and mixed meat loaf.
Moving to Belfast in her 20s, she began to cook and serve "secret suppers" in her apartment for those who knew how to find her "supper club." She was touted for experimenting with local ingredients in creative ways. That success led to a restaurant she ran out of a first-floor space below her apartment.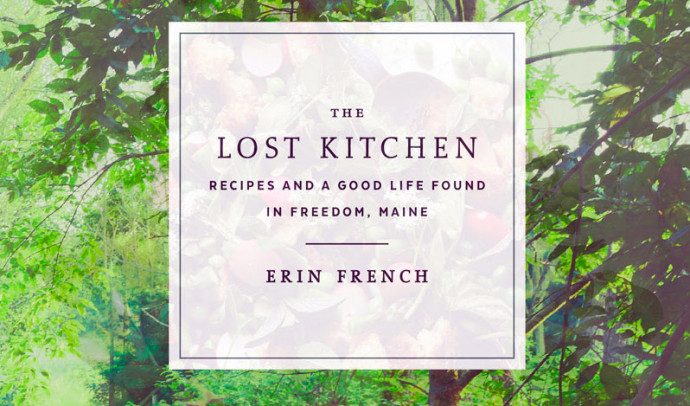 Next there was an Airstream trailer she gutted and rebuilt as a kitchen. And then an inquiry: would she open a restaurant in a mill building undergoing restoration? The scenic setting of Lost Kitchen includes crossing a footbridge by a waterfall. Besides the quality of food, and the rustic but elegant ambience, Lost Kitchen is well-known for how difficult it is to get reservations. Her cookbook goes some way in remediating that frustration.
French warns readers that some ingredients may be hard to find, and she offers substitutes. As part of that flexible attitude, she also advises, "Go forth and experiment. Learn to trust your instincts, discover through play, and if all else fails, remember that there are few ails butter and salt can't cure."
Her recipes are organized by season, the meals categorized in "firsts," "mains," and "sweets." Drinks are also suggested and come next summer, you could sip a fresh blackberry basil rum mojito or sea rose and cucumber gin and tonic.
Cold weather brings dishes like fried oysters with root cellar slaw and horseradish mayonnaise, Dad's meatloaf with parsnip puree, and fried potato and warm lentil salad. An exotic-sounding frozen lemon terrine with pistachio brittle could be dessert or maybe the homey nanny's molasses cookies with candied ginger.
Recipes are sized to serve 6-8.
Tempting as it could be to compare these two cookbooks, it seems unnecessary to have them compete. I like them as a combination, an invigorating compendium of choices, ideas, and inspiration. In fact, reading these books now, in anticipation of next year's garden planning, would be perfect preparation.
Tina Cohen is a summer resident of Vinalhaven.