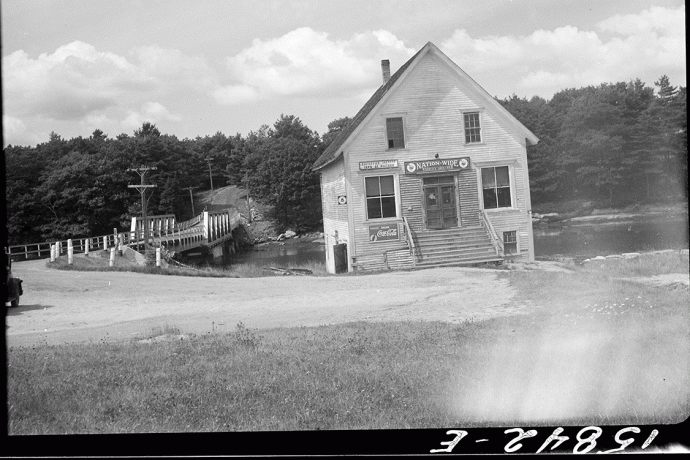 We received several reader responses to our question about the photo on page 9 in the June issue. The 1939 photo, from the Library of Congress, showed the post office and general store in Trevett, part of Boothbay. Bruce Lind wrote, saying:
"It's a place I knew as Dick's store. I spent my summers on Sawyer's Island from the late 1940s through the 1950s with my grandparents and was very familiar with the store. The store was at the end of Hodgdon's Island and Barters Island. It was owned by Dick Hodgdon.
"Every Friday morning, Dick would come to the cottage and take my grandmother's grocery order. He would deliver the groceries that afternoon. To me, as young child, Dick's meant penny candy and Casco soda.
"I was just at the building this past weekend. It is still a post office. Part of the building is now a cafe."
Mike Pander sent the contemporary photo of the building and wrote that the building is still known as the Trevett store and "now has a deck on the left for diners to enjoy the very good lobster rolls."
He added that "the post office is still in operation, though with very limited hours. The swing bridge in the background goes to Barters Island. Presently, it is hand cranked." The bridge tender, "after lowering the traffic gates, attaches a long steel pole to a fixture in the middle of the bridge and then cranks the bridge open by pushing the pole in circles until the bridge is opened. All this activity is quite the show for folks sitting on the deck."
Kim Lewis reported that she and her husband Jeff and his partner Austin Barter now own the property.
"I can tell you a little about it; in the 1950s, my father in-law and his partner added to the property, and moved the Mill Cove lobster pound up here from Boothbay Harbor and rented from the Hodgdon family. The original store closed in the 1970s."
Her father-in-law retired in the 1990s. Her husband and his partner "decided to finally purchase the property and we are now called the Trevett Country Store, and the post office is still in the front of the building."
Roberta Goodnow and Ralph Drayer also heartily endorsed the lobster rolls, and the setting.
"Watch the turnstile bridge open up for the parade of boats going by. A great way to enjoy lunch," Goodnow wrote.
Thanks to all for writing.