Trailed: One Woman's Quest to Solve the Shenandoah Murders
By Kathryn Miles; Algonquin Books of Ch2022; $28.95.
Review by Dana Wilde
Kate Miles arrived at Unity College in 2001 as a writing instructor and a backpacking enthusiast at a school devoted to backpacking. She'd heard that a Unity student and companion had been murdered on the Appalachian Trail in Virginia in May 1996, and the firsthand stories she heard about the student, Lollie Winans, captured her interest.
The interest became a fascination and then what can probably be described with accuracy as an obsession. After Miles left her teaching job in the mid-2010s to devote full time to freelance writing, she pitched a story to an editor which would review and update the Shenandoah murders, as they had come to be called. No one, including the FBI and the National Park Service, had been able to compile enough evidence to try anyone for the murders of Lollie and her friend Julie Williams.
As Miles began her research, she noticed a lot of holes in the story, as we say in the news world. Among many glaring questions, one stood out: Why had the man who was eventually arrested in the murders—as announced with media fanfare by the U.S. attorney general himself—been quietly turned loose? Miles began to think the story was more complicated than a magazine article could cover thoroughly. She had a whole book to write, which became Trailed: One Woman's Quest to Solve the Shenandoah Murders.
How she kept on with the project without spiraling into a psychic abyss is beyond me.
She started contacting as many people as she could who were directly involved—Park Service employees, FBI investigators, the women's families and friends, including Unity College employees and students who told unsettling stories about the FBI's high-pressure probe of the Unity community after the murders.
Miles soon found herself combing through the statistics of violent crime, including unsolved murders committed on public lands, and the stories of similar, possibly related crimes. She sorted through the minutest details of Lollie and Julie's slaying at their secluded campsite off the beaten paths of the Skyland area of the trail. She gathered and analyzed the theories of investigators, family members, friends, and lawyers about what happened and how. She gives special attention to the dissonances and problems faced by female hikers.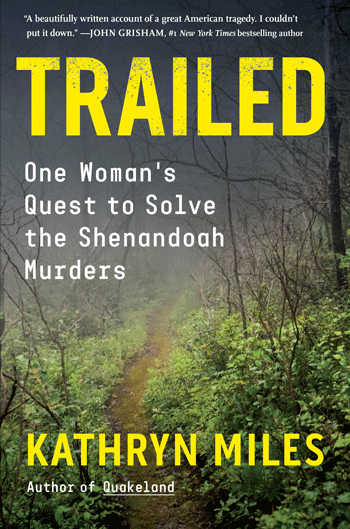 My own experience with true-crime books is I stop reading them partway through because I can't stand the suffering anymore. Not only the suffering of the victims—and the hour-by-hour reconstruction of Lollie and Julie's final weeks and days can be grueling reading—but also the emotional inflictions on so many others, including families, friends, investigators, bystanders. You get all that in Trailed, plus one more critical, fascinating component: the story of the author's own research, developing theories, reflections, and indeed her emotional journey as she peels back layer after puzzling, heart-rending layer.
The entire story is unbelievably painful. How she kept on with the project without spiraling into a psychic abyss is beyond me. There might be a clue in the prose, which is clear, precise, and evocative throughout; and in passages where she reveals her own dark feelings about her findings and her attachment to victims whom she never knew personally, the tone becomes almost clinical. Surely this reflects the objectivity you'd need to approach such a topic without losing your mind.
Late in the project during a camping trip on an uninhabited island in Casco Bay with her rugged partner, Ray, she finds herself lying in their tent "haunted by the images of Lollie's body in her blue and yellow tent. I thought about how the other victims must have felt, jolted awake and, in some cases, trapped inside their own tents, not knowing who or what awaited them outside. And then I began to hyperventilate. … I think I was worried that [Ray] wouldn't be able to stop someone intent on killing us. And that was a revelation I wasn't prepared to embrace. Instead, I spent the night sitting upright, nervously cataloging every tiny noise, certain someone was about to arrive by boat and murder us both."
The whole book builds toward such madness, while the clinically precise prose holds it at bay. Trailed is one of the most gripping nonfiction books I've read this year.
Dana Wilde lives in Troy. He is a member of the National Book Critics Circle.