By Laurie Schreiber
Bar Harbor is a booming tourist town on Mount Desert Island, for the millions of people visiting Acadia National Park each year. 
Other towns on the island get their share of visitors, too. But in recent years, the village of Town Hill has quietly gained ground as a new visitor hub.
Town Hill is part of the town of Bar Harbor, but sits eight miles away as its own community center. Its location, near the head of MDI, is ideal for traffic heading toward the island's "quiet side." Primarily residential and rural, Town Hill offers a ball field, playground, and seasonal farmers market, as well as longtime businesses like Hancock Lumber, Town Hill Market, Atlantic Brewery, and Mother's Kitchen.
Property is considered less expensive and more available than other areas on MDI. For prospective entrepreneurs not looking for a ready-made storefront, it's proven attractive for building from the ground up, although small buildings along Route 102, Town Hill's main thoroughfare, have also been available for commercial use.
DRIVE-THROUGH TO GATEWAY
What was once primarily a drive-through to other towns has become an attractive enclave that's now a gateway to MDI, but one that still retains a small-village rural feel and mom-and-pop type businesses, like a lobster shack, food makers, and a landscaper.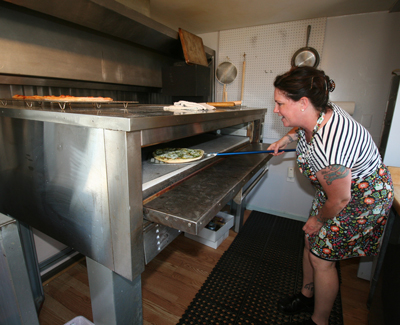 Kelly and Phil Corson realized that Town Hill would work out just fine when they opened their seasonal restaurant takeout, The Travelin' Lobster, in 2016. Operating in a 12-foot by 24-foot shack, they immediately had a hit on their hands. They've since installed a takeout window, more grills, and a walk-in refrigerator, and expanded the menu. They added picnic tables. The small parking lot was becoming crowded, so they obtained permission to use a neighboring lot.
The Corson family has been lobstering for generations and Phil Corson provides fresh lobsters to the takeout every day. On a recent sunny weekday, diners toting plates full of traditional lobster dinners and other specialties filled the outdoor picnic tables. 
"It took off and flew," said Kelly Corson, who carved a few minutes from behind the grill to talk on an otherwise non-stop afternoon. She expected to go through the approximately 250 lobsters her husband had brought up that day—and more as the season heated up.
The couple live about a mile down the road. When they decided to open the takeout, they found about an acre along Route 102. There was a ramshackle house, so they tore it down, cleared the land, and landscaped, and Phil built the wood shack, with kitchen cupboards, counter, front and side deck, and a bathroom, and appliances.  
In the beginning, Kelly wondered if visitors would bother to stop, especially because there were other lobster pounds in Trenton and Bar Harbor. She needn't have worried.
"What we hear a lot, especially from visitors, is that they love getting out of Bar Harbor," Kelly said. "Bar Harbor is congested and they don't mind taking the drive."
Others are seeing that commercial potential. Next door to The Travelin' Lobster, Melissa "Frosty" Frost opened Frost Farms, also in 2016. Frost—a Maine Maritime Academy graduate and long-time landscaper—bought an acre, cleared it, and landscaped. She renovated an existing barn, put up two greenhouses, and has since become a hive of activity.
BRRR! HARBOR
Brrr! Harbor, offering Hawaiian-style shaved ice in 80 flavors, was recently celebrating its second anniversary in Town Hill, its ceiling festooned with colorful balloons and co-owner Mandie Schaper offering temporary tattoos and free gift bags. She and her husband,  Brian Schaper, landed in Town Hill from Kansas, where Brian worked in his father's shaved ice business for 30 years. Six years ago, they vacationed on MDI and eventually decided to relocate. They selected Town Hill for their first location (subsequently opening a second in Bar Harbor).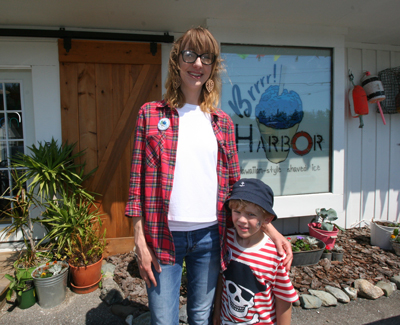 "We like the family-friendly atmosphere, with the park across the street," said Brian. "It's a nice community. We've had a lot of good local support, a lot of local customers. The tourists are also finding us."
Next door, Emily Damon opened the seasonal Island Takeaway in December 2018. Originally from Northeast Harbor, she's a longtime restaurant owner and chef, and director of food service at a local school. For Island Takeaway, she's focusing on gourmet pizza and other fare. Pulling from the oven a pizza with toppings that included pesto, summer squash, zucchini, burrata cheese, and lemon zest, she noted the synergy between businesses. For example, she sources chorizo from a local farm and encourages customers to visit Town Hill Market, a few doors down.
Although Northeast Harbor is her hometown, affordable real estate is slim pickings and the numbers weren't right. Instead, she found her current spot.
"It's a great thoroughfare," she said of Route 102. "It takes most people 10 minutes to get to Town Hill from most parts of the island."
Town Hill, she said, is the up-and-coming hub.
"We have amazing things happening here, and a lot of them are driven by women, which is also great."