By Tom Groening
Roque Bluffs is an idyllic coastal Washington County town, a peninsula south of Machias with rolling hills and fields leading to a state park with a pretty sand beach.
But it's also on the wrong side of the digital divide, and community leaders, including First Selectman Lisa Hanscom, are taking a bold step to change that status.
Beginning last spring, she and the other members of the board began investigating ways to improve access to the internet, and that effort will culminate in a vote at a special town meeting on May 15. Like the Cranberry Isles, which inspired Hanscom and the other town officials, the Roque Bluffs hopes to build a fiber-based network to provide reliable, high-speed internet service. The plan is to ask the town to authorize borrowing about $1 million to offer service to the 300 residents and 265 homes.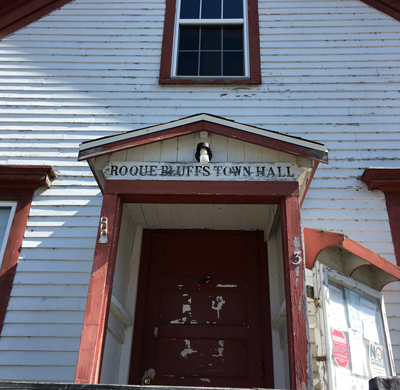 A fifth and final public hearing is scheduled for April 15 on the plan. The town also anticipates filing an application for $1.2 million in funding from the USDA. That application is due at the end of May, Hanscom explained, and if the town lands the money, it would not need to borrow funds.
Even though Roque Bluffs is adjacent to Machias, the county seat and host of a branch of the University of Maine, its communications infrastructure is not in great shape, she said. During the winter of 2017-2018, some residents—including Hanscom—experienced months without internet service. Even landline phone service was spotty, with winter precipitation knocking that network out for days at a time, she said.
As the select board began reading about towns like Islesboro, the Cranberry Isles, and Calais and Baileyville building and owning their own fiber internet networks, they began considering doing the same. And residents also drove the discussion, unhappy with the poor service from the variety of providers.
The town doesn't even have a website, and a computer lab in the fire station has been collecting dust because the connectivity is so poor.
"It was kind of bubbling up" from the community, Hanscom said of the initiative. In addition, the select board members each experienced poor service. Hanscom lives on a farm that has been in her family since 1912, and she needs internet to manage cabins she rents there.
The providers currently offering internet service in town are Consolidated, Spectrum, Axiom, and the satellite-based Hughes Net. Hanscom said the board contacted providers to ask about better service, but representatives said little could be done.
"We weren't even looking for the best," she said, "We just wanted a little better service." Hanscom said new residents who hoped to work remotely could not do so because of the poor service. Families with children noted that schools gave students laptops, but they often were useless at home. Elderly residents wanted to keep in touch with family through social media, and younger people just expected high-speed internet, she added.
 The town reached out to the Island Institute for help, Hanscom said. The Institute, publisher of The Working Waterfront, has worked with several island and coastal communities seeking better internet service. It awarded Roque Bluffs a $10,000 planning grant, which Hanscom said paid for engineering the broadband plan.
One question that emerged at meetings was whether the service would be extended into subdivisions with private roads, and selectmen agreed that it would.
"If we don't put it down every road to every house, then we're back where we started," she said.
Wireless service, which would mean building a tower to receive an incoming signal that would be converted to cable on poles, was considered, but ultimately rejected because of the local, hilly terrain.
Instead, the town's plan is to install and own a fiber network capable of providing 100/100 mbps at every location, and contract with Axiom to operate and maintain it. Monthly bills will start at about $69.99. Seasonal residents will have to make an annual payment to support the service.
For the town to remain vital, Hanscom said, "We need to take the future into our hands."
Lessons to be replicated
The Island Institute's Kendra Jo Grindle and Stephenie MacLagan, who have worked with the town, gave officials high marks for their transparent, exhaustive public information process.
"They've done a really good job of public engagement," Grindle said, and MacLagan noted that at the third public meeting, town officials sought to expand the committee investigating the endeavor, to ensure more voices were heard.
That lesson should be replicated by other communities investigating building a broadband network, Grindle said.
"Making sure your committee is as diverse as your community is really important," she said. She also recommends inviting the current providers into the discussion process.