For the watercolor class she taught in the continuing studies program at the Portland School of Art in 1987, painter Marsha Donahue took her students to the Custom House Wharf, a venerable part of the city's working waterfront.
"Because I had never seen it before, hidden amidst the Portland buildings," Tina Ingraham recalls, "it felt like I had walked into a different world." Ingraham fell in love with the place and has now painted it many times—more than any other subject in her repertoire.
Ingraham began her long-time romance with the wharf in 2004 when she returned from living and painting in Italy for several years. She had remembered her 1987 watercolor painting experience and when she was invited to paint for the biennial Portland Show at Greenhut Galleries, she returned to the pier.
The facade of the south side of the Harbor Fish Market reminded Ingraham of the Italian architecture she had seen in Perugia dating back to Etruscan times, "historical structures built upon, not destroyed for something new." She ended up painting several small oils.
The humble sunlit structures come alive through Ingraham's lively brushwork.
Although the wharf is very old and worn, Ingraham notes, every season reveals changes: "a new facade, a new paint job, new clapboards, the lobster traps in different places, the docks moved around, changing tides in the morning and afternoon light." Such alterations have kept her engaged.
In Harbor Fish Market, Portland Pier, 2005, shadows play across the running façade. The humble sunlit structures come alive through Ingraham's lively brushwork.
While she takes great care in drawing the architecture in perspective, she notes idiosyncrasies in the windows' lineup. She works with high contrasts, "keeping the darks under the dock transparent, so one can see into the depths under it," and uses layered pentimenti of transparent oil washes over an egg-oil emulsion grisaille to get the right atmospheric light. Her palette includes Flake White, Cadmium Yellow Medium, Cobalt or Ultramarine Blue, Raw Umber, Raw Sienna, and Ivory Black.
Part of the attraction of the subject lies in Ingraham's love of fishing.
"While painting I witnessed the working aspects of the industry," she notes. She watched the lobster catchers come and go, the busy fishmongers, with "the salt smell in the air, the gull cries, street people and tourists."
Ingraham has never actually met the fish market folks, although she has waved to them.
"I was always intent on my drill, and at the end of the day, exhausted, it never occurred to me to search anyone out."
The only people Ingraham consistently encountered were the homeless.
"We'd chat briefly. They were kind and very interested in my work."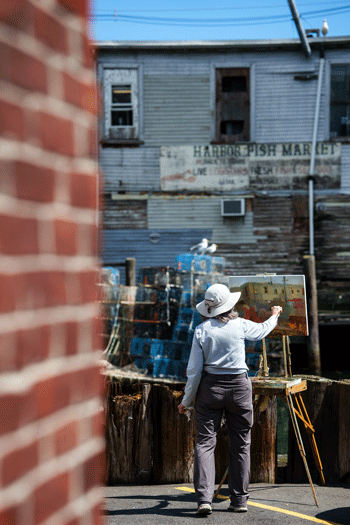 She tells a story of leaving her painting gear on the pier one day. The next morning an elderly poorly dressed man approached her and guided her to her easel; he had found it and put it in a safe place for her. He said he hoped that she didn't mind but he had borrowed her paper towels. "His thoughtfulness humbled me."
Ingraham first came to Maine in 1969 to fish. She and her former husband spent time on Lake Sysladobsis in Washington County. Later they moved to the Philippines where they were stationed at Subic Bay Naval Base for two years during the Vietnam War.
In 1977 the couple decided to move to Maine based on their camping, fishing, and vacation memories and a desire to raise their family there. Ingraham began watercolor painting: the barn, lodge, surrounding cabins, the sunrises and sunsets on the lake. These days, she works from her studio in Fort Andross in Brunswick.
Asked if she will be painting the Harbor Fish Market again, Ingraham calls it a tough question to answer. She notes several challenges, including the difficulty of setting up in what is a highly congested area. She also wonders what more she can bring to the subject matter that is hers and not repetition.
In November 2021 several news outlets, including the Portland Press Herald, reported that the owners of the Custom House Wharf had found a buyer for their property. Whatever becomes of this iconic place, we will have Tina Ingraham's paintings to remind us of its complex beauty.
You can see more of Ingraham's renderings of the Harbor Fish Market and watch a demonstration of her painting process on her website www.tinaingraham.com. She is represented by Greenhut Galleries in Portland and the Somerville Manning Gallery in Greenville, Delaware.
Carl Little's latest book is Mary Alice Treworgy: A Maine Painter.