Prior to advances in transportation and energy production, industry and commerce across civilizations often relied on proximity to water. In the case of the lumber industry, one of Maine's largest industries to date, the reliance was three-fold: inland timber harvests floated down-river to mills via log drives, saw mills used moving water to power their equipment, and the processed lumber products were loaded onto vessels for regional and world-wide distribution.
Mills often utilized the flowing water of rivers and streams to power machinery, but a lesser-known method harnessed the power of the tides. Most prevalent in the 18th and early 19th centuries, tide mills were located on or near dams built across coves and tidal waters of river inlets and tributaries.
Over 200 tide mill sites have documented in Maine, with the earliest known one being built in 1634 in York. With the development of steam power and, eventually, electricity the need for powering mills via dams declined. Additionally, with the expansion of railways, roads, and motorized vehicles, mills didn't even need to be near the water to distribute products.
The scene depicted in the accompanying photo below was known as the Winnegance Tide Mills. Located where Winnegance Creek meets the Kennebec River and adjacent to the section known as Fiddler's Reach, a dam across the creek supported eight saw mills, each with two up-and-down saws able produce up to 3,000 feet of lumber at each tide.
The wooden bridge in the foreground of the photo connected Bath to Phippsburg, but for many folks the most convenient method of travel to the villages of Phippsburg would have been by boat.
Over 200 tide mill sites have documented in Maine, with the earliest known one being built in 1634 in York.
A neighboring, present day landmark to this site is the small bridge on Route 209 that takes you into the town of Phippsburg. With trees and grass taking over the rocky outcrops and no surviving mill buildings or significant dam structures (unless you look really close at low tide), it is hard to believe that this was once an industrial site.
This image dates to around 1900, close to when the tide mill dam was abandoned after 70 years in operation. We know for certain that the photograph is no earlier than 1898, when photographer Abbie Francis Minott acquired her Rochester Camera Company Poco B Accordion Camera. Maine Maritime Museum has this camera as well as the dated correspondence of her older brother, Charles V. Minott, Jr., arranging for its acquisition.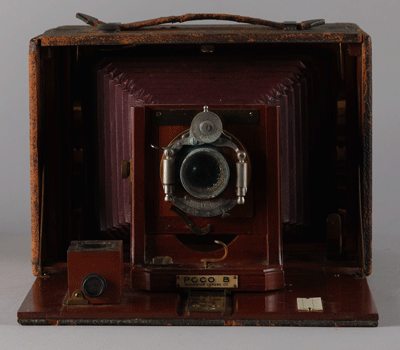 Minott used this camera to take more than 500 photographs, a body of work that is also part of museum collections. Her images captured scenes of Phippsburg and Bath, including many uniquely detailed construction shots of the Minott and Bowker yards in Phippsburg Center. Some of her images were even reproduced as postcards and sold at the Brick Store in town, another revelation found in Minott family correspondence.
More of Abbie's work can be viewed in "Women Behind the Lens: The Photography of Emma D. Sewall, Josephine Ginn Banks, and Abbie F. Minott," an exhibit that explores three Maine women and the rise of the amateur photography movement at the turn of the 20th century.
Kelly Page is collections and library services manager at Maine Maritime Museum in Bath. Also on exhibit is "SeaChange: Darkness and Light in the Gulf of Maine." Plan your visit at www.mainemaritimemuseum.org