In the Arctic, islanders are being forced to abandon the land where they've lived for generations, because eroding coastlines and rising sea levels have made their homes uninhabitable.​
As permafrost melts and the ice retreats, they are losing the fishing and hunting on which their livelihood depends.
In Nova Scotia and Newfoundland, fishermen are reporting record lobster catches, as the crustaceans swim north to flee warming waters.
These are just a few of the ways that climate change is already reshaping human and animal life, said Swiss explorer Dario Schwörer.
Schwörer, his wife Sabine, and their kids have spent 16 years circumnavigating the globe to document climate change, and raise awareness about the clear and present danger it poses. They want to inspire people to reduce pollution, use clean energy and tread more lightly on the planet.
"This is the last call for action," said Schwörer, a climatologist and mountain guide, during a stop in Portland in late October. "We've seen the impact everywhere. We're very concerned about what's going on. We have to start working to keep the land healthy so it can produce healthy food, and save our rivers, lakes, oceans and atmosphere."
The Schwörers' expedition, called Top to Top, has stopped on each continent. Dario and Sabine Schwörer have climbed six of the world's highest mountains, including Everest, Kilimanjaro and Denali, to explore the evidence of climate change occurring at every altitude. They have been reporting on changes in ocean currents and weather conditions, collecting field samples for scientists, and stopping to educate school and community groups about what they have witnessed.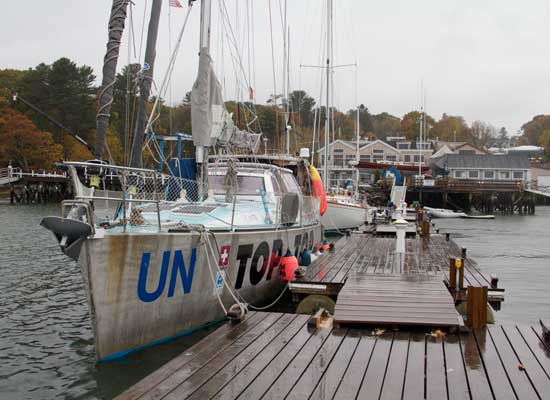 KATIE JOHNSON
In September, they traversed the Northwest Passage through the Arctic by way of a route that has historically been ice bound. Because of warming ocean temperatures, they were able to make the journey without an icebreaker.
Each of the five Schwörer children, who range in age from 1 to 11 years old, have lived their entire lives on the boat. (A teacher has accompanied them to handle schooling.)
The Schwörers' 50-foot sloop is fueled entirely by renewable energy. Wind turbines and solar panels power all the electronics aboard their boat—including the lights, navigation aids, refrigerator and freezer. They've learned to use as little as possible, and how to preserve fruits and vegetables for months at a time at sea.
Next, the Top to Top expedition is headed to Antarctica.
The Schwörers intend to summit Mount Vinson, which at 16,000 feet, is Antarctica's highest peak. The Schwörers hope to eventually turn the expedition over to a younger group of explorers who can continue their work.
THE VIEW IN MAINE
Here in Maine, industries and residents are already feeling the impacts of rising tides, warming temperaturesand more violent and frequent hurricanes, said Dylan Voorhees, Climate and Clean Energy Director for the Natural Resources Council of Maine, or NRCM, which hosted the Top to Top expedition in Portland.
In a recent NCRM poll, 60 percent of likely voters say that climate change is already negatively affecting the state.
And it's not just the fisheries that are vulnerable, Vorhees added. If warming temperatures depress snowfall, for instance, Maine's ski and snowmobiling industries may suffer. And if out-of-staters don't flock here in the droves they have in the past, Maine's tourism industry will feel the impact. As the polar ice caps continue to melt, just a few feet of sea level rise could cause massive flooding and damage in cities like Portland.
"Clearly what's happening in the Arctic is the canary that is screaming that there is a problem," Voorhees said.
Dario Schwörer applauded local efforts to create renewable energy solutions, including the city of Portland's plans to build solar power arrays on its Ocean Avenue landfill.
He urged the public to take even tiny actions to use and buy less of the possessions that require so many natural resources to produce.
"You have to get rid of this ballast," he said. "It's good for your soul. You'll be a much happier person and the planet can breathe again."
 To learn more about the expedition, go to Toptotop.org. To see maps of Maine Communities affected by Sea Level Rise, go to NCRM.org.